Post by Brassica on Sept 20, 2015 20:52:18 GMT
Name:
Brassica
Alias:
Goddess Of The Moon
Species:
Saiyan
Gender:
Female
Age:
21
Appearance: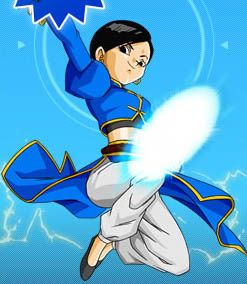 History:
As with all Saiyan children, Brassica was sent off at a very young age into space towards a random planet in the galaxy in order to not only conquer it, but also test her abilities as a member of the Saiyan race. And so it was when she was three years old, she found herself crawling out of her space pod onto a world covered in jungle. You could barely see the sky above for the canopy blocking the view.
The denizens of this jungle did not take too kindly to the sudden appearance of the crater her pod had created... one species in particular as that had been their nesting grounds. Her first few days were spent in relative peace as nothing wanted to go too near to the crater that was still smoking from the pod's entry... that and the fact that some of the smaller animals had found themselves mangled if they came too close to the little monkey like toddler. Brassica was more than capable of handling a couple of curious creatures at her stage in development.
However, this peace was not to last. Whilst Brassica slept, the owners of the destroyed nesting grounds came upon her, entrapping her within a net made of some kind of thread... a thread to which her immediate dismay she could not chew through or rip apart with her tiny hands. She was dragged through the jungle, the net around her growing tighter and tighter until she was wrapped completely within its confines, with only her eyes and nose open to the world around her.
Soon enough she came to see who had captured her... it was an entire colony of massive spiders, each one bedecked in some form of finery or armour made from the bones of the other animals in this jungle. Her cocoon prison was thrown into the centre of their gathered forces, and one far larger than the others soon approached her, its mandibles glistening in the pale firelight of the Spider People's crude torches.
"You little one, desssstroyed our eggsssss... you desssstroyed our children... How do you plead?" the Spider asked in a rather feminine voice. Brassica squirmed in her bonds, trying to break free or even speak, but it was to no avail. "Thissss court findssss you guilty of all chargesss... ssssentenccce ssshall be carried out. You will firsssst be paralyssssed sssso you cannot run... then your internal organsss ssshall begin to dissssolve sssso that our new hatchlingsss can have ssssomething to eat... your life ssshall end, ssso that more can live..." the leader said, looming in close to their prisoner. "I've been told that it'sss quite painful... sssuffer well." the Spider leader said before putting her talon through the webbing with such ease as to make Brassica wonder how she didn't get out already... but her body was soon unresponsive, the paralytic toxin taking hold swiftly.
"Now, you ssshall sssuffer and die, with the ssstarsss as your final sssight of the world." they declared, the roof above them parting, the night sky as clear as crystal above them. The moon was bright and full. "A full moon. The Goddessss looksss upon this judgement with favour." the Spider Queen gloated before blinking her numerous eyes at something that should not be happening. Something that should be impossible right now.
The cocoon holding the little girl was moving.
"What the-" was all she was able to say before, there was suddenly an attack on them from above. The other sentient denizens of the jungle, a group of semi-intelligent monkey creatures with a basic grasp on technology, had decided to stage a raid on the spiders at this exact moment. And it was in this confusion that the webbing holding the girl snapped, revealing a rapidly growing monstrous ape, its eyes glowing with a murderous rage. The entire colony tried to flee before the ferocious beast, but it was to no avail... in the space of that single night of the full moon, a twenty mile radius of jungle was destroyed and everything that lived within it was rendered extinct.
The few monkey creatures that had escaped the Oozaru's wrath, found the little girl at the epicentre, and took her back with them to their village, where they treated her like a Goddess.
The full moon lasted for another week, and soon the entire jungle was eradicated of all life save for one small Saiyan child and her carers, who had learned swiftly that when she gazed upon the moon, to keep out of their Goddess' way, least they feel her savage wrath. Two more years passed and the child had grown and learned from her foster family the ways of stealth when she wasn't her behemoth self, and of how to take out her foes from a distance. Another year passed and soon the entire planet followed suit, with only Brassica and her simian foster family remaining alive. Brassica found her old pod at the end of it all still intact, waiting to take her back home to Vegeta.
But, the young girl did not feel like returning... a part of her enjoyed the attentions heaped on her by this primitive species. Which would one prefer to be? Treated as a Goddess, their every whim catered for, and with plenty of sparring partners? Or to return to Vegeta, where she would be treated as just another Saiyan warrior? So she remained, her Pod serving as her throne as she ruled over this little backwater jungle world.
Her desire for sparring partners did not run out any time soon. For as with any out of the way planet "teeming" with life, it attracted various pirates and wanna-be despots, each of them soon finding themselves hunted down and slain by the Goddess Of The Moon. Before she slew each one, she would torture them for information about the galaxy beyond her planet, then used the technology they left behind to further advance her growing civilisation.
And so she has remained there for eighteen years, vaguely aware of the greater goings on in the galaxy... slowly starting to feel wanderlust... If only her Pod wasn't predetermined to return to Vegeta...
Starting Planet:
Unnamed World
Techniques:
Offensive
[N1] Ki Bolt: Brassica focuses her ki to the tip of her finger, before releasing it at her target. Bolts size is the same as your average fingernail.
Support
[SU] Flight: Allows her to fly around weeee!
[SU] Ki Sight: This ability increases her vision acuity, allowing her to see farther as well as more clearly in the dark.
Special
Items:
500 Zenni
One-Use Pod