Post by Lusca on Jan 6, 2016 13:46:59 GMT
Name:
Lusca
Alias:
Helix's Reluctant Bodyguard
Species:
Namekian
Gender:
Appears Female/Androgynous
Age:
10
Appearance: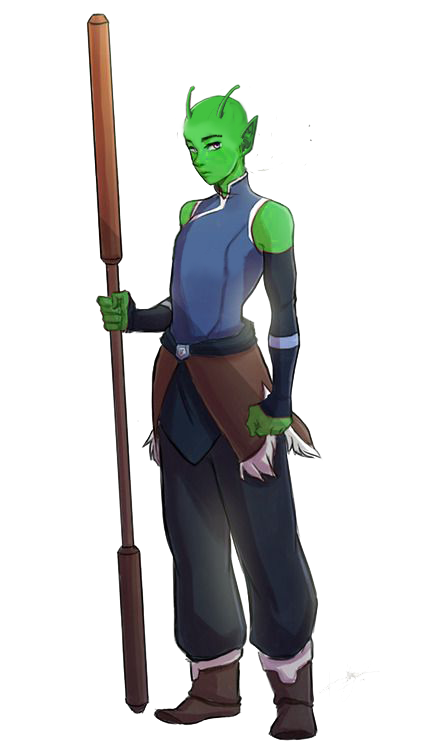 History:
Her father had resided on Earth for several years, and looked upon the warriors of this blue and green world. What he beheld fascinated him as he watched them in action, in tournaments, in battles and in just general life. He then looked to his own species of Namek, and felt there was something... lacking in their Warrior Caste. He had never felt this lacking sensation before and so looked to the Earth and its warriors so he could figure out why he felt this way. He soon found his answer in Earth's feminine warriors. At one moment they were at times far more ferocious and aggressive than their male counterparts, achieving great victories in their battles. And yet at another moment, they were as calm and tranquil as a stream trickling down the mountainside. He saw in their lithe bodies and trimmed physiques the possibility for a faster warrior and yet still possessing the same strength as those that came before them. Many of their foes also underestimated them due simply to their physical appearances, which he felt could be exploited.
And so was Lusca born and raised on Earth, to act as a living embodiment and hope for what her sire believed could be achieved. There were times that she felt... ashamed of her existence, and frustrated. She felt she was nothing more than an experimental whim from an old man who'd been looking at women for too long. And yet these feelings pushed her further on her path, making her push herself harder on her training, as if she had something to prove, not only to the world but to herself as well. She lived studying the ways of the bo staff arts from those teachers on Earth that still taught such arts, as she had seen a few magazines lying around her father's house involving women and poles, which lead her to thinking that it was a natural weapon for them to utilise.
When she was five years old, she received an old bo staff carved from Ajisa wood from the ancient original homeworld of the Namekian people as a gift from her sire before he passed on. After receiving this gift, she went on a pilgrimage to Namek to pursue further training the Warrior Clans of old, settling into what was once known as the Shadow Knight disciplines, as well as find some form of spiritual connection to her Namekian heritage. Under this style of combat, the Namekian focused on weaponry, but did not forget to train her own physical capabilities as well. She had been made to on more than one occasion prove that she was just as every bit a warrior as the rest of the Warrior Caste on Namek.
She eventually came back to Earth, to resume her training in the bo staff way of combat, blending it with what she had learned of the Shadow Knight disciplines.
When news of New Namek's destruction reached her ears, she secluded herself for a time upon Fukurou Forest, meditating and training. And so she had been since then until recently when she witnessed the skies suddenly darken in the middle of the day. Her eyes widened at the prospect of what this could portend. Back on New Namek she had heard the ancient legends about what happened when the skies turned black when the suns were at their brightest. Collecting her staff she set off towards the epicenter of the skies darkness.
Starting Planet:
Earth
Techniques:
Offensive
[N1]Spin Barrier:
By infusing a portion of her Ki energy into her staff and spinning it at high speeds in front of her, Lusca can create a shield against attacks which blocks 33% PL
Support
[SU]Flight:
You have a method of taking to the sky allowing you to take your fights to even greater heights!
[SU]Ki/Energy Sensing:
Via some method you are capable of feeling the natural energy of living beings, you have an understanding of the power level of other non-android warriors and can feel the power of the attacks they are using compared to your own. This technique is Passive not requiring activation and uses 0 KP in a KP Battle, Energy Sensing does not work on Androids.
Special
Items:
500 Zenni
Ajisa Bo Staff
One-Use Pod