Ghosts
Nov 13, 2016 3:30:59 GMT
Post by Fleece on Nov 13, 2016 3:30:59 GMT
Race Name:
Ghosts
Starting Planet:
Afterlife
Starting Power:
100 - 1,500 [Type C]
Appearance: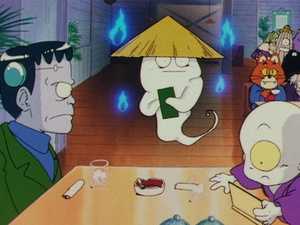 Background:

After receiving judgement from King Yemma, most souls are sent to either heaven or hell. While a small amount of exceptional people regain their bodies after a time in the afterlife, most remain as formless wisps. On rare occasion, these souls manage to escape the afterlife without a body. The process of leaving the mortal world twists the wisp into a ghostly spirit, often fragmenting their memories during the process. The ghost is then stuck in a perpetual cycle of phasing between the worlds of the living and the dead. The more powerful a ghost becomes, the more liberty they have with their form. Some regain their memories and even learn to manipulate their forms into humanoid apparitions of their past selves, while others forever succumb to madness.
The goals of ghosts vary. Some live innocuous afterlives and take an interest in mortal affairs, and have been known to open up shops where they collect trinkets of the living world to smuggle back to the afterlife. Others grow frustrated and envious of mortals, seeking to destroy that which they covet. In any case, a ghost finds an enemy in ogres, who often hunt them to preserve cosmic order.
Name Pun Theme(s):
Based upon starting race.
Unique Characteristics: Becoming a Ghost:
A dead character may become a ghost by paying the cost of resurrection without a body. Once this is paid they enter the mortal world until they are slain in combat. Ghosts do not gain shoki but may train for power level in the afterlife as if they had a body. Ghosts do not receive afterlife or death enabled bonuses in any case. Like androids, ghosts cannot be selected for hybrid or bio android races. Ghosts are made up of ectoplasm and can be wounded or absorbed as normal. Ghosts always go to hell without judgement.
Manifest:
During a celestial event, a ghost can manifest into the mortal realm and can remain until they are slain. Ghosts must manifest on a planet they have been to before or the planet that they died on. (Usable once per celestial event if the ghost started the event in the afterlife.)
Ogre Aversion:
Ghosts are trouble makers in the afterlife, constantly escaping to cause problems in the mortal world. As caretakers, ogres are adept at detecting a ghost's signature. Ghosts can not hide their base power level from ogres with ki sense even when they suppress it from other races.
Kamikaze:
A ghost's signature attack. When a ghost focuses all its inner ki and turns itself into a makeshift bomb. This however does return the ghost to the afterlife in its goal to destroy its target. (Mechanically the ghost would get a attack of 150% PL attack sent at their foe at the cost of their own life. This is a DE only skill that requires 3kp and can not be charged.)
Transformations:
Name

Power Level
Multiplier

Power Level
Requirement

Additional Requirements/Notes




Haunting



x12
0
On the night of a celestial event, a ghosts link between two worlds increases exponentially. Starting transformation only usable in a Celestial Event.
Onibi

x7


50,000

Upon reaching a certain maturity, the ghost becomes surrounded by
three ethereal orbs that circle around their body. These orbs grant
the ghost great strength.

Wraith

x18/12


150,000


The ghost becomes a being of fury and anguish. Their form becomes black as if draped in a cloak of darkness. A wraith is a dangerous ghost that leaves death in its wake.

Requires Power Weighting technique.

Apparition



x16



150,000


The ghost gains more control of itself than it had previously, regaining memories of its past life. Apparition are often sad creatures, yet more capable of enacting revenge against enemies from their past life.

Requires Ki Suppression. Alternative to wraith. (Pick one or the other)



Ectoplasmic Being




x20



200,000


The ghost takes upon a more solid form. Apparitions typically appear as their mortal selves, though they are often somewhat warped and discolored. Wraith's take upon many different fiendish forms.




Horror




x32/x25

300,000

The ghost takes upon a unique form of their choosing, it often resembles that which they feared most in life twisted into a ghastly visage.

x32 offense, x25 defense.



Greater Horror



x42
430,000
The ghost is capable of taking on any of its previous forms at will at a devastatingly increased power. These tortured spirits are the thing of legends, leaving fear in their wake.
Starting Zeni
- 500