Post by Deleted on Sept 3, 2016 23:39:16 GMT
The Ghosts Of Eras Past
Thread power level 57,186!
Heavy weights
ACTIVE
! Current PL: 14,296!
OOC Notes: This is a really big first post. My goal with it was to help introduce Noxa to more aspects of humanity, as well as give her a stronger basis to understand Celmaru & Katsu. Also wanted to give it a really strong touch of "Ghost of Christmas Past".

My apologies it took me almost a freaking weak to write this. I have a hard time writing NPCs with hard personalities.

Either way, I hope you enjoy~!
Having a nightmare is one thing. Vicariously reliving parts of your life you didn't care to remember were another.
A grumpy, unsatisfied Noxa rose from the bush and briars that lined a forest's undergrowth. She effectively freed herself from the cozy little Noxa-shaped outline that had formed during her stay. That forest was but a stone's throw from Satan City, where she'd come to call 'her nesting zone' for the past three or so weeks. That is where she'd be sleeping, where it not for recent events. Thanks to a monster's destructive rampage Noxa found herself sleeping amid the rising spires less and less. How could she, after all? Come every morning there was the unyielding sound of heavy machinery and men at work. The din of construction a byproduct of their attempts to reconstruct and rebuild all the damage done in that little 'event'.
She didn't mind — not too much, anyway. Sure, there was a little tug at a little something she'd eventually come to know as 'pride'; Noxa had been pushed out of her home, despite having 'won' against Plato. Having been force away was something she vowed to not let happen again, yet here she was. Even if temporary, this little move was still proof that she couldn't stick to her word. Even if she'd won the battle against the flaming monster and his summoner the end-result was still as though she'd lost.
A sigh came. There was also the fact that she owed her life to a breed of individuals she believed, up to now, were out to get her: 'heroes'. That dashing Captain Nova and his dazzling style. Using the rising feeling of frustration as motivation the woman came to push herself from the floor. A string of curses came to fly from her lips, aimed at herself. How could she find any sort of admiration for the same kind of individual who often was the one leading the witch hunts that drove her off? The woman's lack of understanding of social discourse was behind her misconceptions of 'heroes' and their role.
The Bio Woman's yellow gaze washed over the delicate leaves, the crawling critters, the sleeping animals… All this life. It thrived. Predators and prey, living in balance. The yin and yang; the duality of nature in perfect harmony. It was beautiful. It was something Noxa only came to experience since she arrived on Earth. Her deserted world of Zilyana had nothing of the sort. It was a barren hell, hosting ruins of attempted human colonies that had fallen to war. The Arcosian Empire's struggle to dominate the planet… At first their assault was mighty and relentless, but over time…
Noxa's thoughts were pulled from her past. The words in her mind would begin to thin out and eventually come to a dead silence. She stood there, amid the symphony of the forest's night. She indulged the play of nature unfold in front of her. Noxa, peeking through the curtains of darkness; curtains pulled aside by the shafts of moonlight that broke through the heavy canopy above. The scene was beyond therapeutic, completely healing over the wounds that her vivid dreams had re-opened. Wounds she, at the time, didn't realize she had. This did, however, help Noxa realize that she developed. It helped her realize more avenues of life had opened to her. The less she relied on her instinct the world became clear to her, much like Katsu and Celmaru had both suggested.
Heavy metal-like carapace heels began to sink into the floor. The woman's body had begun to move before her mind had given the command to do so. That's right — she wasn't going to be able to return to sleep. Not anymore. She might as well return to her city. Amid the lively human settlements there was surely more to do — ways to numb her mind a little further. Following the leitmotif of her dreams, Noxa knew what to look for. A soft walk evolved into a light jog, which rapidly became a run. Moments later the woman was airborne. Her wings silently blurred through the air of the night, having emerged from beneath her upper back — an area usually covered by her cascading red mane.
She broke through the forest's canopy of leaves, heading into the bustling metropolis. Noxa wasn't sure if she could get drunk, but she knew plenty of people solved their problems that way. Besides, something about the idea seemed right — numb an emotional wound caused by an alcohol-based poison by more of its kind. Fighting fire with fire.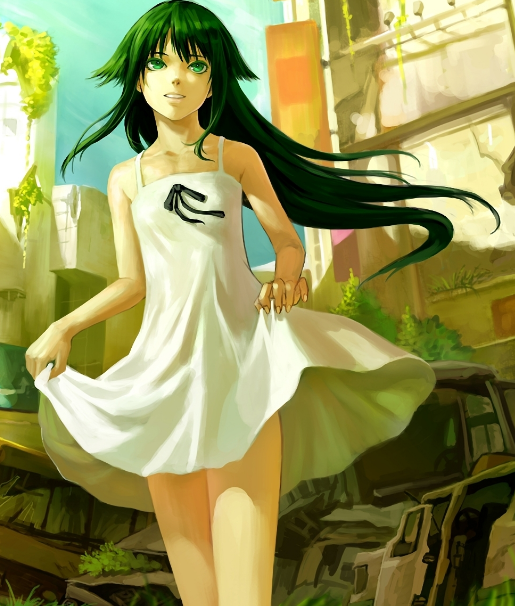 The troubled woman, by the time she landed, had taken a different shape altogether. The same pale, young visage she'd used against Plato and his monster had returned; she'd shape-shifted into a young adult woman with long black hair, and bright emerald doe-eyes.
Noxa, however, remained unaware of just what bothered her. She didn't have the life experience to deal with all of the massive paradigm shifts she'd encountered just within the past seven days. Between Katsu, SCAR, & the clusterfuck that had come out of the monster's attacks she felt like a different person. No, — that was it! That was the problem. She 'felt' like a 'person'.
Noxa still had no purpose in life — only a promise of a role within SCAR, and the imprinted tendency of a survivor; a predator.
Noxa still had no social understanding of people or how they worked. A fact that had caused her far more trouble than she still realized. That was something the gallant hybrid had spoke about — going as far as to extend the offer of Noxa's training in that regard. Training led by his very green wife.
It was nothing short of a few hours of wandering until Noxa found something that caught her eye. A cracked, derelict, lonely stall. It harbored a fresh scent that attracted the nose of many; critters akin to animals, critters akin to insects. The old appearance of the shop was not alien, but it felt out of place within Satan City.
In any case, within the stall one's attention would fall on a single man. This man, holding a bottle were visible, with bandages tightly wrapped around his waist. This bestowed him with a peculiar style — something between a mixture of a martial arts instructor and a bartender. An old one, at that, given the heavy white & grey of his hair.
Noxa was very familiar with this part of town, but she didn't remember this 'shop'. Many people were known to have gone from one place to another — nomads who carried with them little make-shift buildings. However, this ghostly appearance was nothing short of eerie. A form of intimidation lingered in the air. The uncanny aura, it hooked Noxa's attention. From behind the drapes that covered the shop's entrance, Noxa caught sight of the glimmers of bottles.
There was definitely something to drink in there. Alcohol, Noxa would guess. Precisely what she was looking for.
It was to that very location that Noxa felt herself drawn. Into the nomadic-looking stall she ventured. Noxa had wandered through this part of the city for some time, nothing else seemed open. Even more of a reason to enter. Out of both curiosity and the promise of alcohol her acute olfactory senses made, Noxa approached. The sound of slapping feet came to an end as a black-clad hand pushed apart the curtains, revealing a cozy space within. The girl in the skin-tight black jumpsuit entered. Her first two steps were relatively meek. Cautious steps. She hadn't ever been in a place like this before — in this kind of shop. Especially not one with such a menacing aura to it. Her eyes wandered, taking in a bit of the surroundings before eventually locking themselves with those of the old man — presumably the shop's owner — and his whitish gray pompadour.
Noxa's voice came without any formalities or greets. "You got a stiff drink here?" A flat tone that went hand in hand with the tired look about her face.
Chuckling lightly,the facial expression shown by a man of his posture was one of delight. He and his log like limbs flexed. The look on his face was clear — he would indulge her. Indulge the woman, who had carefully treaded towards him. The derriere whom was now firmly planted on a seat in front of him.
The area was overgrown with vines and the drinks were old. No, not
just
old, but pleasantly old! Aged! The scent of the well-developed, fruity wine spread, permeating the stand. The scent was taken by Noxa, whose lungs grew only to take in the aroma.
Even the scent of vodka, beer and many other spirits lingered within this stand — not just wine. The spread of such powerful smells within this small, confined space… It was intoxicating on its own.The bio-woman watched as he slowly parted his lips and spoke. His words were few.
They were unreasonable at first; the way he spoke them so suddenly, bombastic and with life, was unnatural. Behind the words were hidden meaning as well as hidden intention.
Noxa soon found herself gripped within the man's eyes. She settled herself in the seat.
"Lives are not threatened in this small little space, lassy. Remember this for me, as I believe you may need something more than a 'stiff drink', but above all... You should be as natural as possible when trying to drink something akin to this should you not?"
The woman found herself tasting his weird choice of words before any alcohol. '
Be as natural as possible
'...? His words put Noxa on edge; she had a feeling it was more than just a strange choice of words. Was this just a hunch or did he know? How was he aware of her fake form — of her true nature?
The man, then moved his hand to a wall beside him, where a few images were visible; Noxa, capable of seeing images, studied them. She saw…!
Her eyes narrowed. She could certainly recognize some of them! It was hard to undo the damage time had done to those young faces, but… Celmaru — Katsu! She also saw another face; one she didn't yet recognize, but it none the less left her with a heavy pit in her stomach. Something — perhaps fate — told her one day she'd come to meet the man in that picture too. A man with a strong, proud face and a strange hair style.
There were others, too. She recognized, at least, the boy who had healed Plato. Still, there were people in the pictures she had not met before; people who she didn't exactly feel a connection to. People in varying ages. Many of the images the man displayed were depicting some sort of training or teaching. Training despite their youth. The dates within the images seemed to be only a year before, but they all had smiles that were radiant and full.
It was a smile that showed that they were not family, yet at the same time were considered to be kin. To be his family, but none the less the damage of training done to them was intense. The man was in many of those photos — plenty of them being group pictures. However, one thing caught Noxa's eye; one thing made her heart skip a beat all together. Her mouth dropped open as her eyes FIXED upon a singular image.
Noxa — she couldn't believe her eyes. What she saw, it... It made no sense! Within the collection of frame photos on the wall, there was one with HER picture on it! The man touched that picture's frame, gazing into the frozen still of the Bio Android.
The onyx-haired Woman's eyes moved. Instead of holding the Old Man's gaze it now rested itself on the picture he touched.
"How--...?" Noxa asked, her voice barely audible under her breath.
Slowly her form returned to normal. She grew larger; her hair became wild and a vivid, saturated scarlet. The emerald eyes were wiped away; black sclera and xanthic irises took their place. The black suit began to retract into Noxa's normal scantily-clad armor.
"I don't… Understand." Noxa couldn't process any of this, "When was that picture taken? Wh-- who are you?" She stammered through her sentences, absolutely swept away by the novelty and mysticism of the situation at hand.
The woman swallowed hard.
The vision Celmaru had shown him — of his life... It was thanks to those vicarious memories that Noxa knew what he should have looked as a child… It was thanks to those images she recognized him in so many of the photographs. Still, actually seeing a photo of young Celmaru... That was something else.
A smile broke through her lips. It wasn't cocky, or mean. It was a soft, sincere, calm smile.
"He… Looks a lot less angry."
Her gaze shifted to the ones with Katsu. "... What can you tell me about that one?" She asked, pointing to the Doctor she had come to befriend.
The man, with his careful glance, was simply taking his time. He tasted the bottle of alcohol within his hand, as he softly made his eyes move over the current arrival.
The insects had begun to fly away. Other smaller animals also fled, after having made off with whatever they could get their little paws on. Both Noxa and the Old Man were keenly aware of what caused the mass exile — her true form. After all, everything organic had this carnal desire of survival. Noxa's reveal likely had set off alarms within them.
They viewed her as a true threat, and naturally evacuated the premises. The drive of instinct was something that Noxa understood well. It was something present within all living things, from the smallest prey to the largest predator.
"He is a scientist with a heart of gold; a man who will be giving everything for his goal and knows how to treat anybody in a humane sense."
The man's words were strange to Noxa. She wasn't sure if he was mistaken or if Katsu had simply undergone drastic changes. Regardless, he went on:
"But if you betray him his sting will be stronger than that of a scorpion; his slash will be more rending than a mantis; his blade is carved by his effort and hard work as seen within my eyes."
The man cleared his throat, having finish the poetic rendition of Katsu's personality.
"But if you are gazing towards that little one — Celmaru was it? He is a fine lad. His training was bound by desperation to move forwards in a rather beautiful struggle…"
The Old Man's voice trailed off. Noxa listened, on the edge of her seat as the man's poetic words ringed in her head. 'Beautiful struggle', he had said. Noxa had never putted those two words together, but the resonated extremely well within her soul. She wasn't sure why.
"Yet here we are, technically forced to stick to the web of fate while his strength magnificently increases after the foundations were set by a mere friend of his… Keep that kid safe, he has a goal, a single goal that he could attain, something different from my slowly drowning experience in the thousands of goals that I have completed."
Noxa was very hesitant to speak. She was overwhelmed; she was confused. She wanted to ask, again, who this man was — she wanted to know if this was even real. She couldn't be sure. Still, those logical assessments seemed… Second hand. More important things seemed to come up.
"Keep him safe?" Noxa shook her head, "I recently came to realize Celmaru is light years ahead of me in strength." She couldn't help but scoff at her own insignificance. "He could wave his hand and it would be enough to splattered on a windshield like a bug — a lot of people on this planet could. How would I keep him safe? Me — some two-bit genetic Frankenstein with no goal or direction? Someone who doesn't even understand people outside of their biology?"
Her eyes glanced up again, studying the picture the Old Man had touched — the picture where Noxa was in. She tried to focus and gather more details about the image.
Noxa found herself listening to the Old Man's words. They struck a chord with her. She wasn't necessarily sure what it was, It could've been that they were the closest thing she'd heard to some sort of absolute truth — to some sort of guide.
She wasn't sure what it was about; what the Old Man said — about protecting. The woman remembered her first meeting with Celmaru; Noxa remembered just what imprinted memories he'd projected unto her psyche.
Celmaru's childhood was rough. Very rough. He was beyond ostracized and persecuted for his hybrid status. Still, when Noxa had seen him she couldn't help but feel a bit of anger at him for not fighting back. That hint of ire was something that seemed to contradict her feelings about the idea of 'protecting' someone. It's true — having seen the horrible events that happened to Celmaru HAD made Noxa want to protect him. To do something about it.
But at the same time... Wasn't it better that all those things happened? Celmaru was a much stronger person for it. What if Noxa, in being overbearing, caused someone to lose strength? To lose the capability to grow and develop?
A breath of frustration escaped Noxa. She eagerly reached for the strong-smelling spirits that'd been poured to her by the wise old man.
"You seem to have been around the block a few times." She said under her breath. "A wise man. Why are humans so zealous and protective of each other?" She asked, finding a rising frustration as she tried to pick her words. "Why do they protest the death of their own kin, but will gladly slay an animal for a meal? Why do they have this possessive WANT to protect their kin, even when allowing them to fend for themselves would turn them into a stronger person?"
The primordial reason of Noxa's frustration was simple: the very qualities she'd grown to resent in others were qualities she had begun to see in herself. Just hints — glimpses of emotions she couldn't understand yet. Though, despite her ignorance, the Bio Android felt that the amalgam of those unknown qualities meant she was changing.
Noxa, to some degree, was afraid of that change. Despite being designed to be some sort of apex predator the hunter found herself afraid of becoming something else — losing who she had been up to this point. Even
IF
that person was just an instinct-driven reactionary machine.
That fear was something the woman couldn't yet express.
Slowly shaking his head while gazing towards the distance beyond this mere woman, the old man started to speak once again, this time in a painful slur. His words coming out rather painfully as he knew what kind of sins she had committed for her constant hunger for survival. Knowing that everybody was a hunter in some sense trying to survive, except for the pacifists known as Namekians who remained in their pure like state of keeping along the lines of themselves.
"You have changed."
This was the first few words that the old man had spoken while starting to raise his body. His arms had already looked like logs, but it was nothing short of a massive working project upon a closer inspection. Despite the run-down, yet homely shack, his body was different; being carefully taken care off. It showed. This man had to constantly be keeping a form of exercise up. Though his struggle was not for the sake of vanity — or, at least, not only for it. His endeavors were set to attain some form of strength. Strength to protect those he held dear; every fiber of his being was made to protect.
He was a guardian. A sentinel. Naturally, the woman's internal conflict resonated within him.
"Every creature has a goal in life, every creature has to bear their own sins; every creature has made mistakes; we all have regrets... Our own attempt at covering up for these sins is by drowning ourselves in this justice," He spoke, raising a bottle of the very poison he'd poured the woman, "that makes us truly sinful."
He continued.
"Because we realize that we are hunters, murderers, and all those things just to survive. We push ourselves out; we look for someone to connect with — someone who has already walked the same path. Someone who knows the struggle." The old man took a pause, leaning against the hardwood of his counter. "But you won't find anyone whose footsteps you can follow. Not exactly. Your path is your own. Who else would know better of suffering than somebody who has taken his blade and effortlessly took out those that stood before herself?"
He'd circled his comment around, having returned the subject back to Noxa.
This man was forward. He spoke with confidence, though his words were poetic and his candor vague. He danced around the subject, but the meaning behind his words were clear enough. He had done this many times before. It was almost countless the times he played the listening role — countless the times he offered advice. Gave life lessons. Often times that only led the people he tried to help down a sour path. A dark path.
Still, he continued to listen. Still, he continued to give advice.
The path was Noxa's to choose. The path was never his own. All the old man could do was enlighten it — give enough light to make the trek easier on her.
"If you fend for yourself you will grow weaker."
Noxa looked up in surprise. 'w-what did he say?' She thought to herself. S-surely she misheard him; what he claimed made no sense!
She hadn't; he pressed on.
"You will be weakened and weakened up till the day you die, and have yourself knocked down to the floor because of some 'protagonist' with a bullshit reason — someone that apparently is 'powered' by their emotions. They will come forth; they will strike you down."
The old man cleared his throat.
"That power that is endless, amazing and causes us to rush towards our doom for the sake of others."
There was a vague simper in his lips. A light chuckle in his tone.
"It is great. It is beautiful… But, still, it is still bullshit; it is illogical and unpredictable"
The stranger had finished speaking, it seemed — at least for now. Noxa took note of something she had begun to notice: a soft pressure. This lingering atmosphere that had persisted since the beginning, when the animals — who remained nearby, yet out of reach — made their escape. The aura, atmosphere, presence — whatever one wished to call it. It made the air heavy, like soup. Dense. Thick. It was overbearing. Noxa only now was beginning to realize it, as it seemed to intensify as time ticker forward.
Maybe THAT was the reason the animals had fled after all. Maybe it wasn't the reveal of her true form, but whatever presence lingered.
Having felt the growing pains of silence, the old man was obligated to fill in the void.
"I take these images to show my affection; hold omage to those I wish to protect, hoping that one day they will join hands with me and smile over a nice meal made by these large, powerful hands."
The man put down whatever bottle he was holding, instead he rose his meaty fists. He clenched them. Tightening and releasing said tension.
"These strong, powerful hands — they seem like they can carry the whole world but they are powerless."
Noxa spoke shortly after the man had finished that sentence.
"You talk about them — your hands — as powerful. How can you then immediately say you have no power? Aren't you contradicting yourself?"
A sly, cheeky smile grew beneath his gloriously bristly mustache.
"Even the sharpest blade in the universe has no power if it is wielded with no intention to cut." He resumed, "I do not attack. I am a defender for the hearts that I wish to protect. To them these large, burly shoulders and log like arms are nothing more than simple obstacles — meat shields. They serve as shelter from the arrows of agony rain down upon us all at one point or another."
Noxa was beginning to get the gist of it. Being presented with a philosophy she hadn't yet entertained. The old man, however, was still not done.
"I was never capable of protecting those that truly deserved it, and i am regretting this for every single day, as I am jailed within that white building known as a hospital."
Noxa had been slowly nodding her head, showing her acceptance to some of what he said — not all. She was a good listener; a good learner. But what last sentence cut her right off her tracks.
"W-what what?"
He continued, however.
"Strength is strength, it destroys and takes away, yet this warm feeling in my heart that keeps bringing me back to those that I hold dear..."
And then, he moved. The sudden thickness of the atmosphere faded away in like a burst of energy — a jolt of thunder, a jolt of electricity. It moved outwards like a wave of light itself as he spread his hand forwards to Noxa.
A telepathic wave of energy; a telepathic wave of emotion, an emotion stronger than any blow that he could have stricken against the redheaded woman.
This was like a blow far beyond what she could have feared from those that would claim themselves to be her foes. It would push them down to their knees and keep them there, should they would not realize just how endless this strength was.
"I am fragile, weak, powerless, slow, disappointing. A thousand words come to my mind, but you must know differently. You must know why this man will soon, at some point, stand above those that claim that power is everything you need... No?"
The wave that blasted out from every fiber of his muscular being — the wave that held the emotions of so many people...
Noxa's mind was inundated with a vision of the not-so-distant past.
In her mind's eye Noxa was presented with a scene. Noxa recognized the muscle-bound visage of the elderly gentleman. His form was standing before a blow that was fatal to a more-recent version of Celmaru. Yet, he kept smiling. The old oaf's simpering blossomed into a beautiful laughter. Powerful, hearty laughter.
The enemy, swearing that he would eliminate him as his signature move was approaching. The old man's jolly nature, however, didn't waver.
That vision, too, passed.
Then came another.
One more vision. This one proved difficult for Noxa to understand; she didn't recognize those involved. Still, none the less, she was able to understand the story behind it. There was the old man. His figure cried out — voice laced in what Noxa could only surmise as 'fear'. He cried to a small dog, which in this vision the man referred to as 'Chili'. The dog rode within a cart. Within it, along side he and his dog, was another; a woman known as 'Hana'. Their cart wizzed down a mountain, speeding downwards at frightful speeds — and it was about to crash. Still, despite how 'suicidal' the Old Man thought this activity was he did not try and stop the trio. Despite just how loudly his instincts shouted at him to 'stop' or 'prevent', the let the scene unfold. He trusted the duo with his life — literally.
Noxa didn't question how she knew these things — she wasn't within a state of mind where she could reason and think. The woman, instead, rode out this wave of memories and emotion. She left the deciphering and break-down for later.
Then came the final memory the old man imparted — a wisp from his younger days. A memory of when he met this green fool known as 'Sabika', a man Noxa came to instinctively 'feel' to be Namekian. The Namekian's color and the image of the urn were the only things Noxa 'saw'.
In this memory there was less imagery and far more emotion.
It didn't matter much. The story was translated just as well into her mind — if not more so, despite the lack of sight.
The strange old man saved this Namekian from his prison. This (then less so) elderly man, in saving the Namekian, learned a few valuable life lessons, which he now imparted. On that day, the man learned how nothing should be feared, about how rushing ahead foolishly would cost him his life.
There were hundreds, thousands, millions of creatures he had ended. Yet, instead of questioning if he was an apex survivor, or attempting to blame Noxa for whatever past misdeeds she'd be guilty of, the old man shared instead only those memories. The memories, all of which shared one leitmotif — a singular theme that Noxa had begun to understand: love & affection.
How do you explain to a blind person the sensation of colors? To a deaf person a symphony? To an anosmic the delicious allure of freshly-baked goods? To an instinct-driven monster the intense, overbearing warmth of love?
You can't. Well, not with words.
The man, however, had found a loophole, it seemed: telepathy.
Noxa had been exposed to a new sensation. One warmer than the alcohol weakening her emotional resistances. One stronger than the confusion that was brought forwards by the man's poetic ramblings. One stronger than even the aura of Earth's strongest warriors.
And with that everything went dark.
There could have been a myriad of reasons marking Noxa's lapse in consciousness. Stress, overwhelmed by psychic energy, the mystic nature of the meeting. Or, hell, none of that could've easily have happened.
Come morning, however, Noxa would be in Satan City. By some miracle the break of dawn didn't bring with it the discordant din of construction work. Instead, Noxa peacefully slept in a corner of the streets. She was wrapped in a blanket that was a little too small for her — a blanket she had never seen in her life. A faded, ragged pink cotton blanket etched with little white stars.
Even as the blue hour of dawn came and passed Noxa remained peacefully asleep, amid the growing activity of the city around her. Plenty of uncomfortable civilians and commuters avoided her like a plague. Making wide circles around the presumed hobo with a weird look.