Post by Alakaz on May 22, 2016 0:36:48 GMT
Name:
Alakaz
Alias:
Species:
Demon
Gender:
Male
Age:
336
Appearance: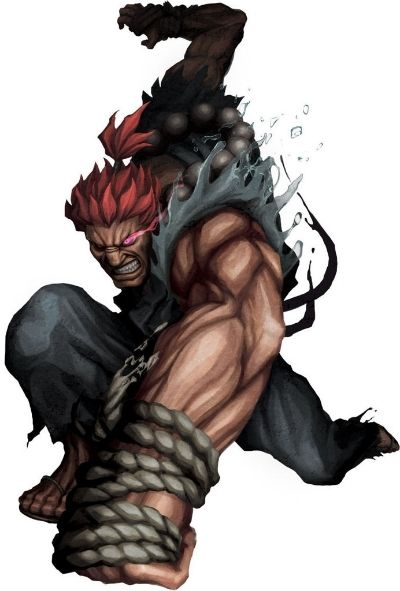 Alakaz appears a muscular man of above average height and above average weight. His red tinged hair is tough and almost animal like in its coarseness while his glowing red eyes appear to have only the smallest of black pinpricks where his pupils should be. His teeth look as though they have been filed to sharp points giving him a menacing grin regardless of whether he is smiling or scowling however no file has ever been near his mouth, the teeth are simply part of his natural evolving form. Each of his fingers ends in an elongated nail and while they are tough they can and have been broken many times.
History:
Alakaz was drawn, like many of his race before him, to seek out the light in the real world and to conquer it like so many had tried to do before. But summoned to earth he found that he was not himself, that he was weak and that it had not been his own doing that had planted the idea of leaving Hell to escape to the real world. When he awoke it was to the chanting of strange voices, the light hurting his eyes and at first he believed he had been summoned by giants to a strange land...it was only after a few moments observing and looking around did he realise that it was not his captors that were huge but rather he who was small. His body was that of a small child...he could hear his own thoughts, recall his memories but his movements were awkward and slow, weak in comparison to what he had been before. When he had tried to strike out at the men around him he had been batted away as easily as a man swats a fly, dragged kicking and screaming to a large room where there were many other just like him it seemed...young, feeble but with a fierce hatred blazing behind their eyes.
They were left in the room for days, some clawing at the walls...some sat contemplating...some huddled together...but all sat in silence for no matter how hard they tried, Alakaz included they could not produce any sound, as if their voices had been stolen, their original forms making speech in these bodies almost impossible for the first few days since awakening. Slowly words came to them, stumbling at first but soon they could communicate with each other and sweat curses at the walls and doors of their prison that turned the air blue despite the apparent age of the speakers. After days alone with each other their captures came, not monsters but men, old and young with shaved heads and loose robes, their skin pale but their movements sure and confident, quietly chanting to themselves...words that made the young arrivals shrink back at first...until the men began to bring food with them, and then some strange hunger gripped their bodies and despite the chanting they ate eagerly…
Alakaz grew in strength after every meal, his body getting used to the food, the strange way he moved, it was all familiar yet new to him. They came after those days, splitting them into groups, beating the the ones that took too long to move or listen to instructions with canes of bamboo, the sting always making Alakaz speed up his stride or bite his tongue. They were told often and loudly that they were here as punishment...that the men around them knew who and what they were, that by submitting themselves to judgement they could be cleansed and freed from the path they were born into. Many, including Alakaz tried to rise against them at first, remembering how to fight but not having the strength to do so like before. Those that fought against the Monks, for that's what they were, were left out in the cold of the yard under the falling snows, till many, including the young Alakaz begged to be brought back inside, the biting cold cutting through the thin robes they had all been given, their small bodies not cut out to survive in such extremes of temperature. Those who swore to follow instruction, to fight their nature were drawn back inside the halls, while those who continued to defy the Monks were left out in the cold, their bodies gone by morning when the young Demons were called to clear the yard of snow.
Days passed, turning into weeks as those to stubborn or unwilling to change were weeded out and left to pass, while those who obeyed were trained...nothing so simple as fighting to begin with...chores...always chores. Of all of them only one hadn't been unbearable to Alakaz. Painting had been something he had enjoyed immensely, even if his portrayal of the many conflicts in Hell between great warriors had disturbed many of the younger Monks meant to watch over them. He had taken satisfaction in the fact they could be reached by something so simple as dyes on a canvas. Clean this, sweep that, carry that there, the routine was otherwise the same over and over again, always in their small groups...seemingly moved from chore to chore at random. It all seemed useless to the ensnared Demon but as the months passed and the chores continued they found that they moved faster, the could work longer, carry more, stumble less...They had all grown...He could feel it in his own body how he moved with more confidence and surety now whereas before when they had first arrived he had been as uncoordinated as newborn deer.
They were taught more as they got stronger, children as young as they once were taking on the chores of the monastery while they would train with the Masters, forms, stances, strikes, and for each failure to perform perfectly from the onset they were punished. The canes would strike swift and fast, faster than Alakaz could see as they practiced, falling with precision to strike when a hand was in the wrong position, or a foot was out of place, cutting even their flesh to leave them red with welts. The strongest and most apt would be pulled away from the groups, never to bee seen again back with the Masters or with the confines of the monastery, the others having no idea where they were being taken, many like Alakaz believing they were being taken for falling into the path the men here were trying to save them from, that only by giving in to the Demons within them could they have become that strong so quickly.
Alakaz would find out himself what was truly happening eventually, but for the moment he remained ignorant, only seeing what was shown to him.
Years passed, the Demons not counting the years as the humans did but by their reckon many had been here now for almost 18 years, training and learning, always pushed, always punished and always subjected to the chant cleansing that would help them stay from the dark path their blood would lead them down. The number of 'students' as they were often called by the more polite Masters waxed and waned, sometimes their numbers swelling to almost bursting through the halls, other times so few of them that they barely needed all the rest space given over to them. Alakaz had grown over the years, tall, strong, quick and skilled...he could best all of the others who trained in his group and he wasn't the only one who noticed his progress. Pulled away by an elder Monk and two men he had never seen enter the training area before Alakaz was lead to a strange cave, a pedestal of rock before a shimmering mirrored pool in the cool rock ahead of him. He was left here, told to contemplate all he had been taught so far, to meditate as he had been shown on the paint that would help him be cleansed in the end, the strange man his only companion, silent and stoic as he glared from the cave entrance. Alakaz had studied the man, bare from the waist up, his body knotted with cable like muscles, his eyes clear and face unmoving. But it wasn't what Alakaz saw that sent a strange unknown shiver through his body...it was what he could feel from the man. He had never noticed it before with so many so close but now alone it was unmistakable...this man more than hated what he saw before him, he despised it with every fibre of his being. And so it went on, the days lost with only this man's seething hatred as a companion. Every attempt to leave was blocked, every attempt to speak rebuked until there was nothing to do but as he had been instructed...contemplate his existence in the dark quiet of the cave.
When he was next called upon Alakaz could not claim to know how many days had passed, but he was lead by an elderly gentleman to a courtyard overlooked by numerous balconies, many faces young and old staring down at him. Here is where is started...faster than anything he had seen before, striking harder than anything he had imagined the silent men came, blow after blow staggering him around the courtyard...the sound his own breathing and grunts of pain. Where he tried to strike back there was no one to reach, when he thought he had one cornered a counter would send him sprawling across the flagstones to be beaten by hands and feet. Each time he lost consciousness he would awake in the cave once more, laid out on the pedestal. When he learned to combat one they would attack him in twos, when that no longer held him back three would be used, and then never less than four, always working together yet silent, frustrating in their wordless attacks against him. He was strong. He would endure. Though the pain he would tread away from the path destined by his blood. So the Monks told him and for the first time in a long time he considered that they might be telling the truth, that he was here for a reason and couldn't be driven down a path because of how he had been brought into the world. Years of the same doctrine drummed into him with everything chore, every blow landed had focused his mind on that fact and it was all he would dwell on for a time alone in the cave.
He had no real way to tell how long it was from that last moment he head been left alone in the cave...there were no clocks inside, nothing that told of the passing of time...and even when outside the season where had to tell apart...cold most of the time...darker some days and lighter others, Alakaz had given up trying to count them or keep track. They never guarded the cave entrance now but he knew they were always watching him, glimpses of those silent men with the glowing eyes and stoic visages were ever to far away. He didn't care, they fed him what he needed to survive the time in solitary contemplation, they quenched his lust to fight with contests that left him oft battered and bloodied but alive, belief in what he was being taught growing with every passing day.
Things changed over the years, the old men who had watched him once were replaced with new faces, old but still new while Alakaz remained the same, as if only a few months had past rather than decades. The first time he noticed something different within the strange arena of stone he was guided to for each contest, the great doors had already been sealed and the other combatants released into the courtyard, the many faces of the Monks looking down at them. His opponents were much younger than he was, if not by years then in appearance, they were lean where he was muscular, and youthful where he was scarred from years. But it was the eyes that told him all...they looked at him with same hate he had once himself seen in the eyes around him on his arrival and he himself had filled himself with when first dragged into this world. They came at him that time without hesitation, so different from the Monks who had beaten him down for all those years, teaching him skills and honing his martial talents until there were none that could best him save the strange silent men with the glowing eyes.
They came on screaming hatred at him as they struck, the moves quick and well trained, highly adept students of the human style that had been imposed on them but without the years or experience that made the fight so one sided. IN short order Alakaz was left standing in a courtyard strewn with young bodies. They hadn't stopped...he had tried to speak to to them, to make them hear the words he had been fed his whole existence here but they ignored the words and threw themselves at him with a snarling rage that he himself had long forgotten he possessed. It had been swift and brutal but in the end the conclusion could never have been any different. When they had refused to listen and yield, Alakaz had been left with no choice but to defend himself with the skills he had learned in his decades in this world. The broken bodies of the Demon youths lay scattered and broken around the courtyard he had been summoned to again. Alakaz felt powerful...but something else simmered below the surface...a rising anger by the betrayal that had become so clear after all these years. The Monks were not saving the Demons they summoned into those young bodies...they were using the strongest of them to slay the other...feeding them lies to subdue them in the beginning then unleashing them on each other.
They came then when the realisation dawned on him what they had used him to do...all those years ago when the strongest of the young Demons had been taken away...this is where they came, this is what happened to them and now here after so many decades he had come full circle. The silent Monks glowed now as they approached him...cowing him with their sudden appearance, taking advantage of his surprise revelation to restrain him with heavy cords of rope and drag him back to the dark cave, the occasional screaming curse chasing them back out into the light as something broke...the Demons false life shattering around him in a moment of savage fury.
With his bonds holding tight he could do little but rage into the darkness until they came for him again...forcing him into the courtyard to fight again and again...the number of opponents he slew becoming just a blurred number, everyone adding to the betrayal that had been inflicted on him over the years. In the end he slaughtered them all without a second thought, attacking Guardian and demon alike when they came into reach...always dragged back to that cave until that last time...where strongest of the Monks had forced him back into the cave...snarling and raging against the strange bonds of energy they had surrounded him in…
Forced back into the water that had once helped calm him, he felt his very essence being pulled from his body as it enveloped his frame..fighting back the whole time, conscious of what was happening but powerless to stop it. The icy water finally receded back and left a pitch black pool in the cave, the consciousness of Alakaz sat in Limbo...trapped but reaching out...searching for a way to free himself once more, contained by the old energies of old Monks that had lied to him all those decades...
Starting Planet:
Earth
Techniques:
Offensive
Blood Volley Shot [N1] - A cascade of crimson energy fired from both palms with the arms stretched out in front. (33% charge)
Demonic Overdrive [N1] - A series of rapid hand strikes designed to open an opponents defenses, finished with a Ki charged blow that releases its full charge on impact.
(Demon 4th technique, 100% once/thread +pl x4)
Support

-Currently no Support Techniques-
Utility
Multi-Form [UT1] - A technique that allows Alakaz to split him self in two, sharing his Power equally between both copies.
Flight [UT] - Manipulation of demonic energies that allows Alakaz to defy gravity.
Special
Items:
500 Zenni
One-Use Pod