Post by Abzerute on Dec 19, 2015 16:15:22 GMT
PL: 27,569
Heavy Weights: ON
Suppressed Form: Active
---
The bronze Arcosian looked over his desk in his ship onto which he had compiled a series of datapads, each one showing a different picture of one person or another, along with a series of paragraphs surrounding each picture. It was... interesting to say the least the amount of people that had applied for the job of working for an Arcosian as personal guards, especially given the very little information he had put into his search parameters. Some of these he couldn't find a use for himself at this moment in time as his own guards, maybe as grunts down the line, but not part of his actual personal guard. Some of these beings he wouldn't even want to spar with let alone risk having them act as his guards.
But unfortunately he had to go through these applications all the same, just in case he could discover something about them that was not included in their resumes. A long shot for sure given how bureaucratic some people could get... some of these individuals portfolios just made his head want to spin from all the information provided that also provided no information at all. Those ones he would be particularly brutal with, and speak of the devil in came the first one. A Brenchian male with a red hue in his skin, with... a mohawk.
Already off to a flying start.
Abzerute thought to himself.
"Take a seat." he said, the Brenchian complying. "Now, care to explain this mess?" he asked, sliding the portfolio pad over towards the applicant who looked it over slightly. "I believe everything in here is in order sir. All of my credentials and previous employment information is present and accou-" he began to say before catching sight of the look the bronze Arcosian was giving him. He swallowed a little, little beads of sweat dripping down his forehead. "I-I suppose I c-could have made it a l-little more legible s-sir..." he said before Abzerute shook his head and sighed. "Begone. You don't qualify." he said, the Brenchian blinking before he got up. "P-Please-" was all he managed to say before he found the bronze Arcosian's tail wrapped tightly around his throat, the spines pressing into his vulnerable flesh.
"I said begone." Abzerute growled, the man nodding and fleeing, his hands pressed to his neck as he rushed to the nearest medical station. The would-be Emperor sighed as he looked over the data pads still strewn on his desk. "This is going to be a long-" he began to say before he was interrupted by a female voice. "Day? Well let me make it shorter for you then sir." Abzerute looked up and raised an eye ridge at the sight of what appeared to be a human female that had walked into his office. She was dressed like some stereotypical sexy secretary from one of those human magazines he'd spotted lying around Beryl's ship the last time he'd been there.
"And you would be?" he inquired as he glanced over the datapads but failing to locate her features on any of them. "Oh, I'm not there." she said, brazenly tilting his head up with a single finger by his chin. He scowled before his tail shot forth to impale the woman's head, blinking as it went straight through her... and there was no blood. There was a giggle from where her mouth was before she squirmed around, reforming into a new face and form, this one belying her true nature and species. "A Majin. Cute." said the bronze Arcosian in regard to her deception. "Thank you sir, I try my best to please the eye." she said, deliberately misinterpreting his words.
He bridged his fingers and rested his head upon them as he looked her over. Typical look for a Majin, the pink flesh, tendrils for hair, wearing a pair of puffy leggings with black boots and a black bra shirt thing. Her eyes though... whilst her features were indeed what many would call cute... it was the eyes that drew him the most. They were anything but cute. They held a cold edge to them. Something that intrigued him. "So then Miss?" he inquired. "My bad sir. I'm Satisdee. Although you can call me Sati or Sdee." she said with a knowing smirk, causing Abzerute to ponder for a moment before he caught on. "You can duplicate yourself." he asserted, her smile and childish clapping a sign that he was correct.
She then split herself down the middle into two seperate Majin, one blue and one green, only this time they were differently attired to their original self.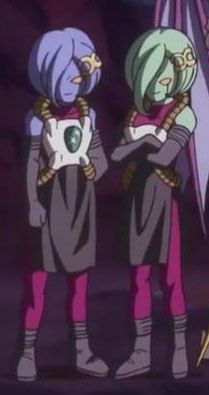 "Interesting." said Abzerute as he inspected the pair of them. "How long can you remain in that state, and do each of you share the same mind, or are you individual entities?" he asked of them... her... He could tell this was going to get a touch annoying. But useful all the same. "We can stay like this for as long as we like." they said at the same time, each of them moving to be on either side of him. "We share a mind, but its more like telepathy. We're each other, but ourselves as well." they explained.
The bronze Arcosian nodded as he considered their words, as well as their abilities. "Very well then, you're hired. You'll serve as my bodyguards and assistants. You'll also be my sparring and training partners." he informed the twins that were one, the pair of them grinning and planting a kiss on both of his cheeks. "We're going to have so much fun boss!" they squealed before one rushed over to the door and poked her head out. "Clear out! Jobs taken! You can all go home now!" There was a series of groans and complaints from outside before they dissipated.
Abzerute considered the Majin pair he now had under his command.
This is going to be an... interesting arrangement to say the least.
he thought to himself as he began to take the pair on a tour of his ship, procuring for them armour to wear whilst under his command. Might as well try to make them look professional.
---
I'll take Zeni for this