Post by Bing Gan on Jul 2, 2015 20:35:48 GMT
The Zetto-Senshi (Z-Fighters)
Faction Leader: Bing Gan


---
Faction Bank:
Z-Bank
There are many warriors who work for the Defense of Earth, some of them like working together. The list below is the name of those characters, with small descriptions attached.
Members:
Maeve Rakshasa
Maeve Rakshasa. A demonic warrior unlike any other. Maeve has always been characterized by her gentle heart, her strong sense of duty, and her morality. She, unlike her clan, took up the blade to protect the weak rather than seek destruction and domniance. It was due to these differences that she was banished to the mortal realm. Shunned by her blood, Maeve wandered the mortal realm using her talents to protect and serve before crossing paths with Bing Gan. Now she battles the darkness of the world along with her friends among the Z Fighters while also battling the darkness within her own heart.
Due to becoming the Kami of Earth, Maeve is
Second In-Command
of the Z-Fighters.
Pieter Wolfbane
Born of the Monkey's of the Karinga, a sub-tribe of the Karinga with saiyan blood in them. He is marked with blue rivers on both sides of his face at his side burns and red claw marks on his cheeks. A naturally good person, though brash, he joined the Z-Fighters to pay for penance for a crime he was involved with a year ago, albeit it was unintended
(see Chapter 1 of Site plot: The Centurrial Conference).
Pieter has recently come back from the Afterlife, having unlocked the powers of the Super Saiyan, as well as receiving the favor of the Northern Kai. Pieter Wolfbane has begun training with Maeve, intent to continue his training to defend Earth.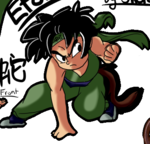 Etoru
Etoru is a half Human, half Sayian, hybrid. His father, Etorin, killed his mother and left Etoru to grow stronger so he can one day come back and challenge Etoru. His gruncle raised him and trained him in martial arts. He was trained to face his father on his return, but he did not know this until just recently. He then focused his training into protecting others. This 8 year old Sayian Hybrid now seeks to join the Z-Fighters, to become strong enough to protect. However, time went by and the boys father returned when Etoru was not home, unfortunately, Etoru's Gruncle died on that day. Etoru confronted Etorin, but Etorin managed to slip away. Etoru seeks to prevent that from happening to anyone else, so they won't have to suffer the same way he did.
Toma
The original founder of the Z-Fighters, Toma is a Saiyan raised on the planet Sylor, and who now lives on Earth. He took a temporary retirement shortly after he was married in order to take care of his then pregnant wife, Ninjin Nedrag. With the babies having been born and Ninjin back to fighting form, Toma has returned to battle to train and defend Earth along side his Z-Fighter brothers.
Defrosch
A bizarre Arcosian of the mostly salty persuasion. He doesn't seem to have the same level of overbearing arrogance that many of his people do, and he outright lacks the tyrannical destructive tendencies. After the Saiyan Invasion of Age 2802, he grew more and more curious about the true strength of humanity. What was it about Earth that made them this way? Could he learn to see this world the same way? So, upon Bing's request, he joined the Z-Fighters, to learn more about Earth and in some ways; himself.
---
Honorary Members:

This section is for those who don't technically work with the Z-Fighters, or have influenced the creation of this group.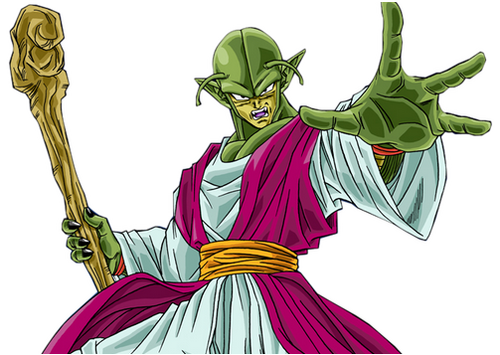 Scargot
The Guardian of Earth was the main influence for the creation of the Z-Fighters. He been missing for quite some time, but the Z-Fighters will keep the planet safe in his absence.
(Fate Unknown)
---
The Fallen:

This section lists those who have fallen in battle, or have simply disappeared from the world in some unknown way.
Image Missing
Tako
Tako is a girl with one dream: To be the best martial artist she can be. After coming into contact with Bing, she's decided that he isn't a total jerk, though she's determined to prove that she can beat him one of these days.
(Died during
The Battle against Realigner Red
)
---
Background:
The Z-Fighters were a group of warriors started 2,000 years ago. The legacy of their battles have been recorded in ancient tomes hidden away in Kami's Lookout. The original founder of the New Z-Fighters, Toma, found these tomes and decided to restart the group as a defense force for Earth once again. Since then Toma has retired from battling, and Bing Gan has taken his place as Z-Leader.
The Z-Fighters's base of operations is currently Kami's Lookout. Its mystical nature makes it the perfect spot for this group of warriors to meet up and discuss battle plans.
The Z-Fighters's main goal will never change: Defend the Earth from those who wish to harm it. If you wish to join up and help out, please either post here or PM
Bing Gan
!
Faction Resources:
1 Training Dojo