Post by X.E.R.U. on Mar 1, 2016 5:49:54 GMT
Name:
Xenomorphic Elite Reaper Unit
X.E.R.U.
Alias:
Xeru
Species:
Bio Android: Demon, Namekian, Ankoku
Ankoku: Energy Eater
Namekian: Regeneration
Demon: Additional starting Skill Slot
Gender:
Undetermined and fluctuating.
Age:
Total: 2100yrs
Hidernation: 1700yrs
Maturation: 396yrs
Alive: 4yrs
Appearance: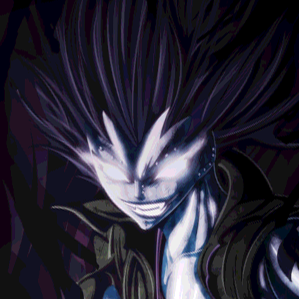 (Gajeel)
Xeru's hair spikes up in a fashion that seems like it wants to hit the sky. It's a dark, steel purple in color and is medium length. His skin is a pale steel tint with blue undertones. His eyes have no true pupils, though he can artifice them. His eyes constantly glow a light white with a light purple tint to it. Xeru stands roughly 5'7 and has a muscular build that is similar to humans for his upper body. However, his eyes have numerous tiny glowing beads on them that are actually tiny teeth, making his headbutts hurt, alot. As well, he wears a openfaced, black leather sleeveless vest with a raised collar. Xeru's tail, is able to be retracted into his body but has an average length of 8ft and 3 inches. It is a slightly darker shade of blue than his skin, with jagged scale patterns. His hands are humanlike in nature, except for his fingers, which have slightly elongated nails that are 2in long and jagged. In addition, he has small nodules on his knuckles that are spiked, and five hooks extending on the pinky side of his wrist that are 1in in length. His lower legs, are insectoid in nature. Segmented set of legs that areslightly armored in a biomechanical exoskeleton with multiple sharp, jagged points and a series of four, hooked toes that form like a talon for his feet. His Ki exudes a mix of purlish white to dark purple in tone.
History:
Forged by Kanassian scientiests during the Arcosian Invasion. While their race was rumored to predict the future, only few often possessed it. And even those that did were locked away as to not influence the public, or be bribed. Instead, they were given all sorts of technology and tasked with making future technologies and early warnings. When they were told they'd be invaded, they were quickly given the tools to form a weapon. A being that could fight for them. Using the mystic DNA of Demons, the longevity and wisdom of Namekians, and the sheer monstrosity of Ankoku, they hoped to create a perfect savior. They however, while predicting the future, couldn't predict when, just witness the events. And the weapon they forged....needed quite a bit of time. Time they didn't have, as Freeza would soon conquer them. Before finally conquering them, the scientists would lodge the growing weapon into a shuttle pod and launch it deep underground, hoping it would one day grow and save them.
They were right about it one day growing however and the being, that only knew it's base instincts and it's named, Xenomorphic Elite Reaper Unit, would emerge from it's maturation stage, completely confused. Knowing nothing of what it was or it's purpose, it simply set out to become....something. Anything. And that's when it ate it's first victim. A small little Kanasson girl named Tarema. However, upon consuming her, while not empowering him physically, did so mentally. He gained her memories, her emotions, her mannerisms to some degree and her form. With this state of being acknowledge, he learned his purpose. To become complete mentally. By becoming anyone he could. Anyone who was different and unique.
But, he'd learn that he wasn't as strong as he anticipated. He needed to learn how to become stronger so he could eat the stronger, more interesting beings. But, he didn't know how to fight and he solved this problem simply. If you can't fight, eat someone who can. And so, he'd take a venture into a Kanassian dojo. It had all sorts of creatures in them, all so boring, but they all knew how to fight. So, slowly but surely, he'd eat them. Even the sensei of them. And that was when he learned his first big breakthrough: Energy. Ki and other energies, this master knew how to use his Ki and with that, Xeru learned how to use his own, and what his would become capable of. But, he realized also that the planet he was on, wasn't enough. And so, he took over a merchant ship. Before he could take off however, he was stopped by the ship's Arcosian owner and his two guards, a Namekian and a Saiyan. However, despite their attempts, he would eat them all. His Namekian regenarion saving him when one severed his left leg, confusing and shocking them before they became his meal. Eating them made him gain vast knowledge of the universe and how to navigate it. And so, he grabbed his new ship and off he went to find new people to become one with.
Starting Planet:
Kanassa
Triple Threat

Ankoku: Energy Eater
Namekian: Regeneration
Demon: Additional starting Skill Slot and Mystical skill access
Absorption

While Xeru has a standard Absorption method and gains of +33% of their PL, Xeru's unique characteristics with his absorption make him truly fascinating. Any Time Xeru absorbs an individual, he gains their memories and personality traits and can alter his personality at will to that of any stored person inside him. As well, Xeru gains access to their memories, speech mimicry, and special transformations at will into any of those he has eaten and copy their energy signature. As well, his primary form receives slight alterations each time he absorbs someone new.
Kanassian Girl
Kanassian Fighters
Kanassian Sensei
Arcosian Merchant
Saiyan Guard
Namekian Guard
Bio-Metabolize

An empowered state which can be enhanced through absorption either of other player characters, or by the much less efficient method of spending a technique point on it the Bio-android metabolizing the excess energies into a wicked aura and intense strength, channeling it alongside their natural proficiency. Each use will digest this excess energy and reduce the multiplier back towards it's minimum by -2x, so Bio-androids must use it tactically to secure key objectives.
Catalyst or Cocoon


At 120,000 PL the Bio-android faces a challenge. Their evolution reaches a biological ceiling, and they must either absorb an enemy to ascend to great new heights, or form into a cocoon and concentrate their energies to progress. The Catalyst option is stronger and faster, but requires two player absorptions. The Cocoon option is slower and weaker, but no player absorption is required. Whether or not the Catalyst or Cocoon is chosen has an irreversable effect on the Bio-android's overall PL progression, as shown below.
Techniques:
Offensive
Technique Name:
[N1]
Flash Bomber
Charge: 33%
> Wiki
:
dragonball.wikia.com/wiki/Flash_Bomber
Description:
Xeru condenses his Ki into his hands and then fires out a unique, special gray ki that he fires out of his hand in a rapid volley over an area in a cone. Doing this, he can rapidly blast a target area in a large series of explosions. Cannot be split.
Technique Name:
[UP2]
Solar End BomberCharge: 66%> Wiki
Description:
Xeru condenses his Ki into his hands and then fires out a unique, special gray ki that he fires out of his hand in a large volley rapidly in a wide cone across an area. On impact, each orb of this ki will burst and then, suck in all the immediate light in the explosion radius of a 5ft diameter of each sphere, creating small areas of momentary darkness. This darkness lasts for a few seconds.
Support
Technique Name:
[SU1]
Requiem of the Fallen
>
Wiki :
dragonball.wikia.com/wiki/Afterimage
Charge: 100%Description:
Xeru moves at a speed so intense that he leaves multiple images behind where he previously was . However, he manipulates the images as he moves to be both himself and that of any of any individual he has absorbed in order to show his opponents how cruel he is
(Flavor)
Utility
Technique Name
: [UT]
Dark Diffusion

> Wiki

Description:
Enhancing on his ability to consume light around him, Xeru's cells will instantly inhale all vibrations and light around him for a 100yard radius, creating a zone of complete darkness and soundlessness.
Special
Items:
500 Zenni
One-Use Pod