Post by Hyoza on Jul 31, 2014 3:56:34 GMT
Name: HyozaSpecies:
Arcosian/Changeling
Gender:
Male
Age:
92
Appearance:
A short (just under 5 foot tall) Arcosian male in his suppressed form. Hyoza has reddish-purple skin, and the trademark white carapace of his species, which forms natural shin, shoulder and forearm protection, as well as the usual 'crown' of natural armor around the skull. On either side of this crown are a pair of dark horns which curve backwards slightly. The shiny gem-like segment on his crown is relatively small compared to most members of his race. This gem, along with those elsewhere on his body, are a dark sea-blue color.
Suppressed Form:
Suppressed Form (Weighted Armour):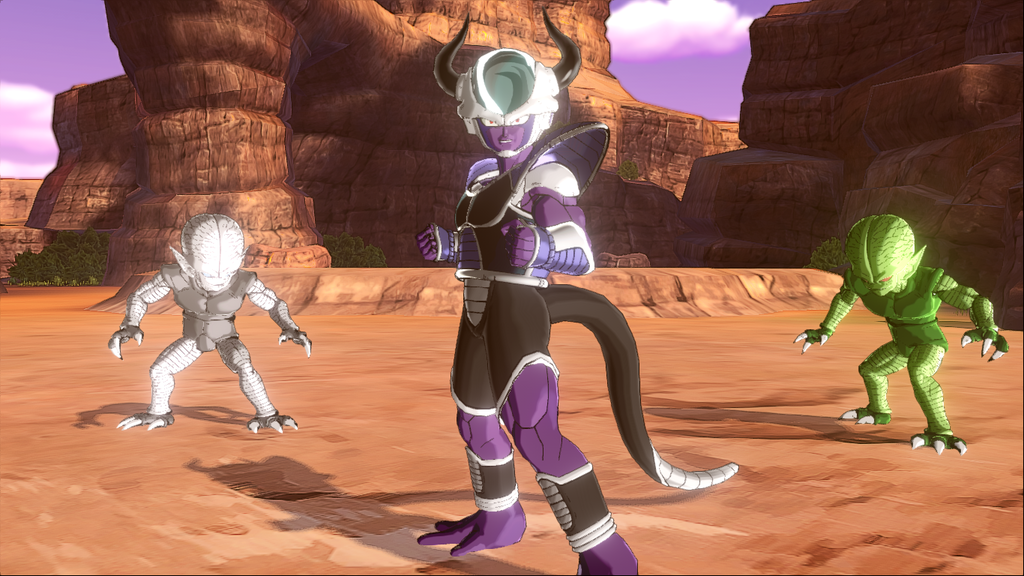 True Form: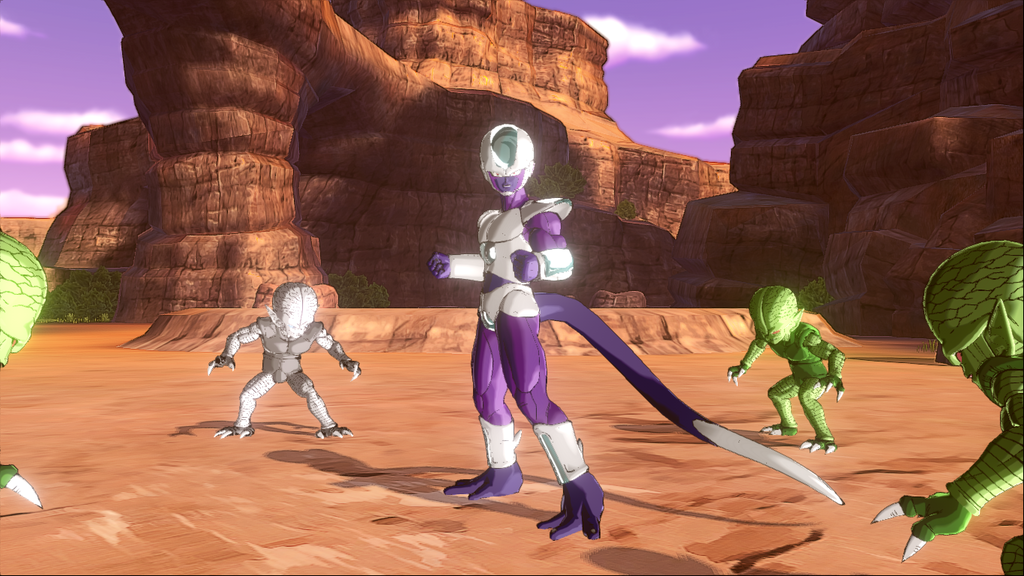 History:
Hyoza is not particularly unusual for an Arcosian - selfish and hedonistic, as most of his kind are. He was born into a relatively wealthy family - but far from noble blood. His family raised him to be fiercely independent, and not to kiss up to authority figures, believing that subservient behavior made one weaker. Hyoza took this to heart, and was ever the voice of dissent in life, arguing with mentors, pushing back at bullies and in general making himself a spanner in the works of Arcosian culture. This attitude made Hyoza more enemies than it did friends in the very structured and hierarchical society of Arcose. Several of his enemies were powerful figures in the aristocracy, with close ties to the Royal family. They made life difficult for Hyoza, and just after his fiftieth birthday, their antagonism escalated to new heights. Hyoza's family home was raided; his father and grandfather were killed during the attack, and the rest of the household arrested and imprisoned. Hyoza was not home at the time, but when he returned to find his home in flames and his family dead or missing, he knew he had finally worn out his welcome. Hyoza had a fairly average power level, but had never been interested in leaving Arcose and involving himself in battles before - he knew he would stand no chance of survival against trained Arcosian fighters. Resigned to his fate as an exile, Hyoza hitched a ride on the next outbound ship.
For the next forty years, Hyoza wandered the space lanes, scraping a living working as a mercenary, before eventually joining a crew of space pirates. The crew was captained by a powerful and bloodthirsty alien known as Ghirash - and they preyed upon any ship or world too poorly-defended to resist them. Hyoza enjoyed his time among the pirates - being second only to Ghirash in power, he quickly rose to the position of the crew's first mate, and enjoyed many fine goods pilaged and looted from their victims. But all good things come to an end, and Ghirash's crew eventually made a fatal mistake. They set down on a planet that was rich in rare minerals, but populated by only very low power levels. Hyoza was left to guard the ship while Ghirash and most of the crew went out to loot a crystal mine of its wealth. Too late the pirates discovered the natives were capable of masking their power levels, and they were decimated as the alien miners revealed themselves to be capable warriors. Though Ghirash and a few of the stronger pirates survived, Hyoza was unwilling to risk waiting for them, and launched the ship back into space, stranding much of the crew. But as the ship began to pull away from the planet's orbit, the alien defenders launched a massive energy barrage. Hyoza allowed the onslaught to home in on their ship, while he escaped in a single-passenger pod.
Eventually, Hyoza arrived at a space station, bereft of most of his stolen wealth, and wanted for various crimes on dozens of worlds. Realising once again that he had worn out his welcome - he set off for a sector of space he had yet to explore, and arrived on the planet Earth, sensing many powerful auras on the planet. Here, he hopes to become a stronger warrior, formidable enough to return to the hedonistic pleasures of the pirate's life without fear of suffering such a crushing defeat ever again. Hyoza is a calculating individual who will bow to no one and will ultimately do whatever it takes to preserve himself and further his own power.
Starting Planet:
Earth
Techniques:
Offensive
- Brave Gatling [N1] -
Since Hyoza did not have much interest in fighting on Arcose, he did not learn the signature Death Beam technique favored by many of his kind, and instead picked up many techniques from aliens after fleeing Arcose, including this one which was a favorite of Captain Ghirash. This technique involves charging energy at the fingertips - before releasing it in a cluster of red beams, which can pierce right through targets if charged sufficiently.
- Brave Barrage [UP2] -
Brave Barrage is heavily based upon the Brave Gatling technique, which Hyoza modified to increase its firepower and give it a (slightly) less awkward name. The technique begins in the same fashion - gathering energy and focusing it into red spheres at the user's fingertips. But when the attack is unleashed, it does not release a series of solid beams, but rather a huge storm of smaller energy 'bullets', covering a wide arc in front of the user's hands. It is less accurate than Brave Gatling, but makes up for it with raw destructive power - it is harder to avoid, and is an excellent tool for attacking multiple opponents.
Support
- Flight [SU] -
Hyoza is able to fly with ease - one of the few skills he bothered to develop when living on Arcose.
- Sense Ki [SU] -
Hyoza learned to sense ki energies during his early days as a mercenary - wishing to find a more reliable way to detect enemies than the fragile Scouters favored by many races.
- Ki Suppression [SU] -
Hyoza has developed the ability to suppress his aura, making it more difficult for his energy to be estimated or traced.
Items:
500 Zenni
One-Use Pod