Post by Jax Punchlust on Oct 21, 2015 1:24:57 GMT
"I am the hero of children all over the world! Prepare to face my dazzling fist of spirit, powered by my heart fueled by pure passion, which is ignited by my own grooveitude!!"
Name:
Jax Punchlust
Species: Human
Gender: Male
Age: 32

Aura Color: Light Purple

Alias: JimJohn Fightingman: Master of Education (Stage Name)
Appearance: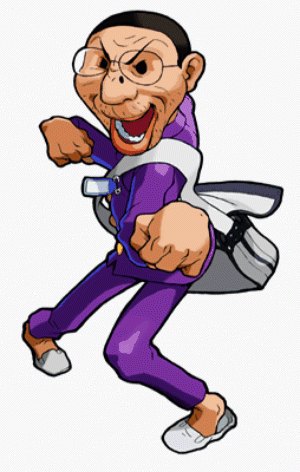 History:
Maximus Punchlust was many things. He was confident, charismatic, and a bit overweight, but hey, we're not here to talk about that. Sadly, one of the things he happened to not be was skilled. In fact, he was unskilled to the point where that the one student at his dojo was his only child, his son Jax. Still, even with only with one student, Maximus ran his dojo undeterred, believing that it was only a matter of time before his obscure fighting style caught on.
Originally created by his father, the Genwaku To Seishin No Hageshī Sentō Sutairu was Maximus's lifework. Combining elements of Karate, Jeet Kune Do, Jin-Jintsu, Krav Maga, and even bits of disco (purely for some extra flare), this fighting style was what Maximus beleived he world truly needed. He thought that Genwaku To Seishin No Hageshī Sentō Sutairu had the answers to all of life's questions, deep within it's "funkerific" ways. Because of this, he spent years putting Jax through rigorous training, hoping that he would one day share his family's work, and potentially even take over the dojo.
But that all changed, as when Jax was only eight, a mysterious figure entered the dojo. He demanded that Maximus fight him and prove his strength, otherwise he would kill his son. Failing to find a peaceful option to the issue, Maximus tried to fend off the man through pure battle, but in only a matter of seconds he was slaughtered. Feeling that he had proven the fighting style useless, and that Maximus had indeed shown him all he had to offer in terms of strength, he spared Jax, and left the dojo. As mysteriously as he had came, he had gone.
After the events of the death of his father right in front of him, Jax dedicated himself to furthering his ways in the art of martial arts, so that one day he could find his father's killer, and get revenge for the Punchlust bloodline. Jax went from dojo to dojo, only spending a few months at each one before being kicked out. All his masters feared a great darkness within himself, and that if he stay with the path he was going, he would only be consumed by it. Also, on top of that, he just generally sucked as a student overall. But even with the guidance of various teachers, Jax continued to seek strength, all in the name of vengeance.
Eventually, his journey lead him into the world of show business. It was a rather odd turn, going from a young man seeking the death of a unknown killer into a sort of small time celebrity, but during his roaming the world to find his inner self Jax ran into an agent, one who saw his fighting style as an easy way into the world of television. Needing some extra income, Jax took them up on his offer, thinking it would be a small one-time job. Instead, however, the agent happened to book Jax as a side character on a children's variety show, and audiences instantly took a liking to him.
In a short amount of time he was casted in multiple children's shows, eventually leading him to getting his own massively successful show as JimJohn Fightingman. While working for his new program, the thirst for revenge within himself subsided, and he found joy in his work with children. Using his skills in the way of marital arts, he was able to educate kids in the way of math and reading, while also spreading the ways of Genwaku To Seishin No Hageshī Sentō Sutairu to millions of kids the world over.
But after years of being the lead star of his own show, his lust for strength and vengeance has returned. Resigning from his work as a children's performer, Jax went back to his quest from long ago, to find Maximus's killer, and also become the strongest fighter in the world, all in the name of his father.
Starting Planet:
Earth
Techniques:


Offensive:
[N1]Kinkyori Enerugīken: A standard technique of Genwaku To Seishin No Hageshī Sentō Sutairu, the Kinkyori Energuiken is a energy based projectile attack that Jax launches with one hand, creating a purple energy ball that somehow has a rather odd smiley face on the front of the blast. Though the distance of the attack depends on how long it is charged, the attack's general range is extremely short, and can only attack those a few inches away from those that use it, limiting its usefulness.

[N1]Seigi to kibō no bōseki kōgeki: A move that can only be preformed by those of the Punchlust bloodline, and after years of proper training in the ways of the Genwaku To Seishin No Hageshī Sentō Sutairu. A move created by his father, Jax channels his inner "grooveyness", stretching his arms outward to his sides, and begins to spin in a slow motion similar to that of a disco ball. By channeling his inner energy, Jax is able to create an aura of Ki around himself, all while continuing to spin. Sadly, the energy isn't powerful enough to hurt anyone it makes contact with, or even shield himself from his opponents' attack. It is rather colorful, however.


Support:
[SU]Flight (Bukujutsu): The ability to fly using Ki.


Items:
1000 Zenni
One-Use Pod