Post by Scargot on Dec 4, 2014 13:48:17 GMT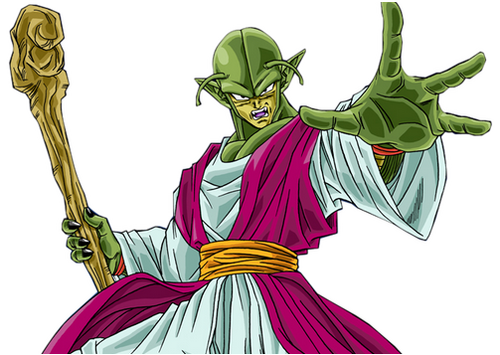 Name:
Scargot
Alias:
Kami, Protector of Earth
Species:
Namekian
Gender:
N/A
Age:
8
Birthday:
December 15th
Appearance:
Scargot is a youthful Namekian, he stands tall at a height of 6'4. He wears the classic white robe with maroon side vest that goes down his sides, he wears an orange belt made of cloth that he wraps around his center. This all makes him look formal, as he isn't really a fighter but a guardian and he is more in touch with his inner strength.
History:
Scargot was born of the great elder of New Namek, much like other Namek' when he was born he was born with a purpose. He was born of the Dragon clan his purpose was to become the Kami of a planet that was once allied with Namek and has since forgotten its Namekian brethren and create the dragon balls there once again. From a young age Scargot was trained in the Namekian art of using their ki and he learned a basic Namekian Fighting style until the one day he was old enough and wise enough to go to Earth.
As the years went by Scargot grew bored of the planet and his eagerness to travel to earth grew, his wanting to fulfil his destiny and desire to travel to the Planet that saved the universe multiple times from evil. He wanted to be a part of that and give the Earthlings something that will help them remain in peace for years to come.
Years passed, Scargot went through many trials and tribulations within himself in order to get to the inner post peace he could. It is legend that in order to be the protector of earth Scargot was going to have to rid of all the evilness within his heart and expel it. This created a second Namekian that spawned from his body, Once the Namekian was born of his body and his image Scargot and the Elders used all their strength to contain the evil into a hole in space. This was so the evil could never find Scargot and he could never ruin Scargot' destiny of becoming the protector of Earth and recreating the dragon balls once again.
Soon Scargot was going to be able to set off on his journey to Earth and become its protector. Once his training was complete and his ability to create the Dragon Balls was surfaced, Scargot set off on a spaceship ready to head to Earth. He was given two pieces of advice when creating the Dragon Balls, the first piece of advice was to always keep one on his person. That way he could test the one who comes with the other six and see if they are worthy to summon the Dragon. The second piece of information he was given, don't fall into loneliness and despair try to find someone who you can call friend.
Once on the ship he knew it was going to take time to get there, he decided to use this time as training. In order to strength his body and his mind, he began to meditate. Whilst in his meditation, he mind was clear and his body was frozen in flight inside his space ship as the spaceship piloted its self towards earth.
Starting Planet:
Earth
Techniques:
Offensive
[N1]
Antenna Beam
Support
[SU]
Ki Sense
[SU]
Flight

[SU]
Telepathy
: Telepathy is a way to communicate with others using one's mind. Users can also read the minds of the ones they communicate with, similar to telepathic eavesdropping.
[SU]
Possession
: Scargot has the ability to take over the body of a Human/Bipedal/Animal on Earth the same way he uses telepathy to read there minds but now with a little more Ki he can then take over their mind and control them from up at the lookout. This can be done by first using his Far Seeing Art Mystical Skill then using Telepathy to enter their minds and finally Possession to take control. In this form Scargot has his same Fighting Style and Ki control, Scargot hasn't yet mastered how to control the being so much that he can insert his own power level into the being. So the being he is controlling is as fast and as strong as it would be if Scargot was not controlling it.
[SU2]
False Memories
Scargot uses his Telepathy ability to enter the mind of his foe. Scargot then uses his magic and extended mental training to insert a fake memory into the opponent. This Memory can be used to trick his opponent or even help them to remember something that they have forgotten.
[SU]
Healing
Scargot uses his Namekian Heritage as a Dragon Clan member to heal an ally for 1/3 of there Base PL. This technique will heal all minor wounds. (Cuts, Bruises and Bleeding)
Mystical Skill:
Mystical Skill: Far-Seeing Arts.
Technique which allows those who live in the godly realms to see everything that happen in the lower realms. He often uses this technique to watch the earthlings from Kami's Lookout at top of the Korin Tower.
Special
N/A
Items:
500 Zenni
One-Use Pod