Post by Katherine on Feb 6, 2017 6:35:47 GMT
Name:
Katherine Kuriza
Alias:
FYSA remnant (Foundation of Ymir Soldiers Assembly), Ymir.
Species:
Bio-Android (Cat Zoanthrope, Brench-Seijin, Arcosian)
Species Traits:
Brench-Seijin's Free Offense Tech (Hybridized), Arcosian Durability (Hybridized), and Hybrid Human Zeni Increase.
Gender:
Female
Age:
5
Appearance:
An odd beast compared to many creatures in the galaxy, Katherine is around five feet tall, her height dependent on her body mass and muscle attire. She has a collection of bone scales lining her body into her tail, large and snakelike, originating from the mutated Half-Saiyan DNA that was now non-existent in her bloodstream after the splicing, and scaled with bone shards and tables similar to that of a Ankylosaurus going down said tail. Her bones and body is a soft red and purple color, changing in the light like a crystal, but opaque and not see through like one, with a single small orb shape on the skull with a visible translucent feel that allows the view to see a single human eye peering out, catlike and sharp, and a deep sky blue. Her body is slim, that of a pinup girl's body, and contains a few tentacle shaped appendages that wiggle around on command by the young woman, most notably the two tentacle like tough muscles on the back of her exo-skull that are short, but rough and containing small blade like bone shards that can slide things behind her head. Around her body are more of these body parts, small and large, mainly the skirt looking bone that can move like silk, but as hard as steel. She has a body under this bone covering, looking almost identical to old Human body that it was prior to the mutation and genetic disruption. It is a soft tan color, with a small curled Saiyan tail from distant family heritage bound up and attached by muscle to the exoskeleton, and long crimson red hair. Her two eyes are a deep blue shade, and her skull is connected by muscle and skin fibers to the bone shell. To finalize her appearance, her self-repair cycle that automatically happens once a month, her body releases excess bone from herself, making her long skirt of bone be removed, along with small shards of bone, leaving her with a smaller skirt of bone and a thinner bone body. She is weaker in this state, as the newly grown shell is thinner and weaker.
History:
Born in the depths of space, a small distance from the planet of Namek, by a collection of doctors under a secret project by the designation of
Ymir
. Ymir's job was to gather the DNA of a multitude of species throughout the galaxies and find perfect specimen to splice these DNA with. Ymir was a product of the less-then-famous Splicers group, and inspiring doctors wishing to be able to fashion together a monster equivalent to the dangers within the Splicers. The Splicers were a group of masked elites, always keeping their identities a secret. They were a collection of officials and rich individuals seeking global, and intergalactic, peace. Many of the forming members of the Splicers were present at many conflicts throughout Earth and Namek's histories, including the invasions of the SSE, and witnessed the horrors that came. Many deaths, innocents lost, and nothing could truly survive those battles without mental or physical scars to remind them of the pain they felt. This led to the mass research of a bio-weapon designed for combat. A creature made for the purpose of relieving the humans, saiyans, and all other creatures from the war effort and dealing with the problems in their stead, and cause true peace. Katherine was a by-product of this horrific operation led by a professor by the name of Cheongsam. Dr. Cheongsam had managed to acquire new blood, something of a rarity among their test subjects it seemed, that was a fully half-Saiyan. He had discovered a rogue Saiyan of full blood that had fled to Earth, and determined to take her blood, she sent a squad of highly trained mercenaries to claim her for testing. It was rare that a Saiyan was so open for attack, and weak enough for them to dare hope to win in open combat. During the raid on the village, the soldiers sent killed the Saiyan's Zoanthrope husband and she managed to get away along with her daughter escaping, but they had a lucky break.
They managed to kidnap her son. The halfling was not perfect, being dominant on his Zoanthrope side, the hoped for the best and extracted as much DNA from him as possible with their machinery, before subjecting the boy to extreme torture and genetic alterations. His natural resistance was heavy and showed promise to the group before he perished to an accidental overdose of chemicals. They gathered together their materials, and expertise with the years of researching into Biomechatronics, and began their work towards their masterpiece.
It took a few years to complete, forming the embryo from the gathered DNA from Aruga, the boy kidnapped and brought to them, as well as collected DNA from an Arcosian of unkown origins, as well as from the Brench-Seijin race. The conglomeration of genetic material overall effected the body more and more as it developed. Into what one would refer to as the "toddler" age of the creation, inside it's growth tank, it resembled more a human. It's human and Brench-Seijin DNA formed it in the average humanoid body and bone shape, with two sprouted Cat Zoanthrope ears on the top of it's skull. It didn't grow hair fully around it's body, only on it's head, tail, and a small trail going from its tail up to the nape of the neck. From there, it's body began to adapt it's Arcosian DNA into the sequence, developing a Bio-suit around it's fleshy and defenseless shell. The Bio-suit wasn't the normal Arcosian shell, but rather using excess bone growth mixed with muscle development surrounding Kathrine's flesh. Encasing her with bending and move-able joints, the armor-like suit was a purplish red, similar to her hair color.
They were amazed by their creations, something they spent years formulating and perfecting, Katherine and the other Bio-Androids finished in the labs were prepared to be released along with their failures in a testing area on an undeveloped planet not to far away. It had been the first time any of the creations had left their growth pod, confused and scared and other mixed emotions that only gave them the views and minds of children, as none of them had been given a proper education or had been given premade memories. Katherine had been ordered to fight with her 'family', these other beings made of almost identical or similar genetics, and fight for her life. It lasted a few hours, rough and brutal instinct based combat that seemed to have no prime directive, until a small collection of the remaining Bio-Androids refused to commit to anymore fighting. These others, including Katherine, was deemed unfit and useless, being surrounded by their creators and forced to escape through murder. They fought their way through the scientists and guards protecting them, before they managed to get to the spacepods that brought them to the planetoid they were on. The researchers seemed to forget the combative ability of their creations, which led to around five of them, including Katherine, to escape to planet Earth.
Their arrival to Earth was unplanned, and while some wished to stick together and try to dare surviving the wilderness, Katherine immediately wished to be alone from what she had went through, and seek shelter, hiding from those who would likely seek them. Her intuition would save her from the incoming assassins directed towards the rogue Bio-Androids, which barely kept her alive through it all. Her goal after her successful escape from her makers being to seek power for peace, as well as for the hopes of discovering who were her original creators would drive the woman to the ends of the Earth, and beyond, to fully understand her reasons for being alive.
Starting Planet:
Earth
Techniques:
Offensive
The Aztec Hand [Tech Tree]
[N1]Sleeping Fist of Moctezuma: Gathering Ki into her fists, Katherine charges the opponent by striking extremely quickly for 33% her power level, and can be charged.
[UP2]Awoken Fist of Axayacatl: Gathering Ki into her fists, sharping her fingers and forming small Ki blades at the fingertips for slicing and ripping skin and muscle. It hits for 66% and can be charged to make the power stronger, and the Ki blades sharper.
[MP3]Master Technique: The Kali-Mah: Forcing all of her power and Ki into her arms and legs, increasing the power of her fists and legs, as well as making sharpened blades on her fingers that are designed for medical-type incisions on the body of the opponent, used for jamming the fist into the opponents body and tearing out their heart, and crushing it in the fist, or simply crushing the heart inside the body. It hits for 100% the power of the user, and can be charged to increase the power and effectiveness. (Free Brench-Seijin Offensive Tech)
SupportUtilitySpecial
Items:
500 Zenni
+250 Zenni (Hybrid Human Starter)
One-Use Pod
Bio-Material Lance: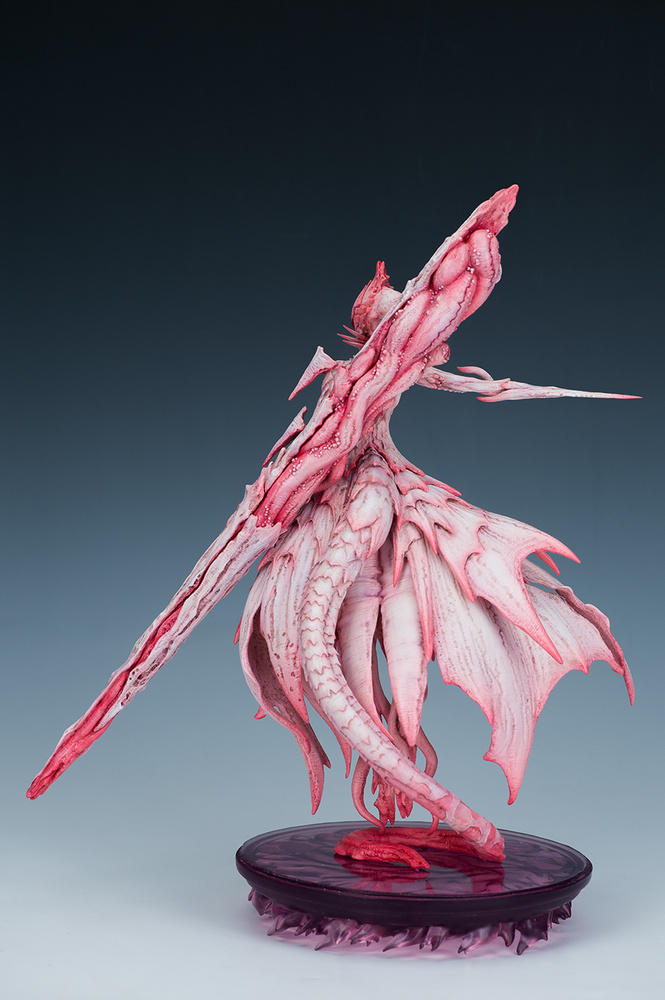 Decription: Made of the same material as Katherine, the Bio-Material Lance was a side project for the Ymir Foundation, which utilizes Katherine's ability to fuse her body to the lance and make it part of herself. Using this, she can process her Ki through the lance, making it something to reckon with. It has a sharp bone blade at the edged side, and is around seven feet long.