Post by Levlidian on Sept 29, 2016 0:15:25 GMT
Name:

Levlidian (a play on 'Leek' and 'vile' since I hate them)
Alias:

The Beast

Currently:

On Earth


Species:

Saiyan
Age:

22.

Relationship Status:
Partner (

Durian

)
Best friend: (
Takeshii
)
Appearance:
Lev's Attire (Pic 1) Lev's current Build and look (Pic 2)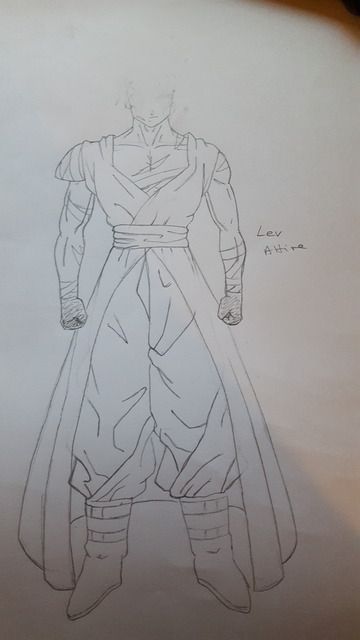 Character basis: Natsu/Vegeta/Kothe
Wears a Black, Kimono like Gi similar to Ichigo's (Bleach), black boots and fingerless gloves. Dark, brownish red hair, deep black eyes and an offset, tanned skin colouration.


Personality:

In the beginning Levlidian was very abrasive, rude, angry and a violent man. The care he took over another's life was non-existent and more often than not his brash actions would lead to greater dangers for those souls caught in the cross-fire. Arrogance reigned supreme as he gallivanted the Universe as any typical Saiyan would. Power was all he cared for and only to become the greatest warrior he could possibly become in order to step out of his Mother's shadow. Destruction followed him and only he himself mattered in the long run.

Now days his demeanour has calmed, whilst he can still be rude and abrasive it is countered by the warmth his heart has adopted during his time on Earth. He doesn't show it but the beast cares deeply for his friends and goes to great lengths to prove himself both as a wise warrior and a powerful animal. Kind, thoughtful and slowly gaining wisdom as he learns to observe the realms with an open mind. However, in his family line temper and fire were their banners, Levlidian is quick to rash action, his temper is terrifying and he walks the teetering line between the Good and the Bad. An embodiment of the natural 'Gray' area; though god forbid you'd make a dear friend cry, there is plenty of fight in a protective Alpha.




History:


Levlidian began his life as any other Saiyan, bare before his onlookers and sized up via the frame and power he betrayed in his infant form. Though he portrayed a stern visage and disciplined mind set even for an infant; there was always something, off about him. When he wailed, he roared and not through an emotion as simple as being upset. Other children cried and complained, they rolled about their curved cubicles and called out inaudibly to their mothers. This only irritated our protagonist, his wails reflected the temper and irritation towards the outgoing weakness of his peers. Fast forwarding on, this child excelled at hand to hand combat, the feel of his meaty fists connecting with the solidity of obstacles and his opponents brought him great joy and ki, for a long time, was simply an after thought. Fortunately, at such a young age Levlidian was impressionable, though it was a difficult feat, his Father reigned the power hungry Saiyan in and went about the basics; flight, sensing others, a rarity amongst their species but Levlidian eventually developed an interest once gestured towards their applications.

however, everything fell apart when honour stepped into the fray. Levlidian's father worked to raise an honourable, proud Warrior and yet this too got out of hand. The young Saiyan would challenge others far superior using insults and goading them from his emotionless pedestal. It wasn't that he didn't have them, Levlidian simply didn't understand their function, their use or their abilities to fuel his muscle memory. Soon he grew exponentially in power, for a child he exhibited brute force and savagery that worried even the greatest. Understand, it wasn't that he was powerful that developed this fear; it was the potential. During a lesson on the honourable tails they owned, Levlidian spied the weakness as it was explained, unlike his predecessors whom simply wore them like belts to evade the weakness being exploited and thus he ripped it off. Why? To eliminate and obvious advantage and what did he need a wild, monstrous Oozaru for? Levlidian preferred the cold, calculating mind he owned in this form. His Father disapproved and in secret, moved to have the young Saiyan punished. This however, went horribly wrong. Levlidian discovered the plot and murdered his Father then fled the planet despite their being no real repercussions.



For half a decade he fought in the wilds of space, from planet to planet he roamed fighting, losing, scraping victories but still he grew stronger and that was all he cared for. Whether he lost or not hiss Saiyan pride drove him on amassing himself a reputation as a violent man lacking any real prejudice; he hated everyone stronger than him equally and everyone else ceased to matter to the youngster. A moment arose that this would be his downfall, caught up in a fray with an unknown, he fought valiantly. Each strike a perfect motion yet his opponent swam about him and danced as though his beserking design meant naught. Blow after blow was caught or evaded and Levlidian was sent soaring on more than one occasion. Earth was where he'd found this man, a strong fighter but no matter how he enveloped the situation in his strategiclly cold mind, the young Saiyan saw no victory and so threw himself blindly.



Now he awakens beside his fractured pod, cataclysmic pot holes and craters surround him and he lay, battered, bloody and bruised. It mattered not, he'd stand eventually and with a sickening grin of victory despite the obvious defeat; he knew he'd be stronger regardless. Levlidian always won, one way or the other.

From Monster to Saviour?
Upon landing here on Earth, Levlidian drew his bloodlust to new heights hunting every fighter he could to benefit his development. In the fray he tangled with a trafficking gang with devestating results, destroying the better part of 90% of their operation due to their taking him hostage. However, this was not the end of Levlidian's issues, his brother descended with members of the SSE for their first destructive battle ending in a tie. Saved by a young woman named Lily, unbeknownst to her however, she'd become the pivotol moment his alignment began to wain. The Gang tracked Lev' down and brutally killed Lily for her association with the young Saiyan. surprisingly, this devestated Levlidian who eradicated the gang members and emerged a changed man from it.

It was shortly after this he'd meet Aina and Hinawa, befriending them deep within the Caverns of the North; it would be here that he and Hinawa began their friendship and Rivalry. Over the course of several months, the beast unlocked the ability to befriend others thanks to the in depth converse and training from Hinawa to contain his Saiyan blood. Steadily, the bringer of chaos began to sow the seeds of Justice in his wake. Learning of the 'Super Saiyan' or 'Golden Warrior', an obsession with it began. The Northern capitol came under fire, Levlidian stepped in with a horde of others to fight a Demon named Greeve, in said fray, the young Sayan came close to losing his life but managed to tap into the legendary spirit locked within all Saiyans and unlocking a portion of the power; Thus he survived.

Befriending those of the Capitol, he'd stepped into the fray as a Guardian of their city. Erecting a home near by, this is where we find our young Hero to this day. To couple this, he has begun a development of his own style in the style of the Wolf and named 'Iron Monolith'; losing about 30% of his once mountainous mass, the young Wolf became slender, sleek and trimmed in order to make better use of his close quarters experience and harness his Ki in such a way he could enhance himself via inner manipulation of KI using the style of meditation handed down by Hinawa's family.

Obsession was the best way to describe levlidian's development, great power swallowed his empty promise that he'd given himself. As the power grew as did his temper, the guilt, the rage and falling into the next part of his saga, a deep seated seed of corruption had been sown. Super Saiyan was just around the corner, he could feel it like a swelling mass in his heart but unbeknown to him it would trigger a fatal flaw in his families heritage. So many friends made, here he was about to start his true training under a dear friend and fellow canine at heart, was it to look good from here on? A question set to be answered, Blood for blood, bone to bone; the Saiyan stood unprepared to pay the cost for following the way of the Wolf.
Give rise to the Super Saiyan Alpha's Rage
The Beast's training pushed on eebing him into the realms of the most powerful on Earth, his strength began to press that barrier between normality and Super Siyan and yet no matter how hard he tried, not an ounce more of the power came. Frustrated, his confidence waning and the False Super Saiyan state becoming summon able at will; another issue arose. His Temper. Time and time again he'd interact with those who sought friendship, granted he befriended most, others began to push his control as a Saiyan, steadily he developed a dislike for his own heritage, then Hinawa vanished.

Lost without his bestfriend and Master, Levlidian himself became a loose cannon. One moment he was kind, gentle and passionate the next he'd tear into others and begin fights for no accountable reason, he was bleeding back into his old ways. During a meeting between Kazar and himself, the young Wolf discovered that death itself wasn't permanant, this news leveled his desires to end the Solar Empire for what reason was there to end it if they'd simply return and decimate him out of vengeance? The ever turning cycle would simply continue. A darkness came over the Saiyan and with a Kagami by the name of Durian following him every which way, reminding him and advertising his lack of restraint what more was there to do but give in to it?

One final bid came, he visited an old friend, one he'd lost in the early days of Earth and admitted his sins. Unbeknownst to him Durian had again followed him, she was exposed to his grief and his dislike. As though they'd found an odd acceptance of one another, Lev' was invited to share in her memories as she was invited into his. Via telepathy the two creatures fell into their own torments, swallowed by one another Levlidian soon lost control. Telepathy was one thing he was no adept in, the emotions courted him and plummeted the Saiyan into his own darkness where he finally, in his distraught state, begging for a way out, turned into a Super Saiyan and whats more; fell in love with Durian the Kagami.

With a mate, a friend and a purpose renewed the young Saiyan looked to Namek, to flee Earth and look for a new purpose with a woman suffering the same issues. her Vengeance wrought no benefits and having fallen for a Saiyan; it made no sense. Amongst the debris of his ruinned ship, destroyed by his golden transformation, the pair generated a pact and bonded under Kagami perquisites ; thus onto Namek they go.
Namek and beyond
[Coming soon]

Theme/sClip 1: Lev's Theme - Clip 2: SSJ

Clip 1



Clip 2







Iron Monolith Style, self enhancement and Long range Techniques:

Taking on the likeness of Father Wolf, the combatant becomes a human weapon using his/her Ki to enhance themselves physically and employ the tactics of a hunting pack to bring down the enemy. strong, fast jabs, vibrant kicks and enhancened instincts are the way of the Iron Monolith. With his main hand extended like a claw, the secondary pulled tight to his side and his legs spread in a sideways on horse stance whilst his frame draws low to the ground, like a predator. To be Honourable and wise in the face of ones heritage or up bringing, to protect the dirt ball that brings out the best in us all; to value competition, fair combat and to strengthen those whom are lacking.

Arrogance incarnate, this is Iron Monolith.



B = Beginning attacks



Offensive

[N1] [Iron Monolith Style: Omega's Fist] Ki-Infused Melee Attack B
Ki-Infused Melee Attack Through proper Ki Manipulation, you have gained the ability to supercharge your melee attacks with Ki! The melee attack can be flavored however you like, and mechanically functions identically to a ranged technique. Charges at 33% per turn. (IE: 33% > 66% > 99% > 132% > 165% ) Levlidian entices his Ki inside himself and enforces the power with a thin, red line dosed about him in betray the fact his aura burns inside.



[V2] [Iron Monolith style: Lock-Jaw Strike]
At close range, Levlidian funnels his Ki into the ridges of his fingers and delivers a savage version of the 1 inch punch directly to a vital area of the opponents chest clearing their lungs of air and filling their sternum with his Ki to lock their muscles down with sheer shock. This variant acts as a Wolfs jaws might, locking down once about the foes throat and using the sheer will of himself and the pain/situation to paralyse.
Stunning - Techniques with this variant also stun the opponent for 100% power level of the user which can even disrupt charging if the stun is strong enough.
This attack deals 33% damage



[UP2][Iron Monolith Style: Beta's Fist] Super Ki-Infused Melee Attack
Through proper Ki Manipulation, you have gained the ability to supercharge your melee attacks with Ki! The melee attack can be flavored however you like, and mechanically functions identically to a ranged technique. Charges at 66% per turn. (IE: 66% > 132% > 198% > 264% > 330% ) Levlidian's Aura now flurries through his skin minorly, small licks of flame surround him as well as the redline from the lesser versions of this ability.



[UV3] Iron Monolith Style: Shattering Moon
Piercing attack, indentical to ki infused Melee variant Lev uses but forges a Wolfs head over his fist only for an entire Wolf to form as he strikes spreading the ki about the barrier. 66% damage



[MP3] [Iron Monolith Style: Alpha's Fist] Ultra Ki-Infused Melee Attack
Through proper Ki Manipulation, you have gained the ability to supercharge your melee attacks with Ki! The melee attack can be flavored however you like, and mechanically functions identically to a ranged technique. Charges at 100% per turn. (IE: 100% > 200% > 300% > 400% > 500% )
Levlidian swallows his Ki entirely, his body illuminated with a smaller, slimmer red hue flames of blood red flames flutter from his very flesh and his very form becomes an entire weapon with attacks like he was launching super charged Ki blasts with each physical attack



[N1] Iron Monolith Style: Blood Moon Arch - 33% power (Right Blade)
Funnelling his key into his hands, he sweeps the blade allowing his Ki to feed into the blade tip with the swipe sending a large arch of Ki towards the opponent.
(IE: 33% > 66% > 99% > 132% > 165% )



[UP2] Iron Monolith Style: Blood Moon Arch - 66% power (Left Blade)
Funnelling his key into his hands, he sweeps the blade allowing his Ki to feed into the blade tip with the swipe sending a large arch of Ki towards the opponent. charges at 66% per turn



[V2] Iron Monolith Style: Harvest Moon Arch
Funnelling his key into his hands, he sweeps the blade allowing his Ki to feed into the blade tip with the swipe sending a large arch of Ki towards the opponent's face (Stun) 33% power



[MP3] Iron Monolith Style: Twin Moon Arch - 100% power - splitting
Funnelling his key into his hands, he sweeps the blade allowing his Ki to feed into the blade tip with the swipe sending a large arch of Ki towards the opponent. Power 100% per turn (used by both blades)


[N1] Foxfire Blast
Levlidian condenses an amount of his own Ki into a ball of red flames, which is then lobbed at the opponent to scorch them. The most basic of offensive Kitsune magic taught to him by Hinawa via her own teaching methods.
It acts as a 33% charge of his max ki to inflict damage.



[N1] [Iron Monolith Style: Wolf Fang Assault]
Ki-Infused Melee Attack, he delivers a varied set of combination attacks with ki infused limbs as a split attack, charged at 33% (IE: 33% > 66% > 99% > 132% > 165% )


[UP2] [Iron Monolith Style: Wolf Fang Assault v2]
Ki-Infused Melee Attack, he delivers a varied set of combination attacks with ki infused limbs as a split attack, charged at 66%


[MP3] [Iron Monolith Style: Wolf Fang Assault v3]

Ki-Infused Melee Attack, he delivers a varied set of combination attacks with ki infused limbs as a split attack, charged at 100%



[N1] Iron Monolith Style: Burning Howl
Manoeuvring your hands like a mock Galick Gun, the user unleashes a cone of destruction extending to the height of the user. A core of pure ki like plasma enveloped in infernal flames burst towards the opponent. Using Fox Fire as a base and the control it requires, Lev' has developed a technique all of his own as a nod to his Master. charges at 33% per turn. (IE: 33% > 66% > 99% > 132% > 165% )



[UP2] Iron Monolith Style: Burning Howl
Manoeuvring your hands like a mock Galick Gun, the user unleashes a cone of destruction extending to the height of the user. A core of pure ki like plasma enveloped in infernal flames burst towards the opponent. Using Fox Fire as a base and the control it requires, Lev' has developed a technique all of his own as a nod to his Master. charges at 66% per turn



[V2] Iron Monolith Style: Lacerating Blast
Manoeuvring your hands like a mock Galick Gun, the user unleashes a cone of destruction extending to the height of the user. A core of pure ki like plasma enveloped in infernal flames burst towards the opponent. Using Fox Fire as a base and the control it requires, lev' has developed a technique all of his own as a nod to his Master. {Damage Over Time - Techniques that divides the overall damage of the attack to damage the opponent for the total over time. over three turns a V2 can be split 11% over 3 turns.)



[MP3] Iron Monolith Style: Alpha's Cry
Manoeuvring your hands like a mock Galick Gun, the user unleashes a cone of destruction extending to the height of the user. A core of pure ki like plasma enveloped in infernal flames burst towards the opponent. Using Fox Fire as a base and the control it recquires, lev' has developed a technique all of his own as a nod to his Master. 100% per turn. Splitting.



[N1] Iron Monolith style: Stalwart Omega
Being able to harness his ki within himself, Lev' compresses the energy till it rests about his form like a second skin and is able to diminish the damage of the attacks he is caught in. Through some proper Ki Manipulation, you've gained the ability to summon a barrier made of Ki! It charges at 33% per turn, and if the Barrier is broken by a technique, any bleed-through damage is halved (IE: If a Ki Barrier had 2,000 PL, and was broken by a 3,000 PL attack, the bleed-through damage would be 500 PL instead of 1,000).



[UP2] Iron Monolith Style: Stalwart Beta
Being able to harness his ki within himself, Lev' compresses the energy till it rests about his form like a second skin and is able to diminish the damage of the attacks he is caught in. Through some proper Ki Manipulation, you've gained the ability to summon a barrier made of Ki! It charges at 66% per turn, and if the Barrier is broken by a technique, any bleed-through damage is halved (IE: If a Ki Barrier had 2,000 PL, and was broken by a 3,000 PL attack, the bleed-through damage would be 500 PL instead of 1,000).



[UV3] Iron Monolith Style: Go for the throat
Being able to harness his ki within himself, Lev' compresses the energy till it rests about his form like a thicker second skin and is able to diminish the damage of the attacks he is caught in. Through some proper Ki Manipulation, you've gained the ability to summon a barrier made of Ki! This is used in conjunction with a rapid dash -through- a large beam attack piercing it and using the motion to carry himself into a DAMAGING eruption of power. The attack itself carries the damage as if he'd simply struck them without Ki enhancement as all his energy is dictated to fend off the power of the attack from harming him whilst he attacks. It charges at 66% per turn, and if the Barrier is broken by a technique, any bleed-through damage is halved (IE: If a Ki Barrier had 2,000 PL, and was broken by a 3,000 PL attack, the bleed-through damage would be 500 PL instead of 1,000). Stuns opponent.



[MP3] Iron Monolith style : Stalwart Alpha
Being able to harness his ki within himself, Lev' compresses the energy till it rests about his form like a second skin and is able to diminish the damage of the attacks he is caught in. Through some proper Ki Manipulation, you've gained the ability to summon a barrier made of Ki! It charges at 100% per turn, and if the Barrier is broken by a technique, any bleed-through damage is halved (IE: If a Ki Barrier had 2,000 PL, and was broken by a 3,000 PL attack, the bleed-through damage would be 500 PL instead of 1,000).



Support

Iron Monolith Style(Afterimage): Head of the Pack [SU1]
This technique allows you to completely dodge techniques beneath 100% of your PL. This technique uses 1 KP in KP Battles and cannot be charged. Dashes forwards and vanishes into a spark of ki only to reappear in the face of the opponent with intent to get in close.


Iron Monolith style(Afterimage): Head of the Pack V2 [SU2]
Through a sudden burst of speed you leave behind a image of yourself to distract your opponent this image can preform a basic set of chosen movements when created to make the distraction more believable, this technique allows you to completely dodge techniques beneath 200% of your PL . This technique uses 2 KP in KP Battles and cannot be charged.
Levlidian uses this as both a form of evasion and sudden attack.


[Iron Monolith Style: Head of the Pack] V3 [SU3]
Through a sudden burst of speed you leave behind a controlled image of yourself to distract your opponent, you have complete control over it and the image is capable of preforming any feats you yourself are capable of, it cannot however actually harm an opponent, this technique allows you to completely dodge techniques beneath 300% of your PL. This technique uses 3 KP in KP Battles and cannot be charged.


Utility

[UT] Ki Sense B

[UT]Flight B

Energy Suppression [UT1]

Energy Setting [UT2]
You are capable of setting your power to a lower level to not only hide yourself, but also effectively fight while at this level.

[UT3] [Iron Monolith Style:] Alpha's Rage
You are able to take the energy control a step further by temporarily increasing your power level by half! Though, this is simply a bluff, and you cannot use techniques with your new power - it only lasts a turn.

[UT1] [Iron Monolith Style:] Alpha and Omega
Through this technique you can create a copy of yourself dividing your power evenly between yourself and the copy.

[UT][Iron Monolith Style:] The Inner Beast - Power Weighted:
By some means, usually via a significant increase in muscle mass, you increase your offensive power at the cost of your defenses, this results in an increase of your offensive pl by +x1 and a decrease of your defensive PL by -x3. You must have a transformation that provides at least +x3 defensive PL to use this technique. Using Power Weighted costs 0 KP in a KP Battle


Special:


Transformations:

Master Super Saiyan
Ultiimate SSJ
Items:
lvl 1 home
grav chamber 120%
dual swords
Luxury Space Ship