Post by Fritz Shirotora on Mar 25, 2016 1:04:44 GMT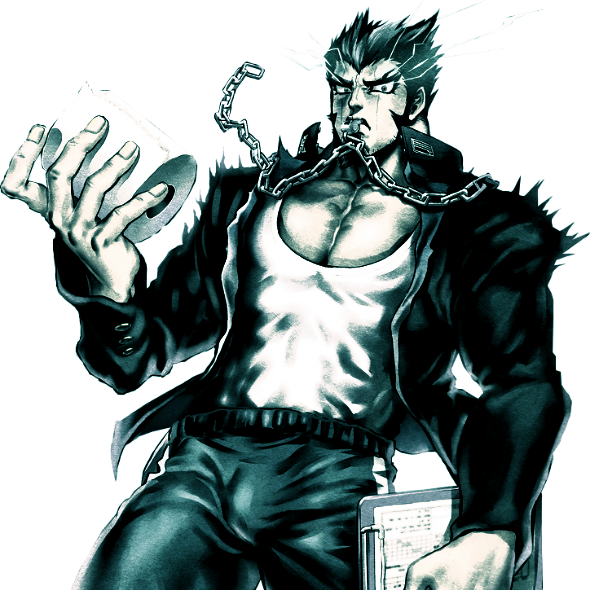 Name:
Fritz Shirotora
Alias:
Fritz, "Raiko-Sensei" (Thunder Tiger Teacher)
Species:
Human
Gender:
Male
Age:
29 Earth Years
Appearance:
Fritz is a very tall, muscular man with black hair. He is a good seven foot six inches tall, and weighs about 358 and a half pounds with only the healthiest amount of body fat in his body. When you look at his face, there will be one thing that you will notice odd. The first would be the two scars that run down the sides of his face, which are vertical lines that run down a quarter away from the edge of his eyes.
Then we reach the rest of his visage, in which he has a strong face definition, with bushy, yet sharp looking eyebrows which lie above his eyes, which have a dull-shade of golden colored irises. He has rather sharp hair that is somewhat swept back into a direction, ala phoenix wright style. However, he has sideburns that are pointed inward to his face, which also follow the sharpness that his pointed chin-beard goatee thing.
Then we reach the rest of his body, in which he wears a white tank top under a black gakuran, as well as blue tracksuit pants and wooden geta sandals. He has chains around his neck with a whistle hanging in the middle part of the chains. Underneath all of this, he would wear a pure black speedo, because he is too manly to wear pathetic boxers or briefs. And underneath all of these clothes, you will find muscles, as he trains himself to the extreme as often as he can.
Full Body
Topless
Alternate Apparels:
History:

Fritz had a normal childhood, except for the fact that it really wasn't. His father died in a car accident before he was old enough to fully remember him, and his wife/Fritz's mother couldn't stand looking at the offspring that lives a constant reminder of her loss. So, mind being driven through a wall of mental guilt and punishment, Fritz's mother dropped him off at an orphanage in another city and drove off, never planning to see Fritz ever again.

There, he learned that he had to be strong in order to not get hurt, as half of the children there pretty much bullied others in order to make themselves feel better, since some of them were abandoned because their parents didn't want them or that they hated the way they looked.. So for many days he did nothing but train himself under a strict regiment that he found in a book off the road, which was labeled 'How to be stronger than a carrot within a couple months.'

Sadly enough, a couple months wasn't enough time to make him stronger, but Fritz had the determination to always push himself to the edge at an early age. When he reached the ripe age of eight, he was able to keep the bullies away from him... and everyone else, as he was known as the kid who did nothing but built up his muscles. In fact, Fritz getting muscles and being strong enough to fight off the bullies in the orphanage was a benefit for him, but a detriment to others as they decided to pick on the other weak people inside the orphanage.

Fritz was not happy with this situation, as instead of being isolated in the sense of everyone antagonizing you, he was now being isolated as he himself was a threat to everyone else. To this he could only smile and try to tackle the problem at a different angle. Sure he could beat up the bullies and keep a constant eye over everything at the orphanage, but that didn't solve anything. A solution he was able to contrive was that he could teach the other kids how to protect themselves so that they could hold their own against the bullies. At first, the children didn't want to follow his strict training regiment, as Fritz really had no chill and didn't know how to tone himself down for other people. But after trying for many months, he was able to get a couple few children in the orphanage to try his regiment.

Funny enough, they were able to reach Fritz's strength in a much faster rate of time, because of Fritz's odd natural teacher's mentality. He knew exactly how to deal with some of their issues, such as the reason why their punches weren't being able to be thrown at full force or why they can't run as far and as long as Fritz could. He was able to see these problems, and teach them how to manipulate themselves in order to extrapolate their growth.

His odd, yet accurate and observant teaching skills had gained him a following in the orphanage, in which he was teaching everyone how to fend themselves in self-defense, along with staying fit and as strong as they could be. It was about when he was ten years old when, as luck would have it, he was adopted into a rich family. To some people, this might seem like a privilege and a gift to someone who was living in orphanage for as long as they can remember. To Fritz, it was hell as his adoptive parents were never around, and left him to fend for himself around the home along with a rotation of nannies and butlers who would take care of him. And he was going to keep his birthname of Shirotora, as there was no way in hell that he would allow himself to be called "Fritz Yowai-Niratori" for two reasons. The first being that it is too much of a mouthful to say, and the second because (after doing some research on his own time) it translates in a different language to 'weak chicken.' That is not what he is, as he is not a weakling nor a coward.

This was a boring existence, and the growing boy known as Fritz knew this, but couldn't really do anything. So he allowed himself to get pampered for a couple weeks, and as he was watching the old boobtube, he was watching a martial arts tournament. He was so engrossed in these fights that he recorded the entire tournament and watched them over and over and over again, to the point where he was able to play back the fights in his own mind and remember some of the most minute details of the fighters, their fighting styles, and their moves.

After pondering it in his own head for a while, he decided that he wants to become one of these martial artists himself. So he trained himself in his own families gym, using all of their equipment to the maximum. He even broke a couple treadmills and punching bags because he was training as hard as he could. What he witnessed on the television was amazing, and he wanted to be able to do things like that.

So, along with going to a proper school for most hoity toity rich kids and training himself to the extreme, Fritz was feeling dreadfully exhausted most of the time. However, he had to keep up with his training (for reasons that are obvious) AND he had to keep up his studies, as the only reason his parents allowed him to have such a frivolous hobby as building his body up and self-teaching himself martial arts, was because he was getting such good grades in the school.

It was during high school that everyone started noticing that Fritz was growing to heights that none of the other students were stopping at. It was in his sophomore year alone that he reached a total height of seven feet tall. Everyone at first thought it was because he was exercising himself to such extreme degrees, but after reaching seven feet tall, and still growing, his adoptive parents brought him to see a couple doctors. It was there that he was showing signs of gigantism, and had to undergo surgery in order to remove the tumor in his pituitary gland, which was causing this nonstop growth of his entire body. They were unable to remove the entire tumor, but they gave Fritz medication to reduce the swelling of the tumor in the glands, and thus was able to stop his growth at around 7 foot six inches tall at the junior grade of high school.

Graduation came a year later, and it was around this time that Fritz's growth was finally stopped. The tumor was reduced to the point where he won't grow any more, and he was able to have surgery in order to cut out the remainder of the tumor. After graduation, every student was talking amongst one another about what they wanted to be. Some people wanted to be roboticists, others wanted to become journalists, others wanted to become video game makers. However, everyone only assumed that Fritz wanted nothing more than to be a martial artist. And this was when the biggest shocker to everyone came forth, as the giant wanted to be a teacher. He came to this conclusion after thinking over his entire life, as it seemed like High School was a repeat of what happened at the orphanage. People bullied him at first, as he looked like a freak of nature being so frickin' tall, large, and heavy. He ignored them as he knew that they were only bullying him because he scared them. People attack what they fear, and that's what was happening. Then Fritz noticed that some people other than him were getting picked on, and he taught them how to stand for themselves to the point where they could stand toe to toe with their own bullies. He enjoyed that feeling of teaching people so much, that he wanted to have that feeling for the rest of his life. So he enrolled at a college in order to get a degree in teaching at schools.

During his years at college, he was finally exposed to the world of ki when he saw two of the college students fighting each other in a stadium, blasting ki blasts at each other. The instant he saw this, he sprinted for the little arena and asked them what the heck they were doing, and how Fritz could learn to do this. At first, they denied as they were heavily intimidated by Fritz, but after a little while and couple more times of him asking, they caved in and taught him the basics of how to manipulate energy.

By the end of his college days, Fritz learned how to do afterimages and even suppress his own energy. And just as he was finishing his degree in teaching, he was immediately offered a position at a local high school where he can teach physical education to the students, seeing as how Fritz was fitter than any fiddle around town. Against his own hoity toity rich parents' wishes, Fritz accepted the job to work at a normal, poor person's high school, where he taught students how to stay fit.

He worked as a teacher there, teaching students how to stay fit and everything, until he realized that some of his students had conditions just like him, where they realized they had ki inside of them, yet had no way of controlling them. So, doing as he has always done before, he decided to add in Ki Control into his school lessons, and this was one of the few things he struggled to teach, as the students were able to form ki outside of their body and actually control it. Aside from that, he was able to teach his students how to suppress their own ki and, to a couple of the students that accidentally tried to do it themselves, PROPERLY taught them how to fly even though he himself still had troubles trying to fly.

He worked at the school for years, until the Saiyans invaded half a year ago, and almost decimated everyone on Earth. Fritz was finally putting some of his martial arts and training to the test as he was doing his best to make sure that he was keeping his students safe, as he managed to bring as many of his students as he could and with their ki suppressed, went into the bunker of the Rich Hoity Toity school he went to as a child. Yes, the school was rich enough to have very dense bunkers that withstood the majority of the saiyan attacks, but that is beside the point. The point was, those kids would have died if not for Fritz, and he didn't want to quit his job.

But at the same time, he realized that the world around him was a dangerous place, and that he needs to do something about it. So, as soon as the invasion ended and everyone realized that all the schools were closed as they were, well, completely destroyed... And after Fritz helped rebuild at the high schools in the city... Fritz decided to learn how to get stronger, in order to better protect the ones around him, whether they want protection or not. And once he becomes stronger, he'll teach others how to be stronger as well. The learning for a teacher will never end, he assumes.

Starting Planet:
Earth
Techniques:
Offensive
[N1] Moonshatter

Moonshatter is a technique which at its basic core that extensively increases the concussive power in Fritz's punches. He is able to manifest his energy around his forearm as he would throw a stronger than usual punch at an enemy. When the energy-encased fist hits a target, it would feel the force of the punch plus a tickle of what could be described as electric energy.
[UP2] Sunrise (Upgraded version of Moonshatter)

Sunrise is an upgraded variant of Moonshatter, and there are two distinct differences. The first difference is that Fritz is able to condense more ki into his fist before he unleashes the punch, which allows the attack to potentially be more damaging to his target. The second difference is that the condensed ki would be able to turn what was the tickle of electricity in Mooshatter, and turn it into a full fledged shock (albeit it is only a level of static shock).
Support
Afterimage [SU1]
-
Through a sudden burst of speed you leave behind a static image of yourself to distract your opponent, this technique allows you to completely dodge techniques beneath 100% of your PL. This technique uses 1 KP in KP Battles and cannot be charged.
Utility
[UT] Flight
Fritz can manipulate his own energy to give him the ability to fly.... finally
[UT] Ki Sense
After trying to do so for so long, Fritz is finally able to sense ki. Whether it was due to finally tapping into his inner strength, or from being hit too hard in the head, No one will know. All we know is that he finally has some sense.


[UT1] Energy Suppression
-
You are capable of suppressing your power in order to better hide yourself from the gaze of those with Energy Sensing or those utilizing a Scouter, so long as you are not making use of powerful techniques(anything that would consume KP in a KP Battle) you can remain undetected by friends and foes alike! This technique uses 0 KP in a KP Battle
Special
Items:
1000 Zenni
One-Use Pod