Post by Koramund on Jan 25, 2015 1:27:24 GMT
Technique Name:
[UV3] Summoner of the Void - World Maker
Description: Koramund creates the Phantom Resurrection and pumps it to the brim with ki, before creating a second larger Phantom Resurrection around the first. The first smaller Phantom Resurrection turns into a Void Obliteration, spitting out all the matter into the larger Phantom Resurrection, and then more and more ki gets put in until its filled 100%, and the Phantom Resurrection can barely hold anything else in. Koramund creates four of theses at once, orbiting around him violently creating a massive gravity well, before compressing all the gravity to fuse the four orbs into one, creating a Star-like energy sphere, and its size can be between that of a Beach Ball to a large moon. Summoner of the Void World Maker can be used to destroy planets, but in a unique way, by absorbing the core of the planet, the World Maker expands to turn the planet into a fuel source, making the star turn blue, and burn the fuel insanely quickly. After a few days, the star will erupt, re birthing the planet in fire, but within a few billion years, the planet will come back to life as a much more glorious and fertile version of itself.
Secondary Effect
Planet Breaker
- The strange energy infused into the World Maker rips apart the natural order of gravity around the attack. The land the World Maker hit, and the near by area becomes a scar forever embedded into the planet, gravity never reforming in the same way. Liquid drips upwards, weight is lowered, pieces of earth float in the air forming their own gravity, but not strong enough to stop someone. The entire area is basically floating ruins, as if out of some science fiction novel.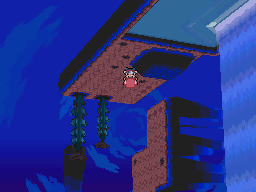 Technique Name: [SU1] Ki Suppression
Description: Koramund has learned to suppress his ki, lowering his power level massively, and then tied with his ability to change his shape and color, he is practically invisible!
Technique Name: [Su2] Biological Acceleration! (Bulking Technique)
PUMP UP!
Description: Koramund floods his body with enzymes whenever he transforms, and these enzymes allow him to gain his power faster and faster. However, he can choose to allocate more of his proteins into becoming enzymes, while his own defensive structure suffers. +2 to current transformation modifier's attack PL, -2 to current transformation modifier's defense PL