Post by Natto on Jun 25, 2015 19:19:10 GMT
Name:
Natto
Alias:
None
Species:
Saiyan
Gender:
Male
Age:
18
Appearance:
Nattos has an average height, standing 5'9" (175 cm), with a fairly muscular build, weighting about 137 lb (62,1 kg). He has pitch black, disheveled mostly on the right side, short hair, with a few locks of hair covering his forehead up until his eyebrows. His eyes are big for a saiyan and very expressive. He has a cross-shaped scar on the lower part of his left cheek.
The saiyan favors the use of the traditional saiyan attire, consisting in a battle suit with brown colored shoulder pads and thigh guards, but without crotch guard, combined with thigh black pants, white gloves and white boots with its tip on the same pattern as his pads. His clothes and armor are able to stretch. As most saiyans, he keeps his tail around his waist in a belt-like fashion. Natto also wear a red scouter on his left eye.
History:
Natto, newborn.


Natto was born on Planet Vegeta as a mid-class warrior, just as his parents and brother before him. By the time of his birth, his elder brother Miso was already an 8 years old saiyan warrior sent to a mission on a faraway planet. Natto spent his first 3 years inside his incubation chamber, before his parents were authorized to release him.
His mother, Tamari, led a small platoon comprised of four other saiyans: Gorlick, an 8 feet tall muscular saiyan with very tan skin and dark brown hair and a goatee, Tatopo, a short but muscular saiyan, with a brown Mohawk and slender complexion, and Douchi, her mate and father to her childs.
Tamari was a 6 feet tall slender woman who excels in ki blasts. Her ruthless demeanor made her the fitting boss for her platoon. Her hair was pitch black and disheveled, with bangs on the forehead, standing a little below her shoulder length. Douchi, on the other hand, was amazingly tall even for a saiyan, standing 8'5" (256 cm) and very muscular. His hair was flat at the top and kept in a small ponytail at the back.
Natto had the opportunity to meet his parents as he was released from his incubation chamber. Unlike his mother, his father was a generous and caring man, even though he was a fierce fighter, and that immediate bond reassured Natto's nature as a gentle saiyan. They were united for only a few months before Natto's mission assignment, which sent him to a distant star system, to conquer a planet called Felucia.
On the day of his departure, his mother didn't even gave herself the trouble of sending him off, but his father was there, proud of his younger kid, giving him tips on how to behave and how to avoid unnecessary danger. That one moment sealed his admiration and love for Douchi that would last until the end of his days.
Felucia was a largely unsettled terrestrial jungle planet, on a system with the same name. The planet had a hot and humid atmosphere and significant water resources beneath a surface irradiated by ultraviolet light of its sun, called Felix. Native plant, fungal, and animal life evolved to dominate the environment in a deep symbiothic relationship, The more sentient species developed tribal societies in subterranean caverns and farming communities nearby the cavern settlements.
It was a very dangerous environment outside of the settlements and, as Natto arrived, he startled the inhabitants as it was their first contact ever with an alien. Their first meeting were a mix of curiosity and fear, but Natto had some sort of gentle aura that made them confortable with him. Truth be told, the young saiyan wasn't thrilled with the idea of eradicating some unknown beings in an unknown planet out of no apparent reason other than selling the planet for profit, which, at that time, he couldn't even understand the concept of profit.
Instead of destroying and conquering the planet, he was "adopted" by a community of Felucians. The Felucians were raccoon-like bipedal creatures with greenish fur, standing no more than 3 feet tall. Despite that, they were quite strong fighters, able to stand their ground against a young saiyan. Their fighting style was similar to Earth's martial arts combined with their ball-like body complexion. Natto learned quite a lot with his foster father and brother, Sugoro and Sukogoro, being able to train in the length of time that he spent on Felucia.
As time went by, Natto grew and became a true child, standing 3'9" feet (114 cm) tall, and was a part of the Felucian society, even helping them fight against the beasts and dangerous fungus monsters that roamed around the planet. He felt like he belonged there, even though he would, sometimes, miss the father he barely knew. Curiosity would sometimes touch his heart, as he wanted to know about his own race and society and understand why would they sent younglings to destroy civilizations and conquer planets, but he would quickly get rid of those thoughts and get on with his life. A happy life.
However, when he was 10 years old, he went outside with his friends and foster family to a festival held only once every 20 years, to celebrate the full moon, which was adored by the felucians. Natto had a bad feeling about it that he couldn't explain. He had been too long with that peaceful race that he forgot about his heritage.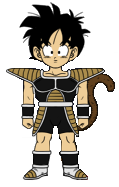 Natto as a young boy.
Catastrophe took place the moment the young saiyan stared at the fullmoon. In a matter of a few seconds, the gentle boy that was considered part of that community became a monstrous Great Ape deprived of any ability to reason. Natto went totally berserk and his gentle and caring nature disappeared, giving room to a destructive and rampaging behavior.
The days on Felucia lasted 34 hours equally divided between day and night, which means that a felucian night lasts for 17 hours, which were more than enough for the total destruction of the sentient life on the planet. After that fateful night Felucia was an empty planet without any trace of living civilization.
When Natto woke up he struggled to understand what happened. The young saiyan was completely desperate. After a few days he started to remember about his saiyan traits and understand what might have happened. His fears came true when, by analyzing the planet situation, he found footprints and destruction marks that could've only been made by a Great Ape.
He was speechless by his own destructive nature and cried like never before. He thought that he was a cruel monster that shouldn't be near anyone. His desperation was so intense, that he couldn't think about anything but to come back do Vegeta, to find his father, and that was what he did.
The moment he got back to Vegeta, Natto was so desperate to find his father, that he didn't even want to talk to saiyan officials, who wanted his report on the mission. Deeply hurt and angry, when one adult saiyan told him to stop and obey, he attacked him, crying and shouting, asking to be left alone. The result was obvious: He was subjugated by the adult saiyan and badly beaten before they threw him into a cell. A couple days later, when Natto calmed down, he was taken to a room, where he was commanded to give the report on the Felucia mission. The boy was angry, but was badly injured, both physically and mentally, which made him decide to cooperate.
His report was based on half-truths. By his words, the conquering took longer than expected because the planet was dangerous and had no full moon until very recently. When asked about being stressed, he nodded. After that the officials took him to a healing chamber and, after completely healed, he was released until further orders, with new assignments.
Natto kept on looking for his father for a couple weeks, which led him to find his brother Miso, now a 15 years old saiyan. When he found out that saiyan was his brother, he felt safe and tried to hug him, with ended up with Natto being fiercely punched in the gut. Miso happened to be like their mother and hated those displays of affection as he believed it to be weakness.
After that they talked for a little while, mostly because of Natto's insistence he told about the whereabouts of their parents: They were to come back to Vegeta in one month and after that Miso would join the platoon. Natto asked to stick with his brother until their parents arrived but the answer was another fierce punch, now to the face, which knocked Natto out.
When his parents came back to Vegeta, Natto went to meet them. His mother initially praised him for the success on conquering Felucia, but as he got angry and said that the felucians were his friends and that he was a monster for what he did her expression became one of disgust and she said that he was no child of hers. That was the last time Natto ever spoke to his mother, before her death.
Natto flew away angry with everyone, to isolate himself on the wasteland. As he arrived, his father was already there, with a preoccupied expression. They had a long talk and Douchi said that saiyans are a proud warrior race and their society is based on conquering and winning and that Natto must adapt to that. When questioned if he ever felt guilty for destroying and killing Douchi admitted that he had, but that there was a reason for that behavior and started telling the story about the origins of the saiyans.
After the long story, Natto was still angry, but now he was hurt by the pain the saiyan race felt as they were betrayed by every other race they trusted, starting with the Truffles and the Planet Trade Organization. He was shocked to know that his planet was destroyed twice and that lit a little flame on his heart and proud as a warrior.
From that point onward he decided to embrace his pride as a saiyan, but without tossing aside his reasoning and criteria. He would fight to defend his peoples interests and would fight against any menace but wouldn't thrive to kill innocent and weak people, because they were never a treat to the saiyan race. After he made his mind, his father was again proud and decided to help him whenever needed, going as far as training to overcome his weaknesses, even going as far as helping him train his tail.
His father did even more. He had connections within the mission department and made sure that Natto's next mission would be on a planet inhabited by an evil race, so that he could start to overcome his reluctance in killing.
On the new planet, a red wasteland called Argavat, where the beings were cruel creatures that enjoyed slavery and battle pits.
Natto was 12 years old when he first got there and struggled terribly with the population. At first he was reticent about killing them and tried to reason with the Argavatians by going to a large city with the intention of talking to their high officials to understand what was their problem with the saiyan empire, but that was a poor choice as he was nearly killed by them. The young saiyan had to runaway, as he was completely outnumbered. It was on this occasion that he gained the cross-shaped scar on his cheek.
After that he tried another couple of times to talk to natives, looking for at least a single trait of kindness, but found none. Angry, he realized how foolish he was and even began to think that he was lucky to be sent to Felucia. The felucians were an exception in the universe and he wouldn't make that mistake again. Gathering his anger, he decided to fight.
Conquering Argavat wasn't an easy task and that's probably why Douchi asked for that specific planet. Natto had to overcome his own doubts and became less of a fool. Argavat made his saiyan pride burn intensely and he became the warrior he was supposed to be. At the beginning he would spare the children and the women, trying to minimalize the casualties but it was a mistake. They would only search for revenge later and even though it hurt him deeply to accept it, he had no other option but total annihilation of that species.
It took him 5 years to finally destroy the Argavatian civilization and those years made him a true warrior. Natto was still a gentle and caring saiyan, but to his own race and to aliens who truly deserved his kindness. His resentment towards the terrible history of the saiyan race acted as the fuel he needed which, combined with the terrible years he struggled to survive in Argavat and conquer it tempered that resolve.
Finaly, when he came back to Vegeta he was a man. He looked for his parents immediately after giving a full detailed report on his mission, wanting to ask his mother to join the crew, as he was confident that she would respect him now. He also wanted to thank his father for helping him grow as a saiyan. Unfortunately he found out that Tamari's platoon was annihilated by some unknown enemy on their way back from their last mission, with Miso being the sole survivor.
His brother was badly injured in a healing chamber. Natto was seized with hatred and fury and vowed to avenge his parents and kill not only the one who did that, but everyone that he or she holds dear. With his new resolve, Natto and Miso come into better terms. They were not friends, but they held each other in high regards now, even helping each other train every once in a while.
One thing was certain: the one who killed Tamari's platoon had something against the saiyans and Natto would find out what or die trying. He would protect his home planet and his kinsmen. That thought gave him motivation to train whenever he had the time, as he now wanted to became an elite warrior. And that's when his true story begins.
Starting Planet:
Vegeta.
Techniques:
Offensive
Tyrant Lancer [N1]: The user charges energy into their right hand and charges forward with an Energy Punch followed by an Energy wave.
--Super Tyrant Lancer [UP2]: The user charges energy into their right hand and charges forward with an Energy Punch followed by an Energy wave, being a way stronger than the regular version.

Continuous Energy Bullet [N1]: The user usually brings their arms to their sides, charges up ki, and then he throws his hands forward one after another as he rapidly fires many energy blasts. It is effective for quick, widespread, and massive amounts of damage, but it is very draining on one's own ki level. However, if the user is powerful enough, he will be able to avoid the ki drainage effects of this combination technique.
Support
Flight [SU1]: The result of it is that the user manipulates their ki energy so that they can levitate or fly.
Tail Mastery [SU1]: Natto strengthened his tail to the point of becoming immune to the ill effects of either having it grabbed or held.
Special
Zenkai: The ability is a genetic trait that allows a Saiyan's power to increase substantially after recovering from near fatal injuries.
Transformations:
Oozaru (Great Ape): Genetic data within the saiyan's tail can be exploited on exposure to Bruits Waves from a celestial body such as a moon which converts sunlight to this energy upon reflection. The resulting transformation into a giant ape yields a 10x power increase. Speed is NOT hindered.
Items:
0 Zenni
One-Use Pod
Red Scouter