Post by Vennel on May 25, 2015 0:35:43 GMT
[Moon is Active, though blocked by large metal dome.]
[Heavy-Weights On]
[Power Level: 23'246; Weighted: 5'812]
The time had finally come. Vennel marched through the wastes, her cloak blowing in the wind as it swept from her left to her right, causing the tattered fabric to billow and twist as it clung desperately to her form. Her gaze was on the rising structures before her. She was no longer deep out in the vast wastelands that she was forced to live in. She was on the outskirts of Cacumber city, with a small Tuffle in tow. She stopped to look up at the buildings, a sight she'd been longing to see again.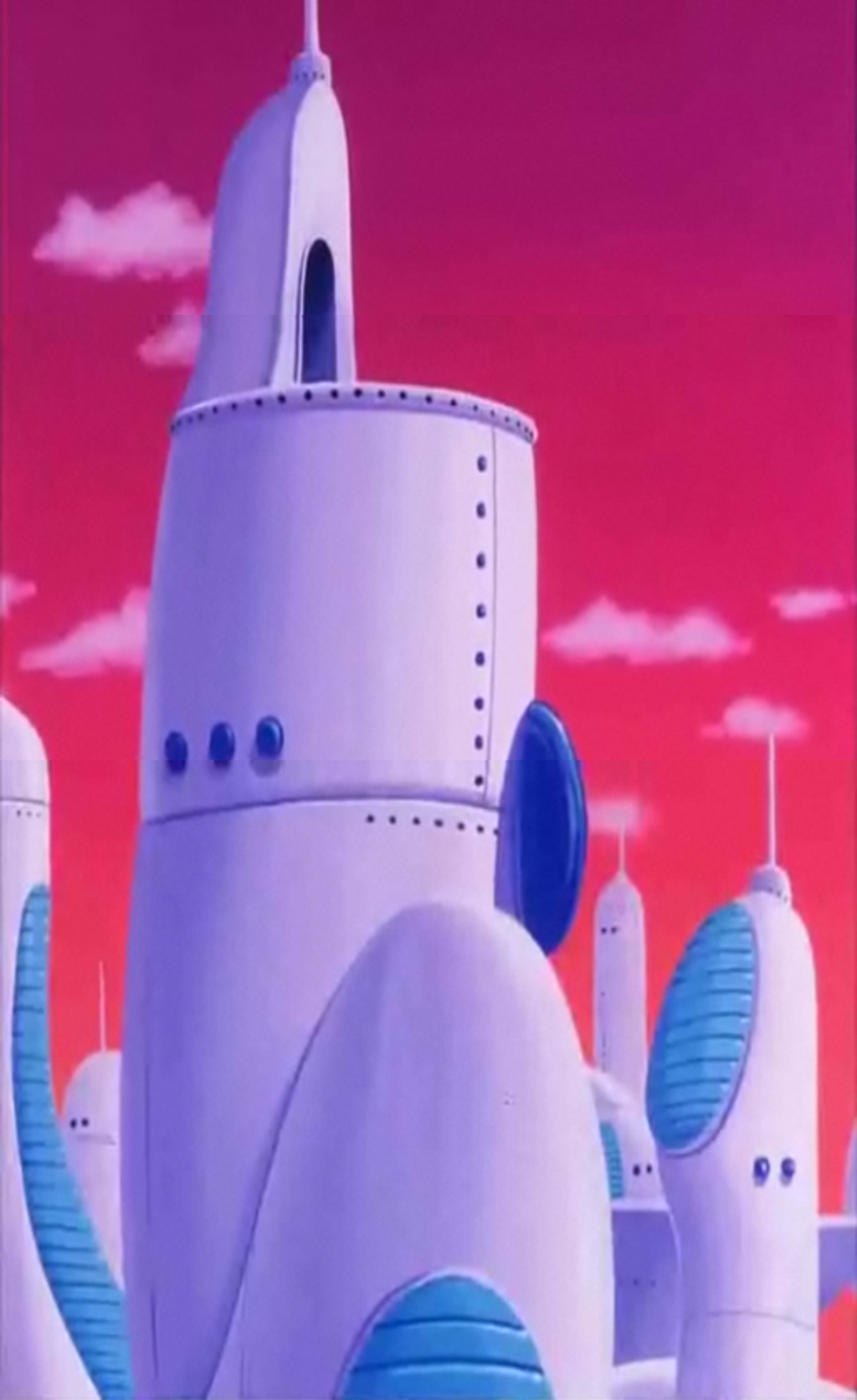 She turned her head toward the short, white haired man.
"Icarus, I have to do this alone. Ancient Saiyan custom dictates that a challenger bust defeat the current King in single combat. The ministers may have ruined that by making themselves all Kings, but I will not stoop to their level. You are free to do as you will, but just know I can not save you should you get into trouble."
She then turned her head back, looking at the city that stood in the middle of a waste land, a veritable oasis amidst the cruel desert that had served her well in hardening her for the challenges ahead. The large city had no walls, but it had a large dome that would rise up and cover the city on night's like tonight. The sun was setting, and with it for the first time in a long time, the moon of Vegeta would produce enough Blutz waves to transform anyone to be struck with them into the mighty Oozaru. But this dome was designed to prevent that for these rare nights, to prevent the more rambunctious Saiyans from causing wide spread damage.
Rising up, she used her flight to quicken her pace, landing in the outer edges of the Radittsu District, which formed the majority of the city, a place she was familiar with, the place in which she used to live. She walked through the city streets, passing by countless Saiyans on her way down the streets. Several of them going about their business. She'd seen this city, a thousand times- through the glass twenty stories high. From there she watched as her city, her people, her planet,
burned.
It wasn't litteral, but proverbial. It was their way of life that eroded, and burned. Their customs slowly withering over time as those wretched ministers stood in place of a proper King, each more afraid of the other and refusing to attain dominance.
As she walked through the city streets, scattered people watching her pass, there was a weakness that held them there and they wouldn't try breaking it's grasp. But if she stayed out in the waste lands, she'd be leaving them to their doom. And to her, a death of the Saiyan way of life was the worst thing imaginable for her species. Death or loss of numbers would have rested solely on them or their weakness. But if they did no better than the fools off world, or in the minister's chairs, then what were they really? Certainly not Saiyans.
As her thoughts were scrambled, constantly thinking over these thoughts, as if trying to determine if she was truely ready, her power level was suppressed by weighted gear she had attained with the help of Icarus in the ruins not far from the city. The weights should potentially do wonders for her, but also mask her power level, so she didn't stick out like a sore thumb. And it seemed to work, because her power level was no greater than an elite who was out on the town. But after walking for as long as she had, and staying relatively unnoticed so far, she saw it, the government building. This was it. There was no turning back. But as she stood in the plaza of the towering structure, a pair of elites approached her.
"You there,"
The first spoke. He stopped for a moment, checking a data pad for information of some sort. Vennel's eyes shifted between the two, cautiously. She'd been found out.
"Under the authority of the Solar Saiyan Empire, you are wanted for treason, murder, and consipiracy against the Ministry."
He spoke, his tone was firm and strict, as the second one seemed to prepare for combat while the first charged her. Vennel's scouter had already been busy processing their power. As the first charged in, he threw a punch for her gut. She went to try and stop the attack, but her weights made it harder to respond as quickly as she hoped. The fist drove into her gut, and the Elite smirked. His comrade came around, twisting around to Vennel's side and clasping his hands together high over his head, about to throw them down on top of her. But with the fist in her gut, she grabbed ahold of the first elite who struck her, and pulled him close as she backed away, causing the second to strike his ally.
Her breathing was staggered, the wind momentarily knocked out of her lungs. She hadn't been used to fighting in this hindered state yet, far from it. In fact, this was her first time fighting anything other than a wild animal which usually required minimal effort. But she didn't have long before the two elites got their wits about them. The first one went to tap his scouter, probably to ask for back up. Crap, well there went the element of surprise. The second, however, charged directly at her and launched a ki blast at her as he closed in. Raising her arms up, she crossed them just before the blast struck, causing a small explosion that formed a momentary smoke cloud from the resulting explosion.
When the smoke had cleared, her already worn cloak lay in shreds around her feet, her brilliant armor no longer hidden. If she wasn't already a target for others, she certainly stuck out like a sore thumb now. She quickly charged at the one standing in front of her, who had pressed the attack. He expected as much and leapt up, aiming to send his knee into her face, but she wasn't a stranger to the rough and tumble fighting style of elite Saiyans, after all, one of her primary charges was murder, and there was no Saiyan that the ministry cared for more than their precious high borne warriors. She instead, let her body drop, sliding under the leaping Saiyan warrior, and using her left hand to push her up, she launched a ki blast into the Saiyan who was calling for back up. The blast struck him in the face, his scouter exploding in the process. But she didn't believe for a second he didn't get some sort of message out already.
Still charging at him, she threw her fist into his face while he was still stunned from the ki blast strike, using the weight of her fist, and the momentum generated by the heavy weights she wore on her arms to inflict a greater strike. The Elite tumbled back, but before she had a chance to do anything more, she had forgotten something.
The other warrior, who was now behind her fired a ki blast again, a much stronger one that left carbon scoring on her armor and another small cloud of dust. Vennel yelped in pain as the attack was certainly felt, but thankfully her armor was able to resist the damage. Thinking quickly and on her feet, she pressed her motion towards the Saiyan who had tumbled over and was still picking himself off the ground, and threw his body back behind her. His ally who saw a body break the temporary smoke screen, launched another assault of ki blasts. Only to dismay, he saw it was his own ally who had fallen.
Now the fighting had been leveled out, one on one for now. But Vennel's scouter chirped, alerting her to many approaching power levels. Cursing under her breath, she wanted to continue this fight, but she wouldn't be able to until the reinforcements arrived. Instead she had to enter into the grand hall, where the empty Throne of Vegeta stood. So turning tail, which killed her inside as it felt like an act of cowardice, she started sprinting up the large stair case that lead up into the capital building, only to lift up into the air and shoot forward into the air, to quicken her pace. The other Elite fired blast after blast after her, trying to stop her, but she ducked, dodged, and weaved between the blasts as each one touched down on the white stone stair case, leaving pock marks on the otherwise immaculate surface.
It wasn't long before Vennel came to the large doors that stood closed, behind them was the assembly room where the Ministers regularly sat to rule over the Saiyans, issuing their decrees, passing laws- weaklings, all of them. Not one had what it took to rule the Saiyans, because it took ten of them to do so. Each of them more undeserving in her eyes than the last. As she burst through the doors, the raucous outside now evident with the doors opened and the sound pouring in, for anyone present to hear. The ministers were thankfully not in the assembly room, which meant they were likely in the throne room, or near it.
The large assembly room was circular in design, with a large circular table the Ministers gathered around, with stepped pews that lined the walls for Elites to sit in on the meetings and watch the bureaucratic process unfold. It sickened her to see her race come to such a thing, but beyond this room, up another large flight of stares, the throne room awaited. She had no time to dawdle though, the din of the commotion outside was getting louder, and the Saiyan elite she'd avoided before was probably waiting for back up to arrive before charging after her. Which was good, because she needed a chance to get to the throne, uninterrupted.
Flying up the stair case on the opposite side of the room, a large archway seperating it from the assembly room, she made her wait up the twisting stair case. What felt like an eternal climb, finally came to a stop, she shoved the doors open that lead to the throne room itself. And what she saw was, for her, breath taking.
Stained glass windows lined the walls, relics taken from conquered species, an extravagence saved for only someone like the King of Saiyans, now wasted on the petty fools who sat in a true leader's place. The walk-way was lined with Elite guards in matching uniform. At the end, sat the empty throne, atop a short flight of stairs. And at the base of those stairs, were ten seats, all with the so called leaders of the Empire sitting there. Her sudden appearnce causing an uproar of confusion.
"What is the meaning of this! Explain yourself!"
Cried one of the ministers, a stalky man, shorter than most, and balding too. His armor, like the rest of the council, was draped in a cape that showed regality, the markings of a pompous fool who had forgotten long ago what it meant to be a Saiyan. Vennel lowered herself to the ground, standing tall and proud. Her chest swelled as she gathered the strength in her diaphram to shout.
"I AM VENNEL! AND BY ANCIENT CUSTOM I HAVE COME TO CHALLENGE THE MINISTRY FOR LORDSHIP OVER THE SAIYAN RACE!"
Her words had an almost identical reaction to her first appearance, the Royal Guards all looked to eachother, each more confused than the last as they didn't understand. With the ministry in place, would that even still apply? Not to mention, there were no more heirs to the throne. But suddenly, another Minister stood, he was taller than the last, his hair standing on end, and coming to a flat top, a large widow's peak distinguishing himself from his peers.
"Under what grounds do you claim this rite?"
He spoke, inquiring. To many, he would seem stoically curious, and condescending. But Vennel knew that deep down, they were worried. Their Saiyan blood, no matter how weak, wouldn't allow them to simply back down from a direct challenge. But if there was a way to dismiss the threat, then they would latch on to it without a second thought.
"Under the grounds that the Ministry flies in the face of Saiyan tradition! Your weakness bleeds into the Saiyan way of life. A new leader is needed, one who is strong enough to speak for her people, one who is strong enough to lift her race up, and launch it to new heights!"
Now, it was another minister's turn to voice their concern. This time, it was a female, her hair was nearly shaved off on one side, the rest jagged and falling to the other side. Her armor was ornate, like the rest, but favored a more revealing cut to the body-suit that most Saiyans wore, a style typically employed by lower class Saiyans who favored a less formal appearance. But something about her, gave off the impression she was the head of the Saiyan ministers, not that anything like that would exist with the way they ran the government, but if there was such a thing, it would have been her.
"The ancient customs dictate that such fights be carried out in single combat. Clearly, such a thing can not be carried out, for the ministry is many, and has no singular entity."
Vennel clicked her tongue, and marched down the hall way. She glared at the female who had spoke against her. She was right, and that was how the Ministry had gone for so long without a challenge to their right to rule. They were many, and no one Saiyan could fight them. But Vennel was determined to change that opinion on the matter. As she walked, she removed the weights on her arms, and her weights that were inside her boots, feeling immensely lighter, as the heavy weights crashed to the smooth stone floor. She stopped her motion, coming only half the distance closer toward the seated ministers.
"If you are too weak, or too afraid to defend yourself, in the face of a challenger, then leave now. Surrender the right to rule to me. If not, and you would defend your right, as any true Saiyan would, then fight me. I don't care how many of you, but defend your right to this throne!"
The Ministers nervously looked to one another, not sure of what to do. But before they could speak, Vennel rose into the air and her arm charged up with a large sum of energy, which she hurled at the Ministers as they sat and debated.
"This is what I speak of! Your deliberation is killing our people! They say this planet has been dead, for years now. So death is not something that scares me. There's worse things, than death to me, there's loss of our culture, you silence anyone who would dare challenge you, branding them a traitor rather than stand up and fight them, as a true Saiyan would!"
Vennel's hands were shaking, her rage was building, and all through out the hall people stood silent, waiting for her to finish speaking her piece.
"SO COME ON! FIGHT ME IF YOU ARE SAIYAN!"
It seemed she could not be contained, the ministers seemed to almost need to go back to discussing among themselves. But the female from before, tall and confident, stepped away from her seat.
"Very well, you will have your battle."
She nodded toward the guards who stood in the hall, and they seemed surprised that this threat was to be taken seriously, and they were not just to stand there and wait. Shuffling out of the hall, they headed down the stairs that Vennel had come up. As they did so, the other Ministers stood up, and stood beside the first who had stood there. But a grin curled onto the lips of the female minister as she tapped her scouter as if to indicate it.
"But it will not be with us. Your little 'speech' has been broad casted to the entire planet. We ministers are representatives of the Saiyan people, so what better way to solve this, than to allow any among the Empire who call themselves her citizens come and accept your challenge in our stead."
Vennel seemed thrown back by this. What was this? This woman, she was ignoring her challenge, and instead putting the burden on the citizens of the empire?
"And to those of you watching, anyone that takes her down, you will earn yourself a seat among the ministry, so do we have any takers?"
She had never felt so much rage, the hovering Saiyan warrior's arm lit up again as her ki built. Was she being made a fool of? Her weights were off, and her power had soared back to it's full strength, and she doubted any of the ministers had even bothered to report back a power level on her. However, Vennel had not been so lax, most of the ministers were well below ten-thousand, however, the woman stood proudly at twelve, though her arms had been growing more powerful, how Vennel had never noticed she couldn't tell. It seemed the woman was charging an attack already, and had been for quite some time. Together it would be one hell of a fight, not unless she had a plan, but thankfully she did.
Tonight was a momentous occasion for the Saiyan, though. She had coordinated her strike perfectly.
"What, another attack on us? I'll have you know my ki has been building since the moment you arrived. If you attack us, I will stop it, and you'll only have wasted your energy."
But Vennel grinned, a grin that the woman didn't understand. Had the little Saiyan lost her mind? Probably, she was just told that she was going to have a swarm of Saiyans eager to attack her, so how could she possibly find that endearing? No saiyan could repell that, unless...
"It's not meant for you."
Turned her body to face the roof, and let loose a much more powerful version of the blast she had used before, as it broke the ceiling, and continued to soar higher, until it hit the top of the dome, and punched a hole through it.
"NO!"
Cried the minister, as she had finally pieced it together, while the others stood confused by the act, taking it likely for common vandalism. But it was already too late, the damage was done. There was now a hole just large enough for enough life to shine down on Vennel, and trigger the convulsions in her muscles just before a transformation. Her body began to twist and change shape, growing ever larger with each passing second. Her body larger than the entirety of the throne room, breaking the and lifting the ceiling up, and tossing it aside. A shame and a loss for the architecture, but such things were inconsequential. The throne remained where it was, and the cowering ministers stood in shock and awe. They were not affected by the moon's light, as the hole was lined up just perfectly, with the help of Icarus.
In fact, before the attack, Vennel and Icarus had convened to work out a strategy to help her take on the ministers if she needed it. She suggested she could use the Oozaru form, and he helped her figure out a specific spot, and place to punch a hole large enough for her to be affected, and the light shining being just enough to allow her the chance to transform, unless someone else were to create a larger hole.
The giant ape, now with enough power to easily take out the ministers. Shocked in awe at her sudden transformation and the precision required to pull it off, the ministers stood in awe as Vennel's mouth opened wide and let loose a collassal blast of ki that engulfed the ministers. The blast was large, and incredibly destructive, and true to form, left none of them standing, as her transformed might was too much for any Saiyan to stand against. Some of the Ministers were wiped out completely, no traces left, but the strongest among them, the female included, merely sank to their knees before crashing the the scorched ground beneath them.
Letting out a beastial roar at the top of her lungs, that rung out across the entire city, she bellowed,
"LET IT BE KNOWN! I, VENNEL, AM THE NEW QUEEN OF VEGETA. IF ANYONE HAS THE COURAGE TO CHALLENGE MY RIGHT TO THE THRONE, COME FORWARD. OTHER WISE, REMAIN SILENT."
Her cry was only made louder, as the acoustics bounced off of the dome that encased the city. All throught it, it was silent for a time. But she could not forsee the future, someone may yet come to oppose her. But as she finished her speech, her form reverted, the hole in the ceiling patched up by quick work to minimize the damage, though it wasn't to say someone else couldn't easily punch their own hole. But with no more moon light to augment her power, her body began to revert to it's natural state, shrinking down proportionate to her power level.
By the end of it, She remained hovering in the air, above the throne, before settling down on the ground below, with one hand on the throne's seat, ready to take it for her own, but leaving the courtesy for anyone among them to step up to her challenge. While she waited, she walked over toward her fallen weighted gear, sliding the weighted gloves and wrist cover over her hands, the arm bands that went on either bicep, and the ankle weights that fit inside her boots. Her power level surely shrunk, but she had done what needed to be done, and she would just remove them again if she needed to. And in the mean time, headed back to the throne, and eased herself into it, slouching low to look at anyone that entered through the doors that lead into what used to be the throne room, and was now just the remains of it, and the throne itself.