Post by Vennel on May 23, 2015 6:34:01 GMT
1 Year Ago


BANG! An angry fist had just struck one of the mission selection kiosks that were situated in the government building in Cacumber city. The fist belonged to a certain Saiyan woman, who was entirely fed up with what said kiosk displayed to her.
"Damn it!"
As if the physical abuse of mechanical appliances weren't enough to display her anger, her words did a fine job of conveying the sentiment. Vennel had been looking for a new planetary purge mission to undertake, and it seemed the only one available that wasn't beneath her, had a team of Saiyans already applying for it, though they did have room for another. This, to a normal Saiyan, might have been their lucky chance, to get in on a mission before the next month's missions were uploaded. But for her, this was a curse. You see, Vennel had taken pride in the fact she'd accomplished all her missions up to this point on her own. But she had bills to pay, and a mouth to feed (her own).
It wasn't that she hated the idea of working with others, it was her reputation she was trying to uphold. She was a first class saiyan, so she was eligible for this mission, as it was being lead by an Elite by the name of Silan. She was a member of an elite family with quite the deal of clout to her name, however Vennel wasn't too fond of them. See, Silan had a reputation, for shaming those around her, blaming them for mission failures, or out right killing comrades for out shining her. But since this mission was all she had available, Vennel had to take it. After finally hitting the mission select on the screen, she finished registration, and turned on her heel, heading out of the government building. The mission left in a matter of hours, so she set about heading to the port, where she'd meet up with her prospective allies and their leader.
* * *
The din of space pods launching, and larger vessels departing their mooring filled the air at the Cacumber star port. Saiyans of all sizes, builds, and ages, were moving about, going about their lives; some coming from a mission, and others heading to their ships for one. For Vennel, she was looking for a particular Saiyan, Silan. She knew the name, and had a vague recollection of what she looked like, as she'd run into her before. The prideful elite snubbed a younger Vennel while passing in the halls, remarking something along the lines of how it was an embarrasment for non-elites to walk about the nicer areas of Cacumber.
Shaking the thoughts from her head, she finally spotted the Saiyan elite, as she waited near a group of three other Saiyans. The Elite was talking to them about something, and all but one of the other Saiyans seemed as though they were being talked down to. The other who stood off to Silan's right was a tall man, perhaps just shy of six feet, who must have been an Elite as well, judging by his posture and attitude. As Vennel approached the group, whatever it was they were talking about ended, and SIlan's attention shifted to Vennel.
"And just what kept you? According to the dossier, you were a late applicant, filling the slot of one of these two weakling's comrade who left. And we were to meet here over twenty minutes ago. Explain yourself."
Vennel huffed and looked over to the two that Silan had clearly been referencing before. The look of shame weighed on their faces and even Vennel turned her nose up at them.
"As if it's my fault that you allowed such unaccountability to come with you on a mission. As for me, I came straight here from the mission kiosk. If you're so worried about leaving on time, how about we stop nit picking me being late as I am, and get on with the mission?"
Her tone was coarse, and her lip flared up into a snarl as she met the elite's eye contact. The two glared at one another for a time before Silan shrugged, and turned to the others.
"What ever. We leave at once. Everyone to your pods. We're off to planet Fruti."
The two Elites walked off, leaving Vennel behind with, who she could only assume were other first-class warriors like herself. The two looked to her, as though she were some sort of cussion for them to fall back upon with the way she handled the elite. Vennel merely turned on her heel and ignored them, heading for her pod which was nearby. The other two then looked to eachother before departing as well.
"Tch, this is going to suck."
She mumbled under her breath as she popped the hatch on her attack ball open and climbed into the seat, crossing her arms as her tail wrapped itself around her waist. As she settled in, the ball sealed shut behind her, bringing up the onboard navigation computer.
"Welcome. Please select destination."
The mechanically male voice spoke.
"Planet Fruti."
"Processing..."
A few short moments later, the onboard computer found it's target, and the platform her attack ball rested on began to stir. With a sudden shake, the platform began to elevate up through the roof of the building. A two-layered hatch that was on the ceiling opened up to reveal the clear pink skies of Vegeta. As her pod finally came to a rest on the ceiling, it shot off into the sky at it's maximum speed. Little did she know just how this mission would end up going.
* * *
Days later, after her hybernation cycle had ended, she was awoken by the familiar chirping of the pod's computer. It was an incoming call from their "glorious leader." Vennel could only
wonder
what wisdom she had to share.
"This is Silan, contacting all members of the attack team. We are to target the wasteland to the east of the main city. Their city is surrounded by a large wall, and known for being capable of ki use in their stronger warriors. Over and out."
And with that the transmission cut, before Vennel could even get a word in edge wise. Landing outside the city? That was stupid! The entire point of the attack ball and it's notorious durability and speed was to do as much damage upon impact as possible. They'd have the element of surprise and the first strike. They'd make short work of the settlement for sure. But no, it seemed their leader wanted to make a big heroic battle out of it. Allow their enemy to be at full strength and ready for their arrival.
Ordinarily, she'd be okay with a battle with foes that were at their fullest, it meant a greater challenge for her. But perhaps it was her time doing missions on her own, where her initial attack really worked up the aliens into a frenzy and something worth fighting for after the initial population center was eradicated. A difference in opinion and strategy, sure, but Vennel had never lost a mission yet with hers. And Silan had a spotty record to say the least, constantly having at least one fatality.
Grumbling, Vennel made due with what she had to, and set her course accordingly. As she sat in her pod, her arms crossed and her brow furrowed, she couldn't stop thinking about what a poor leader this elite was. It was as if the rest of them were just canon fodder for her. It was one thing to send your allies into the fray with a strategy, and if they died they were too weak to survive. But Vennel was getting the vibe that this Silan simply only cared about her own personal glory, and actively tried to sabotage her 'allies.' No matter, Vennel was not about to be her next victim, and she was going to be ready for just such a situation.
As her pod began to breach the atmosphere, she felt the familiar rush of battle causing her blood to boil, but she knew deep down that it was just a pavlovian reaction. She wasn't about to be hurled into the fray of a massive slaughter, instead she'd land safely in a desert and await for the "right time" before she could strike. Oh how she wished it weren't so.
With a sudden "THUD," her pod crashed into the sand of the desert, the sand cussioning most of the blow from her impact, and preventing a large crater from forming. From within her pod she could hear four more similar sounds come from outside. Sounds like her allies had just arrived. Her pod hatch began to open and she made her way out into the open air.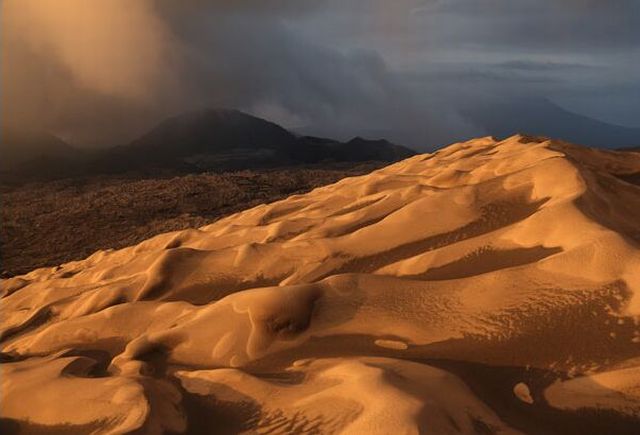 Vennel looked around the sandy dunes, until her eyes spotted where her comrades were meeting at, and she closed in on their location. Immediately, Silan turned to face Vennel, and she seemed livid for some reason. Vennel was however, highly perplexed as to what this was about. The Saiyan elite, reached out and gripped Vennel's tail with one swift motion, so much so that Vennel couldn't even react in time. Having someone grab her tail and squeeze it, nearly caused her legs to buckle, as she struggled to remain standing.
"Filthy trash! In the interest of time, I let you escape the docks without being properly reprimanded, and upon arrival, I decided that we would land away from the city because you clearly need to be showed the proper respect. So, everyone, for the delay in the festivities, you have only Vennel here to blame."
What the actual fuck? She was trying to pin this on her?! Vennel struggled to fight through the pain, her body tensing and spasming as she tried to push herself back to her feet. And to her surprise, she managed to do it. She stood tall, and widened her shoulders. The look of shock was evident on Silan's face, but she soon regained control of her emotions.
"Well, looks like this isn't enough for you, but how about- THIS?"
And as if on queue, the Elite attempted to clamp down harder on Vennel's tail. However, instead of buckling from the pain, Vennel's rage allowed her to fight through it all, and instead she took a step toward the elite and threw a haymaker at her, clocking her in the jaw and sending the elite to the ground.
"Sorry, that slipped, as I'm sure your hand did. Next time, we should both be more careful where our hands go, now, as you were saying: How shall we commence with the attack."[SU1] Tail Mastery Learned
Silan looked up at Vennel, rage filling her eyes as she tried to process what just happened. But Vennel's reply caught her off guard more than the punch. She was nothing if not respectful in her tone, and her demeanor was flawless, every bit the dutiful Saiyan, serving their Elite betters. Vennel's tail coiled itself around her waist as she waited for whatever it was that Silan would say next.
"Right, well. As you all know, this planet is unique. In two standard days' time, the moon will rise. On top of that, the night on this planet has a week long night period, followed by a week long day period. We arrived during the tail end of the day period. We will commence our initial attack tomorrow, guage their strength, and then regroup for an oozaru assault, and wipe their species out."
Vennel shrugged, the idea sounded fine in theory. But after that stunt, she was hardly sure she could trust their "commander" anymore, as if she did in the first place. Still, they had their orders, and Vennel knew better than to act up, because then she'd likely get reported back on Vegeta for insubordination or something and get a temporary suspension.
For now, the group dismissed, retreating to their pods to sleep, while one of the first class warriors remained on first watch. She'd be next, and then when she was finished she could get a full night's sleep. What a wonderful turn of events this day turned out to be, she thought to herself.