Post by Vennel on May 20, 2015 8:58:32 GMT
4 Years Ago

Planet Fongai. Home of the Tullosians, an alien species known for war. In many aspects, the Saiyans shared much in common with them. But there was one thing these aliens lacked, and it wasn't just that on a full moon their powers grew significantly. The difference was, the Saiyan race wasn't in danger of extinction.
"Computer, how long until I arrive?"
A young, yet impatient Saiyan girl appeared to speak to herself in the small attack ball. Careening through the void of space, she awaited a reply.
"Estimating..."
An audible sigh escaped the girl's lips. She was roughly sixteen years old, only back in the Solar Saiyan Empire for about four years, but she was already making a name for herself, taking any mission she could get her hands on. Like most Saiyans she was always looking for a bigger and a better fight. And what better fight was there than against an entire planet of aliens? They always brought such interesting or new techniques, tactics, and strategies to the table each time.
"Approximated time of arrival: zero hours, fourteen minutes, and twenty-nine seconds and counting."
That was good to hear. She'd only just woken up from the hybernation cycle the attack balls put their occupants under during extended space travel. But it wouldn't be the first time the program malfunctioned, and woke her up far too early. Thankfully it had woken her up just in time to arrive on the planet.
Vennel unfolded her arms from their resting position, and tapped the lit up display pannel before her. The normally tinted glass of the space pod seemed to clear up and show a clean view of the planet she was rapidly approaching.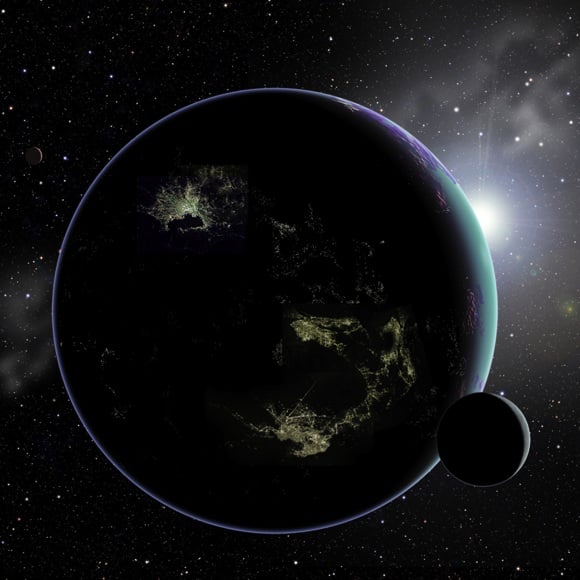 Dark, but lit up by lights in the few population centers that were habitable on the planet. Planet Fongai was known for having large poisonous oceans made of ammonia. Indeed, the Tullosians were still carbon-based organisms, but they relied on liquid ammonia as the promary solvent in their biology. Ordinarily, ammonia boils at -33 Celsius, however Planet Fongai had other unique characteristics. It was an iceball of a planet that had 50% higher atmospheric pressure than what most carbon-based life forms endured, pushing the boiling point closer to -27 degrees Celsius. There was a relatively small portion of inhabited land space, and what wasn't occupied with sprawling metropoli, was instead a frozen desert. And due to this, most Saiyans had ignored the mission to wipe the planet clean. But Vennel wasn't like the others of her race. If the species itself would prove to be a push over, if the planet itself was inhospitable, that was a whole new challenge to overcome.
"Approximated time of arrival: zero hours, three minutes, and thirty-two seconds and counting."
Good, she'd be ready. This planet was going to be incredibly frigid. She'd have to make her initial impact and assault count. Wipe out as many civillians as possible, and then set to work on making a shelter to survive the cold. She'd likely utilize her pod in some manner, utilizing it's life support functions to warm herself.
But her thoughts were cut short by the rumbling of her pod. The view port of the attack ball began to glow frightly as she burned through the upper atmosphere. The pod rattled and shook, Vennel all the while with a large toothy grin draping her features as she anticipated the impact.
"Impact in ten, nine, eight, seven, six, five, four, three...."
CRASH-THUD-BANG!
With that cacophony of sound, Vennel's pod punched through a sky scraper, passing through the other side, clipping a large stone monument, and plummeting into the ground, causing a large crater in it's wake. The din of muffled screams, shrieks, and cries of terror could be heard on her side of the plasteel pod.
"Show time!"
Kicking the pod door open, she sprung out of the pod, the frigid air piercing deep, feeling like a razor stabbing deep. Her breath was thick, like hot steam bellowing from her lungs.
"SHOW ME WHAT YOU'VE GOT, FONGAI!"
Shooting up out of her newly created crater, leaving behind a heat trail of steam, just rising up off her body. She saw the fleeing faces of what she could only assume might be children and their guardians, while it seemed some of the Tullosians were going to rise to stop her, or try to. Their power levels paled in comparison to her own, clocking in at numbers ranging from 200-900. Leaping up at her, many of them tried to tackle her out of the air. The few that had started, were the stronger among them. Her grin widened, as her hands began to light up, a brilliant yellow aura engulfing her hands.
Extending her arms out infront of her, she fired two blasts at the one foolish enough to bull rush her. Getting a perfect bulls-eye, she felt something cold and scaley wrap around her neck. The muffled cries of anger arose from the clearly confused alien. And if not for the rush of battle that got her blood flowing, Vennel would have surely started to feel the chill of this world. Leaning back, she quickly flew backwards into a nearby building, and drove the hanger-on, who was trying to wrestle her out of the sky from behind, into the building. Crashing through one of it's lower levels, the building began to topple, as she heard the alien yell out in pain after being thrown through so many levels.
The civillians of the building she flew through, had yet to evacuate, and she loved the idea of 'killing two saibamen with one blast,' as the saying went. Shaking off the now limp alien from her back, she rose up from the crumbling remains of the once tall building, and looked down at the fighters who had gathered to try and stop her either get crushed under the weight of the building or scatter out.
"SEND ME THE BEST YOU'VE GOT! All your wounded, all of those who can, pick yourselves off the ground! Hurry back, tell your leader, you'll need more men!"
Darting down one of the city streets, she began just letting loose ki blasts at random pedestrians trying desperately to flee the carnage. This was arguably one of her favorite parts of any planetary mission, the part where the weak try desperately to survive. And more power to them, she thought. After all, survival of the fittest was the way of the galaxy, and if you could outrun the predator, then the predator had some work to catch up on.
After making her first pass down the main thoroughfair, the young Saiyan warrior turned around, and started taking pot shots down the street at different buildings, close to ther base. Anyone left hiding in those buildings or nearby them would be in for a nice surprise as their lives literally came crashing to an end. A hearty laugh escaped out of her chest as she watched the flames lick up at the sky, and their way of life come crumbling down.
"This is too great! That one just tried reaching out for help from the bigger one, and the larger one just ignored it and left it to die! This is the greates-"
Her words were cut short as she saw someone try to sneak out between two buildings, and she fired off a blast of ki that struck the ground not but inches infront of him, causing an explosion that appeared to kill him.
"Let it never be said I'm not thorough. Well, I guess it's time to take out the rest of this city. The rush of battle is starting to wear off, and this place is cold."
Taking off back into the heart of the city, she began to let loose a barrage of ki blasts all over the city, aiming for large buildings, to send them crashing down. Some blasts would miss their mark, or be purposefully sent astray, causing explosions of fairly decent size. The sounds of death and destruction rang out loud and clear, and to Vennel it was the greatest thing she'd heard in a long while.
* * *
After all was said and done, the smoking ruins of the northern city lay in ruins. Any who escaped would serve their purpose. Word would spread to the other major population zones, and they'd all hear of the "great destroyer," or some such. In the mean time, she would retreat for now to her attack ball. And using it, the corpses of the fallen, and various building materials that now lay strewn across the battlefield as debris, to form a makeshift shelter to reside in, while she waited on the aliens to mount an offensive of some sort. She gave them a few days, tops. Lucky for her, there was only one major land mass, meaning she wouldn't have to travel far, and all of her prey, or most of it rather, would come to her.
Before she retired for the day, she checked the attack ball's computer, the planet had one moon, and given the time she left at, as well as factoring in for travel time, she estimated her arrival would sync up fairly well with the full moon. And sure enough, it was just shy of a week out from the day she arrived. So by the time she'd had plenty of fun, she'd transform into the Oozaru and lay waste to anything still left standing.
Giddy with thoughts of how to slay the rest of the population, she climbed into her pod, crossing her arms and leaning back in the seat, letting her mind drift off to happy thoughts of the destruction to come.