Post by Alaistair on Jan 9, 2015 3:08:03 GMT
Name: AlaistairAlias:
The Devil Kaishin, The Corrupted Protector
Species:
Makaioshin
Gender:
Male
Age:
1,000,001
Appearance:
Appearance with Helmet: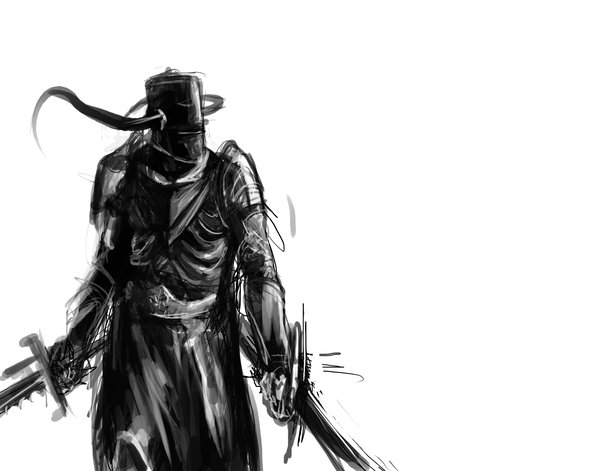 Appearance without Helmet:
Demonic Will: Roughly the same. However, the armor and skin color sheen a strange light, with the skin becoming a dark red.
Makyo Empowerment: The armor disappears, but is replaced by a Red jacket. In truth, this jacket is the manifestation of the great Demon's Power, albeit nothing compared to before his loss of power to return to the human realm
Alaistair, when he isn't wearing his armor... Not the glasses or guy, though.
History:
To know of the Makaioshin, Alaistair, we must journey back to his birth as not a Makaioshin, but as a Shin-jin, or in English, a Kai. He was born the eldest of his generation and was known to be a very reasonable person. Among the people, it was said that when the last generation became too old, that he would have the best chance of becoming one of the next Supreme Kais. The Kaioshin, who would later become known as Alaistair, was kind, helpful, trust worthy, and mighty. He assisted his younger brothers and sisters in their lessons, cracking insightful jokes that made each Shin-jin giggle a bit each time. However, as a Shin-Jin himself, it was necessary.
With the eyes capable of witnessing the universe, Alaistair witnessed countless battles, each one showing the terrible losses that come from them. Whether it was a battle in a full out war for land, or an argument turned violent between lovers, Alaistair found that justice was a hard thing to come by... At least, where he observed. Witnessing all of the events in the universe, even for him, proved as difficult as cutting Katchin! Granted, it wasn't an impossible task, but it is indeed one of the most difficult.
As he grew stronger, his lessons became more difficult, but he learned. Eventually, he learned that he could offer assistance to those he felt needed it, so long as he knew that the battle threatened Life on not just that world, but on other worlds as well. He must not appear, unless it is in the direst of circumstances. Mortals who were not strong enough would not be able to comprehend the existence of they Shin-Jin.
His teacher then elaborated on another thing, that Alaistair took to heart: "Should a death aspect rise up that is being confronted by anyone fighting it, you may bestow them assistance through giving the gift of power, but only temporarily. Power corrupts the mind, if left for too long."
Advice that Alaistair did, indeed, take to heart. Under the inspection of his teachers, he proceeded to begin his training, so that if he were to be chosen for the one of roles of Supreme Kai or one of the cardinal Kais when the previous retire... Though, with the North Kai's continued service, even in depth, there was the question of when retirement ends.
His first few tasks were watching of the Western Galaxy's Northwest sector for the next 10,000 years. Alaistair, at this point, had been training, learning, and enjoying life for a good 200,000 years and learned a great number of skills from his masters. For the first hundred thousand years, time of which flew by so quickly in the Shin-Jins' eyes, Alaistair was observed and taught by the elder Shin-Jin masters, being told the ways of an observer.
Alaistair's training went well, the eldest of the new generation going with one of the elders to many hundreds of worlds, being told what each of their worlds had been like, how the sequence of life worked (the sequence being a well kept secret of the 'Gods of Life'), and many other things that were necessary. The Shin-Jin observed the destruction of many worlds, most of which being by black holes and enormous meteors. However, he also witnessed few, but very powerful warriors destroy some of these worlds. Some had done it, for the sake of the universe, others for the sake of eliminating threats... Then there were those who destroyed worlds for the sake of destorying them.
These individuals infuriated him so, as well as the master he travelled with. He, however, told Alaistair, "We can not interfere with the workings of these people... As much as each one of us wishes to. The reason is that there must a driving force, be it an individual or a planet itself, to defeat these foes. If we interfere with every factor that is meant to develop these mortal folk, then the mortals will never be able to become stronger."
The elder would show Alaistair, either an hour later or many years later, that those individuals would be eliminated by someone or something intending to preserve life. However, as time went on and the Shin-Jin became stronger, Alaistair couldn't help but despise one thing: the underhanded Makaioshin. The evil gods, who manipulated people into doing their bidding. Every time he came across one of these Makai, he gnashed his teeth, even when the demon was defeated by someone.
Alaistair would, at the age of 350,000; begin to assist the folk being underhanded. In times of strife, when a demon rose to power, he would go to these worlds, disguising himself in a way they would not realize he was a Shin-Jin. Sometimes, he would morph his appearance into a animal native on the planet, or he would transform into a native man in rags who wandered from place to place to give advice to warriors fighting for life, not just for the life of their people. He would also, should there be a time necessary, where he would arrive in a 'angelic fashion' to a troop or dying warrior, to bestow upon them the drive to win the battle... This is where his transformation to demon-hood began.
Some time within the next 50,000 years of his life, Alaistair came across a demonic presence that, even the youngest of the Shin-Jin, could feel on their world. A Makaioshin had arisen in the Southern Galaxy's northern-most rim. It called for one or more of the Shin-Jin to go personally eliminate the presence themselves, after it had corrupted several dozen worlds and their denizens with their presence. Alaistair agreed to go, as well as a couple of the younger Shin-Jin.
The three sped through space to the Southern Galaxy, to where the presence was most thick. Upon entering the southern galaxy, they felt the power of the Makai collapse on them hard, as if they had entered an intense pull of gravity. The three had felt troubled by this, as they never had actually battled a being with this much power, save for a couple of the elders. The elders, though, maintained contact with them, reassuring them that what they felt was nothing more than a facade, that they were capable of eliminating this threat together!
With this strengthening motivation, the three progress into the Demon's space, arriving at a war not much different than the Planet Earth. Quickly, they landed on the planet's surface, having made sure to mask their presence before leaving their planet. However, even though they arrived with no one noticing, the planet had an omionous madness lingering about it. They traversed the streets of a city, where they felt the demon residing, finding it difficult to breathe and think.
Alaistair took charge, not feeling weakened like the two younger Shin-Jin. He bestowed upon them a calming essence, as they observed everything around them. The mortals of the world walked around, having twisted smiles on their faces as they walked limply from place to place. What was happening on this world was that the demon's power was causing their minds to be trapped within his own madness, like he did with many other worlds beforehand. Alaistair was infuriated by this, deciding that he would free as many people as he could as he and his siblings traversed this twisted world.
The female Shin-jin knew of this, but she was having difficulty as it was to maintain composure as they moved to the Demon's home. The other Shin-jin, a friend of both, was also having problems maintaining concentration, but he was able to alert Alaistair of the consequences of this. However, the eldest was focused on creating a space of clarity for them to recooperate on this mangled world. Alaistair focused, spreading his energy outward to passer-bys, tapping into each crazed mind to rescue their sanity. In each, he gave words of wisdom and hope, drawing each individual's self back from the depths. Their energy reinvigorated, each passed this wisdom and hope to each, creating a field of good energy and hope for the Shin-Jin to recover in.
However, after every little piece he spent, some of the demon's energy crept into Alaistair in the process. The Shin-Jin noticed this and, when their reprieve came, he fell onto one knee, telling his siblings to continue on and send the demon back to hell whilst he weakened its power. He told them that, when he cleansed each soul of the demon, he could feel its power weaken itself, that it drew power from whomever it could possess. The power, though, was only a temporary thing, its own personale power being weaker than a gnat's. Should they slay them, the demon's possession of the individuals should wash away.
Both other Shin-Jin would do this, while Alaistair scoured the city for people to cleanse. However, after each cleansing, he felt more of the Demon's essence pour inside of him and twist his soul. Questions arose in his mind from the Demon itself, asking if what the teachings were true. It told him that these were lies, that the elders wanted nothing but to control the universe themselves. Alaistair knew this to be false, but as he cleansed more and more of the people, he began to wonder if what he was doing was really for life, if it was for the hate of the Demon, or if it was just for hate of beings like the demon.
The Demon eventually caught wind of this thought, telling him that this was exactly what it referred to! Alaistair stood for a moment, before he cleansed another soul. He looked at the person before him, smiling up at the sky with madness clouding them. Alaistair found himself wondering this, the perfect time for the Demon to sink the knife in. At this point, it had become so weak, it could not possess another soul. However, using this one final person, it spoke to Alaistair, staring at him through the eyes of the individual.
"Come now, Kaioshin... Question them... QUESTION THEM!"
Alaistair pressed his hand on the individual, cleansing the presence from this last individual. The Demonic presence vanished, as both of the others sent the demon to the other plane, leaving behind a wave of euphoria and peaceful mind on this world, as well as the others the Makaioshin corrupted! Cheers and praises came out, as the three Kaioshin left the world as quietly as they came. Alaistair, though, felt not the same since then.
Demon energy had begun twisting his mind and soul, undoing thousands of years of training the elder Shin-Jin taught Alaistair slowly over the next 200,000 years. Then, the day came when another disaster struck, this time in the North Galaxy's Planet Earth. Alaistair moved quickly there, quelling the threat as fast as it developed. However, he left his mind blank, as he stayed in the planet's land, called Yunzabit Heights.
There, his body twisted from what it used to be. His once magnificently white hair turned black, as his skin took on a deep, reddish hue. His eyes changed from cerulean blue to an amber as horns sprouted from his head and a tail formed. He soon began to wallow in one thought, as he his power flared up and caught the senses of the other Kaioshin
"They are... Holding me... BACK! I, ALAISTAIR THE PROTECTOR!"
Though his belief was just, the demon's energy had twisted his ideals on themselves. Life needed to be protected... But Life would try to kill itself. Alaistair begun seeing why the Demon deprived the people of their sanity, but he thought of another idea. He must make the people fear... Fear his might, as well as those that followed him! The chaos of fear was needed to create the order of life!
He left the Earth, the elder Kaioshin calling out to him in the process. They asked what he was doing this entire time, and why his energy was twisted up. He told them that they were fools, seeking to maintain life through the will of others! Alaistair told them that he would do this for them himself by instilling fear into their hearts! Hearing these thoughts, the Kaioshin elder, who taught and travelled with Alaistair, as well the other two Kaioshin, gather together to intercept the transformed Kaioshin.
They trailed Alaistair to a densely populated planet, where a major World War was happening. Battle was happening all over the planet, but none moreso than in the largest city. The streets were burning and explosions erupting in each building. It was in the middle of a siege! A lone Alaistair stood, hand on the head of one dying soldier, as he told them, "Rise, my warrior... The battle is not over yet! Become my lieutenant, as we stop these fools from destroying your home!"
A mark burned on to his head, as the man's power shot up. It had looked like an ink blot of two swords meeting at the guard, to form an odd letter A. The man rose from the ground, before kneeling to Alaistair in a knight's fashion to his ruler. Alaistair materialized a Zweilhander into existence and tapped the shoulders of the individual, announcing, "In the grace of my presence, you shall becoming a shining example of the power that comes with fealty to my rule. Now rise, my lieutenant!"
The man rose, wisps of black energy forming around him, before exploding and shattering the broken windows with a release of his breath. He made his way across the battlefield, seeking the closest struggle at hand to win it with this new found strength. The Corrupted spoke out to the Kais standing just meters away from him.
"Finally, my brethren come to see my works... Behold, a man who will rise above his defeat, to exact justice upon those who killed his friends and family, and lead his just cause as the head of the men of life on this world."
The thoughts flooding his mind from the man were not as just as he thought, but the end goals still existed in them. Alaistair turned, materializing a new sword in hand: a Po Dao, seething with energy not much unlike his own. He asked them, "Are you here to stop my progress of hope for these people? Are you here to stop my plans to maintain life?!"
The elder closed his eyes and lowered his head. He muttered, "It is too late now..."
"What is too late?"
"To rescue your soul, child," the elder responded, brandishing Ki blasts in his hands, "You are no longer the Kaioshin that I once trained! You have become so corrupted that you do not see the blood shed you have caused! I am sorry, young one... But we must stop you here and now, before anymore continues on."
"My name is Alaistair, old man...! You will do well to remember it!"
A great battle ensued, shattering the buildings around themselves as if they were nothing but cardboard. Alaistair, for some time before it, had been getting the upper hand on his two compatriots, but the Elder had been equal footing with him. The three turned the tables on the demon, disarming and breaking him with their strike until the elder delivered the final blow to his head, sending him to the realm of HFIL.
His sword's magical power became locked away, before being returned to Alaistair, as it had become a part of his essence. The Kaioshin elder realized that, with their choice to send children to take care of a mighty demon, that the demon had returned in a way that they did not comprehend before until Alaistair's fall.
From the depths, Alaistair plotted, witnessing countless events the likes of which none but the strongest ever see! Eventually, in the beginning of the age 2801, Alaistair witnessed a chaotic the likes of which were not seen for many ages, on the planet called Earth... The time had come to make his move. With power he amassed in HFIL, he ripped open a whole through veil of limbo to the living world. The demons guardians made their way to stop him, but were not quick enough.
With his tremendous loss of power, and entrance to the human world, the demon Alaistiar would begin his plans to rule over the universe. The Earth, currently in chaos from all the battles stirred by his younger brethren, the Inugami and Takeda, as well as many others... It would only be a matter of time before the Demon Alaistair would control this world, and all others after.
Starting Planet:
HFIL/Earth
Techniques:
(A quick note, before reviewing these techniques:
Bolded
areas represent locked techniques.
Offensive
Devil Wave (N1
[LOCKED]
): Alaistair's standard beam attack. Two orbs of energy form in his hand before he rams them both together. The impact sends the energy forward in an orange Beam.
Devil King's Wave (UP2
[LOCKED]
): The stronger version of the Devil Wave. The orbs form more rapidly and are larger than normal fashion.
Devil's Hound (V2
[LOCKED]
): This version of the Devil Wave becomes a blast that Alaistair could control, though to a minor degree, through hand gestures.
Devil King's Dog (UV3
[LOCKED]
): The upgraded Devil's Hound is much more controlled. What's more, there is more energy packed inside, for more damage on the target.
Devil Kai's Might (MP3
[LOCKED]
): Alaistair's strongest Wave attack. The orbs formed have become bright white novas that he clashes together, causing power to blow away the very air around him. The orbs compress into a tiny black orb that he smashes forward, blasting forth his dark power to decimate his foes!
Support
Ki Sense (SU): Alaistair was capable of gauging a person's or creatures power through a unique sense.
After Image (SU
[LOCKED]
): The Makaioshin has achieved speed so great that he can leave behind an image of himself. However, with his decrease in power, so did his speed.
Telepathy (SU
[LOCKED]
): Alaistair can talk to another person through an advanced technique that he learned whilst he was once a Kaioshin. This level permits him to start talk to others on the same planet. IE, say we're using something like that: He's capable of starting and holding the call.
Advanced Telepathy (SU2
[LOCKED]
: Expanded ability on Telepathy. It lets him start to talk to others in the same plane as he is. In other words, if he is alive, he can speak to those he's met that are alive. If he is dead, he can speak to those that are dead.
Superior Telepathy (SU3
[LOCKED]
): The mastered form of Telepathy, used by Kais, Kaioshin, and any Superior minds in the universe to talk to other individuals anywhere in the universe, alive or dead.
Bukujutsu/Flight (SU): Alaistair is fully capable of achieving flight by means of shifting his energy through his feet. He can rapidly speed up by applying more energy, in which case his aura flares up.
Dismiss/Call Forth (SU
[LOCKED]
): Alaistair is capable of calling forth and dismissing his blade, King's Wrath. The way it appears is by raising his arm, causing what seems to be a rip in reality as the sword rises up from the temporary rip. The way it is dismissed is by him calling out, "Rest, my wrath", in which it 'shatters' into blue and black specks of light that drift to his feet and vanish.
Ki Suppression (SU)- Alaistiar had long learned the ways of hiding one's power. Even after his loss of power, he understands that should someone find him, all of his plans will fail...
Special
Slökkva anda (Turn Spirit in Icelandic) (Demonic Technique): The demon Alaistair has not lost this gift of power, even with his massive drop of might to enter the mortal realm once more. He has become a self-proclaimed entity of vengeance and may bestow that power to another, provided they give fealty to him. The target must be willing to receive this blessing and can not be forced. However, they may be swayed to submit fealty to him, if given 'reason' for it. At the consequence of sacrificing a temporary amount of 10% of his base power level, he may given this amount of strength to someone. It remains so long as Alaistair's conscious. Alaistair gains the following with this ability:
1) Communication with the subject mentally. His own energy is intermingled with the subject.
2) Information network for all subjects to use.
3) No secrets. Upon fealty being given, Alaistair and other subjects will become mentally connected. Defenses may be made to stop invasion of privacy.
(Pretty much explaining the Information network that all subjects can use. Added on to elaborate this benefit explanation in these parenthesis .)
4) The ability to recall all that power he bestowed to others, regardless of placement. Upon a subject's death, only half of the bestowed will return to him. (Players will be given a PM, Shoutbox, and CBOX notice upon this happening!)
This power does
not
do the following:
1) Enable a player to receive a transformation early, should they reach the power level requirement. Say a saiyan had 99,000 power level and Alaistair bestowed him 10,000 power level, to put him well above it. He may be stronger and seem like he's capable to transform into a super saiyan, but that is not the case.
2) Increase as Alaistair grows stronger. So, if he were at 10,000 power level and gave 10% then to say Pipa, which is 1000 power level, Pipa gains power. However, if Alaistair gets stronger than 10,000 power level, Pipa just keeps the 1,000 power level Alaistair's given to him.
3) Any power level and Zeni earned by the player is only earned by the player. Alaistair does not gain anything.
4) Alaistair doesn't gain complete control over the subject. It gives Alaistair and/or other subjects the ability to influence decisions with information. However, decisions are otherwise determined by the player of the subject.
(To abide to the no god modding rule, is what this is saying.)Items:
King's Wrath: A sword conceived by accursed souls with strange magics from Alaistair's very soul! It is as much a part of him as he is a part of it. It is a symbol of the Demon King's power. This longsword rests in a sheath at his side. Magical properties have been locked away with Alaistair's recent loss of power. What lies hidden away has become unknown to Alaistair, but it is known to Elder Kais and Kaioshin who've met him before.
(For the blade)
(For below the blade. From guard to pommel)
500 Zenni
One-Use Pod
How'd I find you guys? Well... That's a story I'll be keeping to myself.

I know, most likely, there's a lot of information that needs covering here. So, I'll be waiting patiently, to make this go through comfortably.
It's Pieter... Bao letting the cat out of the bag. XD