Post by Koramund on Dec 27, 2014 19:54:54 GMT
Race Name: Suraelashim
Any Starting Planet
Starting Power:
Alien C
1500-2000
.
Appearance:
Suraelashim look like the race they come from, except their skin tends to be yellow, green or purple, more warlike and brutish. Acrosians are stuck in their monster forms. None of them have hair, but they do have horns in seats of power.
Background: The Suraelashim come from a taint that grew from the dark magics of the ancient wizards of Earth and Namek. When the Daemon Namekians from a dying king were hunting for a remedy to his illness, they discovered the taint, which looked like thick pitch black blood, and it was tested on one of the slaves that was brought there. The slave grew ill very quickly, but soon she survived, but with side effects. The servant had a blotchy look and sickly tone to her skin, eventually turning pure white with all her hair falling out. The Saiyan slave was then little more then a ghost of her former self, which then attacked the camp, as she grew in power. The ghoul then ate the flesh of her masters and comrades, before going deeper into the hole, to mine the taint.
From there the ghoul found a dying broodmother, the first Broodmother, who fed the ghoul flesh, and over the days she became a broodmother.
Those females that survive the flesh, however, become the grotesque broodmothers. These giant, twisted behemoths birth many Sureaelashims at a time and a single broodmother can create thousands of spawn over the course of her lifetime. This was the fate of the new Broodmother, who then birthed Sailocks to hunt the lands as scouts, and prepare the planet for the coming swarms. From that day, 6 failed blights attacked the planet, and the 7th finally killed all none-Sureaelashims. The species learned from the designs of the dead, and flew off from that planet, allowing the blood-thirsty war addicts to create more and more burrows all over the

galaxy

, making them by the year harder and harder to

exterminate

.
Name Pun Theme(s):
Tend to have a 7-8 letter name, or have -Lock/-Skarn somewhere in their name.
Taint
:
Born from the infected magics and sin of the deep, these humanoids have a taint that trails from their blood and body, infecting the areas around them, but also acting like a guide.
The taint also grants dominance to the strong, allowing them to turn the helpless people into ghouls.
All Suraelashim are mentally linked together, able to talk to each other with only their minds, and the more PL a Suraelashim has, the stronger their influence over other Suraelashims becomes through the link. The mental link gives a form of clarity, a new outlook on the world. The link allows everyone in the link to understand each other, like the perfect brotherhood, and gives them the desire to give this gift to all none-Sureaelashims survivors after a brutal attack.

(Actual rules)
Whenever a Suraelashim attacks a foe or walks through a area, they leave a strange black substance that kills plant-life except for mushrooms, and animals start to warp into strange creatures designed for murder and combat. (With permission of the person using the taint, and the person being infected) Infected beings will slowly corrupt into Suraelashims, their minds unable to handle all the new views, so their brain has to change the body to be able to handle it, and the taint makes them evolve into ghouls. Very shortly after becoming ghouls, they become full-fledged Suraelashims once their behaviors start to effect them.

Spoiler: A bear once infected with the taint becomes a Bereskarn, which increases their power in every way.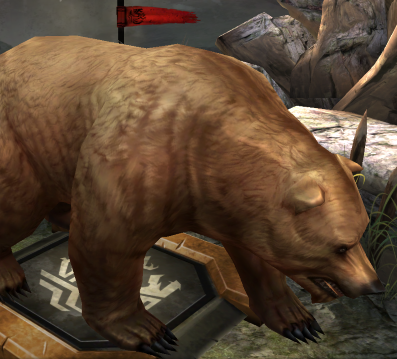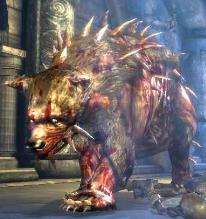 Spoiler: An Acrosian brute form once infected with the taint, becomes the powerful Ogre.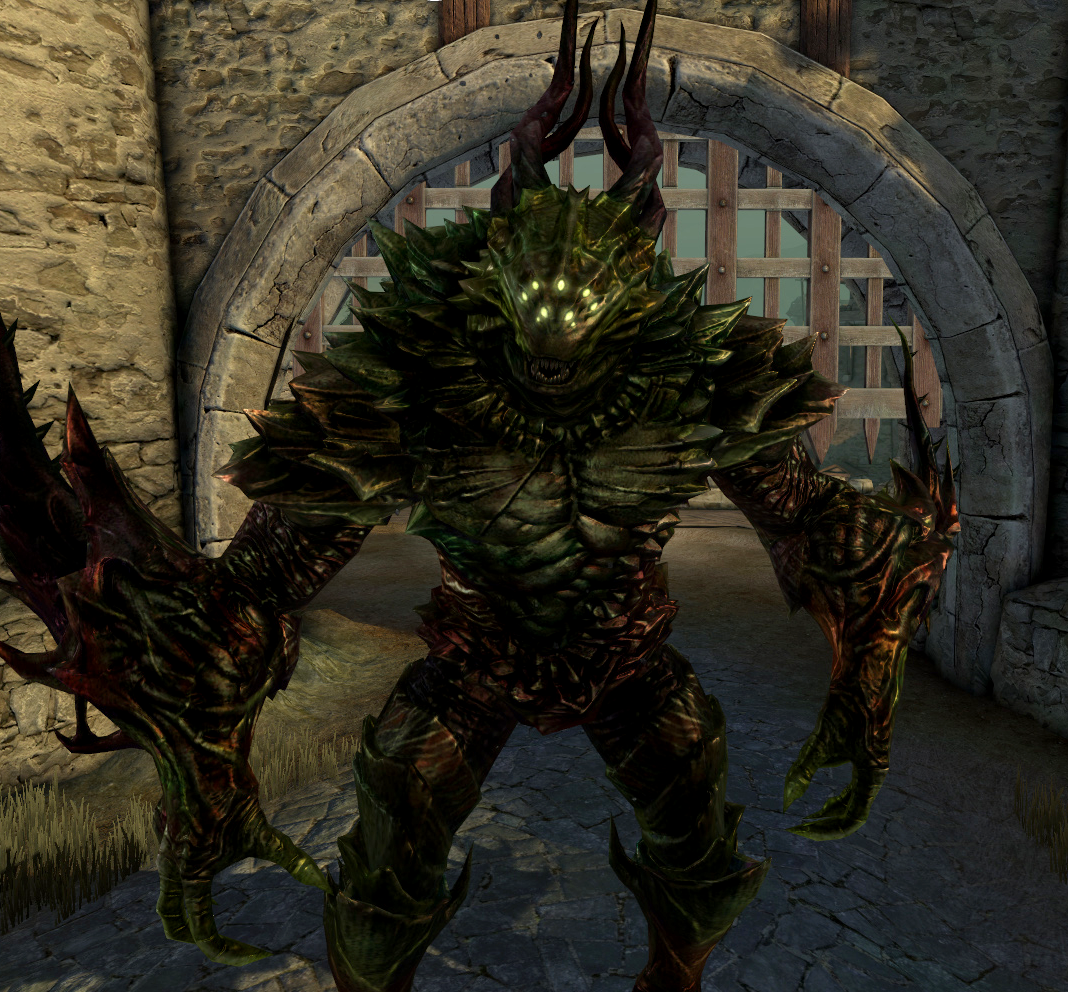 Swarm Mentality: A Suraelashim may create a guard known as a "Ghoul". with a power level of 0 for 500 Zeni. The Ghoul follows the Suraelashim and gains 1K PL(2K PL after 100,000 PL) per 1,000 words they witness (So everyone in the thread's WC counted together), until they reach a fourth/25% of the Base PL of the strongest Suraelashim in a thread. They may not gain any more PL until the strongest Suraelashim/owner of the ghoul is more then twice as strong the ghoul. If a Ghoul reaches 60K PL, they can enter a specialization that gives them a boost based on what species they used to be before becoming a ghoul.
Genlock: Genlocks gain magic materialization at 66% PL, and gain Unholy Durability (+1X PL to the highest transformation they can use defensively). These used to be Namekians
Hurlock: Hurlocks standard attack is increased to 66% PL but can't be charged, and they gain Human hunter (Gain +10% PL to all attacks against humans, androids, half-humans, and Bio-androids with a human trait). These used to be Humans.
Sharlock: Sharlock's ki can not be sensed, they start in a thread invisible (Su3 tracking techniques are required to find them), and Stealth can be regained if they do not attack during their turn. These used to be Androids.
Ogre: Ogres gain Unholy Durability, and Unholy Assault (+1x PL to the highest transformation they can use offensively) These used to be Acrosians.
Peilock: Preilocks gain 2 traits from any species they want, and when they kill a foe, they may spend 3 posts to give 25% of the killed foe's PL to their commander, or to a Cocoon, but doesn't work on other Suraelashims. These used to be Bio-Androids
Cocoon: Filled with pure power, the Suraelashim may put as much of their own PL into a cocoon as they want, and whenever a Suraelashim is killed, they may regenerate from a Cocoon, and they have all the PL that was put into it. These are made for free around Broodmothers, but only two per mother.
Broodmother: Broodmothers can not move, and must be in one thread that is death enabled permanently. They produce 1 Ghoul every OOC week, but 35 per OOC week for invasion. The ghouls birthed immediately become Genlocks, hurlocks, etc based on what species the Broodmother is. Example: A female Acrosian becomes a brood-mother, she will constantly birth Ogres and only ogres.(Arch-Daemon may only use 2 Invasion Ghouls with their normal ghouls. Invasion Ghouls max PL is 75% of the Suraelashim's Base PL, instead of a Ghoul's 25%) These used to be females of any species.
Sailock: Sailocks when they die regenerate (they lose 20% max PL per regeneration, up to 20%)in 2 post turns(Died --> Waiting ---> Revived) unless their tail is cut off, then they just become memories in the mental link. These memories may be accessed by any Sureaelashim linked to the network. These used to be Saiyans.
Note: Ghouls can only transform using "The Blight", and Suraelashim may have at max 1 ghouls per 5k PL.
Pure Aggression:
Suraelashims are naturally violent creatures, constantly attacking and raiding everything trying to become the strongest one of their species. This has lead to enhanced learning, and brutality that is unmatched.
All threads Suraelashims are in are Death Enabled, but gain +20% PL gains to their current modifier(Heavy weights with this = 95% PL Boost instead of 75%).
Born Corrupted:
Gain the following for being the species:
Human: Standard attack is increased to 66% PL but can't be charged, and Human hunter
Namekian: Magic materialization at 66% PL, and Unholy Durability
Bio-Android: 2 characteristic traits from any other species, and Dark Absorption (Spend 3 turns eating/absorbing someone, and gain 33% of their PL, and with their permission you may turn them into a Suraelashim at 67% their PL before absorption)
Acrosian: Gain +x1 to every transformation.
Android: Ki can not be sensed, and starts invisible at the start of a thread. Takes 1 turn to get back into Stealth, but from that point on S2 skills for tracking finds them instead of S3 when their not.
Saiyan: If a Saiyan corpse has their tail, they can regenerate back to life after 3 OOC days, otherwise they regenerate from a cocoon. If they don't safely regenerated, on contact with the dead corpse they regain all the PL from the body.
Alien: Bloody Hell (If an attack hits someone, 33% of the PL of the Alien Suraelashim is taken again the next turn to the foe hit, but this damage will not disturb charging ki)
The Blight - 12x
Whenever a Archdaemon shows up in a thread, all other Suraelashim immediately gain the transformation, but at the cost of obeying all orders of the Archdaemon. If the Suraelashim does not want to use The Blight or refuse a order from the Archdaemon, they lose the X12 PL transformation and the Taint Characteristic, all of their ghouls going to the Archdaemon. One 150K PL has been reached, Suraelashim do not need to use the Blight Transformation, but they will still suffer if they do not listen to the Archdaemon. All Ghouls are turned at the end of a thread unless the owner or the ghoul was killed. Archdaemons do not need to listen to another Archdaemon.
Ogre Rage - x2 0 PL, Ogre exclusive
Ogres being stuck in their monster form has granted them the ability to have a much weaker extra transformation, but it allows them to defend themselves against the other species until they become Disciples with greater ease.


Alpha Disciple - x5 50,000 PL (Perm)
Small amounts of free will have been gained by the Suraelashim becoming more and more independent of the Archdaemon. The Suraelashim now has the ability to think more clearly, and makes plans.
Suraelashim Alpha - x14 150,000 PL (Perm)
The Suraelashim now has enough power to be a walking embodiment of the Blight, and become slightly stronger then it. The Alpha can now command his/her brood and see through their eyes, allowing for perfect battlefield knowledge and command.
Suraelashim Omega - x20 200,000 PL (Perm)
The next stage of the Suraelashim, the Omegas are extremely rare, only three of them tend to be in a single blight, but it well earned. The Omegas are Alphas that have hunted and killed enough Alphas for their power to be considered the dreadful Omega. To enter this transformation, a Alpha has to kill two other player characters within 80% of their PL, or stronger then them.
Suraelashim Emissary - x34 (x27 defensive pl) 300,000 PL (Perm)
The reason Emissaries show up more then Omegas is because Emissaries are the right hands of the Archdaemon, making sure every is in working order and that no Alpha or Omega is trying to break away and do what they want instead of what the Hive wants, since they can simply shut off their connection.
ArchDaemon - x45 430,000 (Perm)
Once a Suraelashim has reached a massive level of command and dominance over their species, they literally breath out taint. Every ghoul and lesser creature obeys the Archdaemon, or he/she will strip them of their powers. These commanders are ruthless, and their appearances mean the blight has come, and the army shall take over everything in their path. Only the Archdaemons are strong enough to unify the entire species, and it always ends in war to the surface world. Archdaemons can only discover this power if they have been defeated/killed in a saga.