Post by Kiro on Aug 10, 2017 3:31:46 GMT
After a few hours of sleep, Kiro wo woke. Then, he took a shower, after that he ate breakfast, washed his teeth and finally he got dressed up. Suddently, his mother picks up her car's capsule, dropping it on the ground. A smoke screen takes over, and after a while, it disappears, and the car finally showes up. "All right, jump on the car, lil' boy!~", she said while pointing towards the seat next to her. "All right, mom...", he sighs, jumping into the vehicle and leaving his mother drive.
A few minutes later...
"Finally at school..", he thought, waving towards his mother and entering the academy. Kiro seemed to be really excited to go and see what adventures awaited him on the academy today, with a smile written on his face. "Let's see.. First hour is English. All right.", he thought once again while checking his school diary.
And so, the first class started.
The English teacher quickly rushed in the class room, asking everybody to sit down and stay quiet. Then, she opened her book while pointing towards him. "Kiro, could you read the first paragraph, please?", she asked. Kiro nodded once, beginning to read. "Mister Satan is a legendary warrior who protected the Earth from many dangerous villains and won manthey tournaments in a row-", he paused his reading after his teacher rose her hand, thinking that she maybe wanted to speak, and he guessed right. "Excellent!", she said, walking over him. Suddently, she kissed his forehead, saying.."Keep up the good work~". Kiro blinked twice, not even understanding what happened. "What was that for?", he thought to himself, shaking his head a few times.
After a few hours...
"Time to go to the club..", he thought, making his way towards it while talking with his friends, but suddenly...
BOOM!!!
A loud explosion could be heard, while all the childs were wondering what was going on. After a few minutes, they saw a group of bandits in front of them. Luckily, all the Martial Arts club members were behind the other children, so they could talk freely, unless heard, but of course, they were whispering. "I have a plan. Look, they're twenty of us, and ten of them. We over number them, but we can result injured if we rush it, so I thought about sending ten of us dashing using zig zags at them, then at the same moment, another ten dashing straightly at them.", he stated.
Everyone nodded towards him, beginning to charge at them. The bandits haven't trained at all, so all of them went down in one or two hits. Moments after, everyone hugs him, including his teacher. "You did great, Kiro.~", she said, letting the child's go home already, except Kiro. The teacher wanted to talk with his mother. And so, they did. Kiro, however, sat outside of the teacher's office.
Moments after...
"Can we go home yet?", he asked his mother, looking rather tired and bored. She seemed to be happy, but Kiro didn't exactly know why. "Alright! Time to go home!~", she stated, driving him back to their house. And so, they returned. "What a crazy day. Well, at least the bandits were like a nice workout. Thought, I could've beaten all of them alone.", he thought, sighing. As soon as he did, his mother approached him. "So.. do you like your new school, sweetheart?", she asked. Kiro wasn't expecting such a question, but in any case he answered with a yes..
And then, with all his might, he went to sleep. He was tired, after all.
---
The next day...
"What a beautiful morning.", he thought. Suddently, his mother came in and said.. "Today's your big day. You'll join the incoming tournament, because if you don't, you won't go school for a whole week!", she stated. Kiro, in this case, had no choice but to accept, so he got dressed up, ate breakfast, that didn't taste well and finally he took ahold of his mother, flying towards the tournament, but on the way there, his mother told him to land next to the bank, so he did.
A few minutes later...
"Sheesh, mom's taking a while..", he thought as she finally came out. Then, they continued their way towards the stage, which was literally next to the Bank. When they arrived, Kiro began to talk with other children, while his mother paid for seats and also payed to get Kiro on the final rounds. After that, they entered the tournament, sitting where they were supposed to. Finally, the announcer showed up, walking on top of the stage.
"Welcome, ladies and gentlemen. It's a pleasure to say.. IT'S THE 200th TOURNAMENT! Whoever wins will be granted an amount of thirty MILLION zeni!"
, he said, as all the public hyped up started screaming and yelling. It seemed like a few strong worthy warriors have passed the pre-eliminal rounds.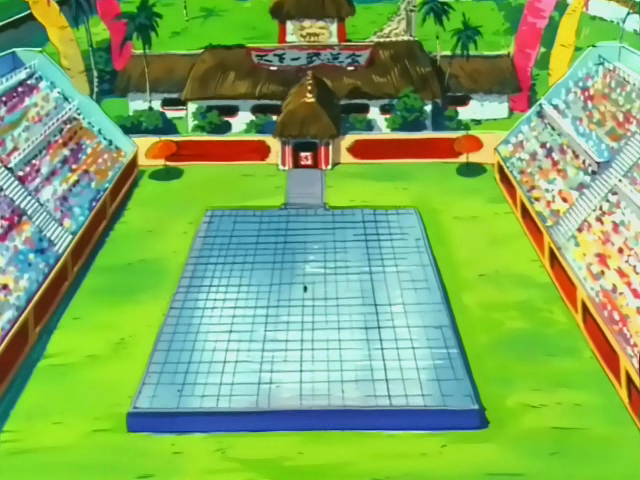 The public started screaming, the announcer asked everyone to shut up. Then, he continued speaking. "Anywho, we've already made the order of the battles. First goes Jimmy verses Jack, then Nick verses Leo and finally.. Paata verses Kiro!". The blue haired hybrid nodded, staring at the stage while waiting for the battles to begin. He was really excited to meet his opponent, now that his name sounded familiar and cool. "I bet he's as strong as I am.", he thought while cracking his knuckles.
After many filler battles...
"Ring-out! Nick wins! Next battle, Kiro verses Paata!", he stated while pointing towards them. Both of them jumped on the ring, smirking at each other. Then, they jumped into their own fighting stances, charging at each other when the battle started. "HERE I GO! - HAAAAAAAA!" , they yelled.
After exchanging many blows, they knew that their strength, speed, durability and resistance was similar, plus their appearance. Paata had a Saiyan tail around his wrist, which Kiro noticed before the battle even began. "You are just what I wanted.", Kiro states while smirking towards him. After a few moments, Kiro starts focusing ki to his palms. Moments after, he fires the ki blasts in a non-stop-looking barrage, till his ki blasts landed on Paata and exploded, creating a screen of smoke. After this one disappeared, a shirtless Paata appeared. "If that's all you've got, then you are going to lose.", Paata said with a confident look.
Kiro then started laughing, shaking his head twice. "If you are that strong, let me use my technique at full power. If you take it, I will give up.", he saif while smirking towards Paata, who accepts. "He's doomed.", Kiro thought to himself while focusing ki to his palms. After many minutes, he fires his technique at Paata, who gets sent flying. In result, he crashes on a wall. Kiro bows towards his defeated enemy, turning towards the announcer.
"Hey, I think someone just got walled, if you know what I'm.. Saiyan.", and then, the announcer starts laughing, saying.. "Kiro is the winner of this tournament, now that it seems the other's are scared. Congratulations, young child!"

Kiro and his mom leave happily, especially his mom. She got that money, after all! "I wish I could that money and make it mine.. Eh, it's whatever. She buys me all I want and need.", he thought, flying back home to take a nap.